Classic FM Chart: Voces8 new chart entry makes the Top 10
27 January 2019, 18:55 | Updated: 29 January 2019, 11:29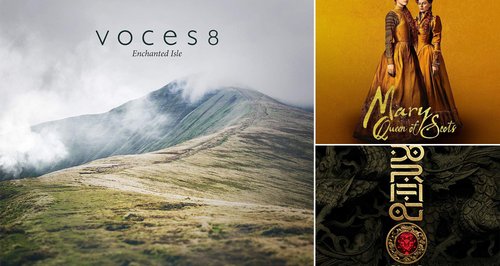 Voces8 and Two Steps From Hell enter the Classic FM Chart with their new releases 'Enchanted Isle' and 'Dragon'.
Three new entries make it on to The Classic FM Chart this week. Voces8's new album Enchanted Isle goes straight in at No. 5, closely followed by Dragon by Two Steps From Hell at No. 8. The new film Mary Queen of Scots soundtrack by Max Richter also jumps in at No. 13, overtaking other film and TV soundtracks Game of Thrones, Gladiator and The Lord of the Rings.
It's another week at No. 1 for Andrea Bocelli's Sì, No. 2 for Romantic Moments II by Andre Rieu, No. 3 for Katherine Jenkins' Guiding Light and No. 4 for Aled Jones & Russell Watson's In Harmony.
This
Week
Last
Week
Title & Artist
1
1
SI, ANDREA BOCELLI


Download from iTunes

-

Buy from Amazon

2
2
ROMANTIC MOMENTS II, ANDRE RIEU & JOHANN STRAUSS OR


Download from iTunes

-

Buy from Amazon

3
3
GUIDING LIGHT, KATHERINE JENKINS


Download from iTunes

-

Buy from Amazon

4
4
IN HARMONY, ALED JONES & RUSSELL WATSON


Download from iTunes

-

Buy from Amazon

5
NEW
ENCHANTED ISLE, VOCES8


Download from iTunes

-

Buy from Amazon

6
5
THE ULTIMATE CLASSICAL COLLECTION, VARIOUS ARTISTS


Download from iTunes

-

Buy from Amazon

7
6
ISLANDS - ESSENTIAL EINAUDI, LUDOVICO EINAUDI


Download from iTunes

-

Buy from Amazon

8
NEW
DRAGON, TWO STEPS FROM HELL


Download from iTunes

-

Buy from Amazon

9
9
EVOLUTION, ALEXIS FFRENCH


Download from iTunes

-

Buy from Amazon

10
7
THE 50 GREATEST PIECES OF CLASSICAL, LPO/PARRY


Download from iTunes

-

Buy from Amazon

11
10
DIVENIRE, LUDOVICO EINAUDI


Download from iTunes

-

Buy from Amazon

12
13
THE LITTLE MERMAID - OST, ALAN MENKEN


Download from iTunes

-

Buy from Amazon

13
NEW
MARY QUEEN OF SCOTS - OST, MAX RICHTER


Download from iTunes

-

Buy from Amazon

14
12
THE LORD OF THE RINGS - TRILOGY - OST, HOWARD SHORE
15
17
SLEEP, MAX RICHTER


Download from iTunes

-

Buy from Amazon

16
11
THE REAL CLASSICAL, VARIOUS ARTISTS


Buy from Amazon

17
15
IN A TIME LAPSE, LUDOVICO EINAUDI


Download from iTunes

-

Buy from Amazon

18
23
THE BLUE NOTEBOOKS, MAX RICHTER


Download from iTunes

-

Buy from Amazon

19
16
THE LORD OF THE RINGS - OST, HOWARD SHORE
20
18
ELEMENTS, LUDOVICO EINAUDI


Download from iTunes

-

Buy from Amazon

21
20
INSPIRATION, SHEKU KANNEH-MASON


Download from iTunes

-

Buy from Amazon

22
21
GLADIATOR - OST, HANS ZIMMER & LISA GERRARD


Download from iTunes

-

Buy from Amazon

23
14
IN A STRANGE LAND, STILE ANTICO


Download from iTunes

-

Buy from Amazon

24
22
UNA MATTINA, LUDOVICO EINAUDI


Download from iTunes

-

Buy from Amazon

25
24
BACH/ITALIAN CONCERTO/PARTITA NO 4, FEDERICO COLLI


Download from iTunes

-

Buy from Amazon

26
29
GAME OF THRONES - SEASON 6 - OST, RAMIN DJAWADI


Download from iTunes

-

Buy from Amazon

27
RE
THE ARMED MAN - A MASS FOR PEACE, KARL JENKINS


Download from iTunes

-

Buy from Amazon

28
30
100 YEARS OF NINE LESSONS & CAROLS, KING'S CC/WILLCOCKS/LEDGER


Download from iTunes

-

Buy from Amazon

29
31
DREAMS AND SONGS, BRYN TERFEL


Download from iTunes

-

Buy from Amazon

30
25
MAGIC OF THE MOVIES, ANDRE RIEU & JOHANN STRAUSS OR


Download from iTunes

-

Buy from Amazon