Classic FM Chart: Violinist Rachel Podger's new Vivaldi recording is a new entry at No. 2
29 April 2018, 18:55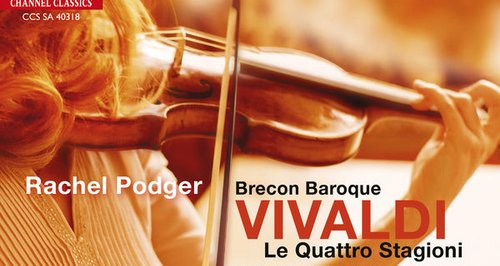 Violinist Rachel Podger enters the chart at No. 2 with her new recording of Le Quattro Stagioni, while Alan Silvestri's soundtrack to Ready Player One holds at No. 1 for the fourth week running.
In this week's Classic FM Chart, Hans Zimmer's soundtrack to Blue Planet II has leapt up 22 places to No. 3. Plus, Blake's Anniversary Album also sees a second bought of success, jumping from No. 17 in last week's chart to No. 5 this week.
As Rachel Podger and Brecon Baroque jump in at No. 2, four other artists also have new entries in the chart, including Bear McCreary's soundtrack to the video game God of War at No. 11. The eighth instalment in the PS4 game was released on 20 April as the sequel to 2010's God of War III.
Today's chart sees four reentries, including Karl Jenkins' ever-popular The Armed Man: A Mass For Peace, which includes the beautiful 'Benedictus', and Max Richter's The Blue Notebooks.
This
Week
Last
Week
Title & Artist
1
1
READY PLAYER ONE - OST, ALAN SILVESTRI


Download from iTunes

-

Buy from Amazon

2
NEW
VIVALDI/LE QUATTRO STAGIONI, PODGER/BRECON BAROQUE


Buy from Amazon

3
25
BLUE PLANET II - OST, HANS ZIMMER/SHEA/FLEMING


Buy from Amazon

4
2
ISLANDS - ESSENTIAL EINAUDI, LUDOVICO EINAUDI


Download from iTunes

-

Buy from Amazon

5
17
THE ANNIVERSARY ALBUM, BLAKE


Download from iTunes

-

Buy from Amazon

6
RE
THE BLUE NOTEBOOKS, MAX RICHTER


Buy from Amazon

7
6
INSPIRATION, SHEKU KANNEH-MASON


Download from iTunes

-

Buy from Amazon

8
5
STAR WARS - THE LAST JEDI - OST, JOHN WILLIAMS


Download from iTunes

-

Buy from Amazon

9
4
SLEEP, MAX RICHTER


Download from iTunes

-

Buy from Amazon

10
NEW
BRUCKNER/WAGNER/SYMPHONY NO 7, GEWANDHAUSOR LEIPZIG/NELSONS


Buy from Amazon

11
NEW
GOD OF WAR - OST, BEAR MCCREARY


Buy from Amazon

12
3
THE GLORIOUS GARDEN, TITCHMARSH/NATIONAL SO/WISEMAN


Download from iTunes

-

Buy from Amazon

13
7
THE LORD OF THE RINGS - TRILOGY - OST, HOWARD SHORE
14
9
THE LITTLE MERMAID - OST, ALAN MENKEN


Download from iTunes

-

Buy from Amazon

15
RE
PHANTOM THREAD - OST, JONNY GREENWOOD


Buy from Amazon

16
NEW
SCHUBERT/WINTER JOURNEY, GLYNN/WILLIAMS


Buy from Amazon

17
8
DIVENIRE, LUDOVICO EINAUDI


Download from iTunes

-

Buy from Amazon

18
NEW
PART/THE SYMPHONIES, NFM WROCLAW PO/KALJUSTE


Buy from Amazon

19
10
ELEMENTS, LUDOVICO EINAUDI


Download from iTunes

-

Buy from Amazon

20
RE
ENGLISH MOTETS, GESUALDO SIX/PARK


Buy from Amazon

21
13
IN A TIME LAPSE, LUDOVICO EINAUDI


Download from iTunes

-

Buy from Amazon

22
12
THE 50 GREATEST PIECES OF CLASSICAL, LPO/PARRY


Download from iTunes

-

Buy from Amazon

23
11
THE LORD OF THE RINGS - OST, HOWARD SHORE
24
RE
THE ARMED MAN - A MASS FOR PEACE, KARL JENKINS


Buy from Amazon

25
15
GLADIATOR - OST, HANS ZIMMER & LISA GERRARD


Download from iTunes

-

Buy from Amazon

26
18
SCORE, 2CELLOS


Download from iTunes

-

Buy from Amazon

27
16
AMORE, ANDRE RIEU


Download from iTunes

-

Buy from Amazon

28
22
GAME OF THRONES - SEASON 6 - OST, RAMIN DJAWADI


Download from iTunes

-

Buy from Amazon

29
19
UNA MATTINA, LUDOVICO EINAUDI


Download from iTunes

-

Buy from Amazon

30
RE
MACMILLAN/STABAT MATER, SIXTEEN/BRITTEN SINFONIA
Buy from Amazon