Classic FM Chart: Top three remain the same for the third week
19 February 2017, 18:55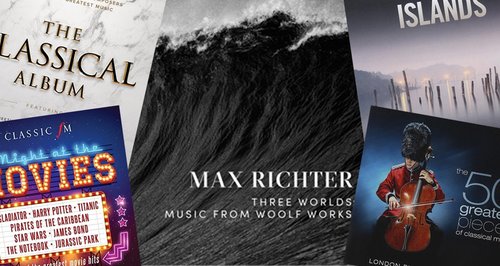 19th February: The top three albums in the Classic FM Chart has remained the same for three weeks now, plus to add the the resilience, no. 4 is also a non-mover this week.
Two weeks ago, Max Richter's new album Three Worlds entered the chart at no. 1. For the third week running it is still holding the top spot, while both Einaudi's Islands and The Classical Album are also non-movers at no. 2 and no. 3 for the third week in a row. The 50 Greatest Pieces of Classical Music by the London Philharmonic Orchestra, which climbed to no. 4 last week, is also a non-mover this week.
The rest of the chart it is a game of two extremes - pieces either moved one or two places, or jumped around dramatically. This is reflected in the rest of the top 10, which includes eight albums the same as last week, as well as our top four non-movers.
One of the new additions to the top 10 is Classic FM: A Night at the Movies, which jumped a staggering 19 places last week and climbs a further 5 places this week to no. 6.
Jonathan Antoine's Believe is on a rollercoaster ride in the Classic FM Chart. It is the second new addition to the top 10 as well as being this week's highest climber, rising 15 places from no. 24 to no. 9. Strangely enough, this album was last week's biggest faller, dropping from no. 4 to no. 24, and the week before that it was a new entry. It is encouraging to see albums are constantly regaining popularity, yet nothing is guaranteed.
Elsewhere in the chart, this week's largest faller is Bach: Cantatas with Iestyn Davies, which drops 12 places from the middle of the chart to just inside the top 30. All new entries and re-entries feature in the lower half of the chart this week, including new albums from Henning Kraggerud with the Malmö Symphony Orchestra and Virgin & Child: Music from the Baldwin Partbooks II, and five re-entries from Max Richter, Alfie Boe, John Williams: Greatest Hits 1969-1999, London Symphony Orchestra and 100 Hits: Relaxing Classics.
This
Week
Last
Week
Title & Artist
1
1
THREE WORLDS - MUSIC FROM WOOLF WORKS, MAX RICHTER


Buy from Amazon

-

Download from iTunes

2
2
ISLANDS - ESSENTIAL EINAUDI, LUDOVICO EINAUDI


Buy from Amazon

-

Download from iTunes

3
3
THE CLASSICAL ALBUM, VARIOUS ARTISTS


Buy from Amazon

-

Download from iTunes

4
4
THE 50 GREATEST PIECES OF CLASSICAL MUSIC, LPO/PARRY


Buy from Amazon

-

Download from iTunes

5
7
ELEMENTS, LUDOVICO EINAUDI


Buy from Amazon

-

Download from iTunes

6
11
CLASSIC FM - A NIGHT AT THE MOVIES, VARIOUS ARTISTS


Buy from Amazon

-

Download from iTunes

7
8
ROGUE ONE - A STAR WARS STORY - OST, MICHAEL GIACCHINO


Buy from Amazon

-

Download from iTunes

8
5
SLEEP, MAX RICHTER


Buy from Amazon

-

Download from iTunes

9
24
BELIEVE, JONATHAN ANTOINE


Buy from Amazon

-

Download from iTunes

10
9
THE BLUE NOTEBOOKS, MAX RICHTER


Buy from Amazon

-

Download from iTunes

11
10
THE LORD OF THE RINGS - TRILOGY - OST, HOWARD SHORE


Buy from Amazon

-

Download from iTunes

12
20
THE LOST SONGS OF ST KILDA, MORRISON/SFO/MACMILLAN


Buy from Amazon

-

Download from iTunes

13
15
IN A TIME LAPSE, LUDOVICO EINAUDI


Buy from Amazon

-

Download from iTunes

14
14
BRUNO TONIOLI: AN ITALIAN ROMANCE, VARIOUS ARTISTS


Buy from Amazon

-

Download from iTunes

15
19
LION - OST, DUSTIN O'HALLORAN & HAUSCHKA


Buy from Amazon

-

Download from iTunes

16
NEW
HALVORSEN/NIELSEN/VIOLIN CONCERTOS, KRAGGERUD/MALMO SO/ENGESET


Buy from Amazon

-

Download from iTunes

17
12
STAR WARS - THE FORCE AWAKENS - OST, JOHN WILLIAMS


Buy from Amazon

-

Download from iTunes

18
18
GAME OF THRONES - SEASON 6 - OST, RAMIN DJAWADI


Buy from Amazon

-

Download from iTunes

19
13
ONE VOICE, ALED JONES


Buy from Amazon

-

Download from iTunes

20
RE
RECOMPOSED BY MAX RICHTER/VIVALDI - FOUR, HOPE/KONZERTHAUS CO/RIDDER


Buy from Amazon

-

Download from iTunes

21
22
ZIMMER/THE CLASSICS, VARIOUS ARTISTS


Buy from Amazon

-

Download from iTunes

22
RE
LOVE WAS A DREAM, ALFIE BOE


Buy from Amazon

-

Download from iTunes

23
25
GLADIATOR - OST, HANS ZIMMER & LISA GERRARD


Buy from Amazon

-

Download from iTunes

24
23
THE LORD OF THE RINGS - OST, HOWARD SHORE


Buy from Amazon

-

Download from iTunes

25
NEW
VIRGIN AND CHILD, CONTRAPUNCTUS/OWEN REES


Buy from Amazon

-

Download from iTunes

26
RE
GREATEST HITS 1969-1999, JOHN WILLIAMS


Buy from Amazon

-

Download from iTunes

27
RE
MENDELSSOHN/A MIDSUMMER NIGHT'S DREAM, MONTEVERDI CH/LSO/GARDINER


Buy from Amazon

-

Download from iTunes

28
28
THE LITTLE MERMAID - OST, ALAN MENKEN


Buy from Amazon

-

Download from iTunes

29
17
BACH/CANTATAS 54 82 & 170, DAVIES/ARCANGELO/COHEN


Buy from Amazon

-

Download from iTunes

30
RE
100 HITS - RELAXING CLASSICS, VARIOUS ARTISTS


Buy from Amazon

-

Download from iTunes