Classic FM Chart: Sheku knocked off top spot by Lord of the Rings
5 August 2018, 18:55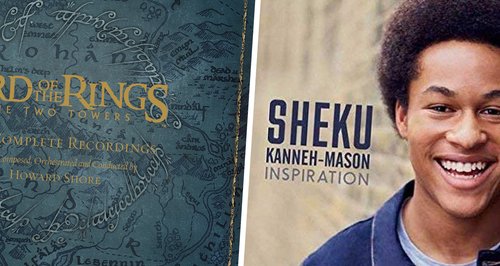 Someone's managed to displace this year's biggest chart success story... but who was expecting it to be a film score from 2002?
After 10 weeks at the top of the chart, cellist Sheku Kanneh-Mason has been toppled by none other than Howard Shore's score for the second film in the Lord of the Rings trilogy, The Two Towers, newly repackaged in a special limited edition box set.

Kanneh-Mason's huge-selling debut falls down to no. 3, behind a non-moving Ludovico Einaudi.

André Rieu springs back into the top 5, climbing a huge 23 places with his Amore album, while the highest new entry on this week's chart is pianist Steven Osborne's new Rachmaninov release which arrives at no. 12.
This
Week
Last
Week
Title & Artist
1
NEW
LORD OF THE RINGS - THE TWO TOWERS - OST, HOWARD SHORE


Download from iTunes

-

Buy from Amazon

2
2
ISLANDS - ESSENTIAL EINAUDI, LUDOVICO EINAUDI


Download from iTunes

-

Buy from Amazon

3
1
INSPIRATION, SHEKU KANNEH-MASON


Download from iTunes

-

Buy from Amazon

4
27
AMORE, ANDRE RIEU


Download from iTunes

-

Buy from Amazon

5
9
THE 50 GREATEST PIECES OF CLASSICAL, LPO/PARRY


Download from iTunes

-

Buy from Amazon

6
5
THE LITTLE MERMAID - OST, ALAN MENKEN


Download from iTunes

-

Buy from Amazon

7
10
GLADIATOR - OST, HANS ZIMMER & LISA GERRARD


Download from iTunes

-

Buy from Amazon

8
12
DIVENIRE, LUDOVICO EINAUDI


Download from iTunes

-

Buy from Amazon

9
11
THE LORD OF THE RINGS - TRILOGY - OST, HOWARD SHORE


Download from iTunes

-

Buy from Amazon

10
13
JOHN WILLIAMS - A LIFE IN MUSIC, LSO/GREENAWAY


Download from iTunes

-

Buy from Amazon

11
8
SLEEP, MAX RICHTER


Download from iTunes

-

Buy from Amazon

12
NEW
RACHMANINOV/ETUDES-TABLEAUX, STEVEN OSBOURNE


Download from iTunes

-

Buy from Amazon

13
6
THE BLUE NOTEBOOKS, MAX RICHTER


Download from iTunes

-

Buy from Amazon

14
14
IN A TIME LAPSE, LUDOVICO EINAUDI


Download from iTunes

-

Buy from Amazon

15
18
POLDARK - OST, ANNE DUDLEY


Download from iTunes

-

Buy from Amazon

16
17
THE LORD OF THE RINGS - OST, HOWARD SHORE
17
15
ELEMENTS, LUDOVICO EINAUDI


Download from iTunes

-

Buy from Amazon

18
7
SCORE, 2CELLOS


Download from iTunes

-

Buy from Amazon

19
4
INCREDIBLES 2 - OST, MICHAEL GIACCHINO


Download from iTunes

-

Buy from Amazon

20
23
CLASSICAL CHILLOUT, VARIOUS ARTISTS


Download from iTunes

-

Buy from Amazon

21
3
VIVALDI X2 - DOUBLE CONCERTOS FOR OBOES, LA SERENISSIMA/ADRIAN CHANDLER


Buy from Amazon

22
25
I GIORNI, LUDOVICO EINAUDI


Download from iTunes

-

Buy from Amazon

23
26
UNA MATTINA, LUDOVICO EINAUDI


Download from iTunes

-

Buy from Amazon

24
21
GAME OF THRONES - SEASON 6 - OST, RAMIN DJAWADI


Download from iTunes

-

Buy from Amazon

25
RE
MAGIC OF THE MOVIES, ANDRE RIEU & JOHANN STRAUSS OR


Download from iTunes

-

Buy from Amazon

26
22
GAME OF THRONES - SEASON 7 - OST, RAMIN DJAWADI


Download from iTunes

-

Buy from Amazon

27
29
AVENGERS - INFINITY WAR - OST, ALAN SILVESTRI


Download from iTunes

-

Buy from Amazon

28
20
THE ROYAL WEDDING - OFFICIAL ALBUM 2018, VARIOUS ARTISTS


Download from iTunes

-

Buy from Amazon

29
19
SOLO - A STAR WARS STORY, JOHN WILLIAMS/JOHN POWELL


Download from iTunes

-

Buy from Amazon

30
NEW
AND SO IT GOES - SONGS OF FOLK AND LORE, ELORA FESTIVAL SINGERS/EDISON


Download from iTunes

-

Buy from Amazon