Classic FM Chart: Sheku Kanneh-Mason reclaims No.1 spot
26 August 2018, 18:55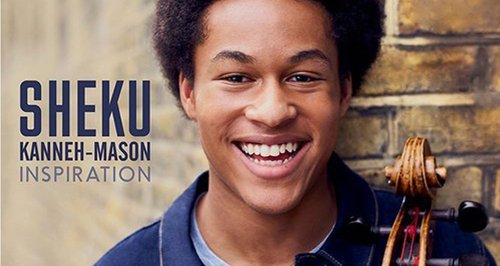 Sheku is back on top, but Yo-Yo Ma's new album is hot on its heels.
The new Bach Cello Suites album by Yo-Yo Ma has shot to the top of the charts at no.2 this week. Other new releases making it into the chart are the Star Trek: Discovery album by Jeff Russo at no.7 and Khatia Buniatishvili's new release Motherland.
Holding the most positions in the chart this week is Ludovico Einaudi with six albums in the top 30, while Max Richter also makes an impression with The Blue Notebooks album, moving up from no.12 to no.6. Film scores are again popular in the chart, holding ten places in the top 30.


This
Week
Last
Week
Title & Artist
1
2
INSPIRATION, SHEKU KANNEH-MASON


Download from iTunes

-

Buy from Amazon

2
NEW
BACH/SIX EVOLUTIONS - CELLO SUITES, YO-YO MA


Download from iTunes

-

Buy from Amazon

3
1
ISLANDS - ESSENTIAL EINAUDI, LUDOVICO EINAUDI


Download from iTunes

-

Buy from Amazon

4
RE
THE REAL CLASSICAL, VARIOUS ARTISTS


Buy from Amazon

5
3
THE CLASSICS YOU KNOW, ROYAL PHILHARMONIC ORCHESTRA


Download from iTunes

-

Buy from Amazon

6
12
THE BLUE NOTEBOOKS, MAX RICHTER


Download from iTunes

-

Buy from Amazon

7
NEW
STAR TREK DISCOVERY - S1 1&2 - OST, JEFF RUSSO


Download from iTunes

-

Buy from Amazon

8
6
THE LORD OF THE RINGS - TRILOGY - OST, HOWARD SHORE


Download from iTunes

-

Buy from Amazon

9
4
THE LITTLE MERMAID - OST, ALAN MENKEN


Download from iTunes

-

Buy from Amazon

10
5
THE 50 GREATEST PIECES OF CLASSICAL, LPO/PARRY


Download from iTunes

-

Buy from Amazon

11
9
DIVENIRE, LUDOVICO EINAUDI


Download from iTunes

-

Buy from Amazon

12
16
SLEEP, MAX RICHTER


Download from iTunes

-

Buy from Amazon

13
15
GLADIATOR - OST, HANS ZIMMER & LISA GERRARD


Download from iTunes

-

Buy from Amazon

14
11
THE LORD OF THE RINGS - OST, HOWARD SHORE
15
7
THE CLASSICS, JAMES HORNER


Download from iTunes

-

Buy from Amazon

16
13
ELEMENTS, LUDOVICO EINAUDI


Download from iTunes

-

Buy from Amazon

17
21
SCORE, 2CELLOS


Download from iTunes

-

Buy from Amazon

18
14
IN A TIME LAPSE, LUDOVICO EINAUDI


Download from iTunes

-

Buy from Amazon

19
20
AMORE, ANDRE RIEU


Download from iTunes

-

Buy from Amazon

20
10
JOHN WILLIAMS - A LIFE IN MUSIC, LSO/GREENAWAY


Download from iTunes

-

Buy from Amazon

21
RE
AVENGERS - INFINITY WAR - OST, ALAN SILVESTRI


Download from iTunes

-

Buy from Amazon

22
8
BERNSTEIN/THE 3 SYMPHONIES, SANTA CECILIA OR/PAPPANO


Download from iTunes

-

Buy from Amazon

23
29
BRAVEHEART - OST, LSO/HORNER


Download from iTunes

-

Buy from Amazon

24
27
POLDARK - OST, ANNE DUDLEY


Download from iTunes

-

Buy from Amazon

25
26
UNA MATTINA, LUDOVICO EINAUDI


Download from iTunes

-

Buy from Amazon

26
22
CLASSICAL CHILLOUT, VARIOUS ARTISTS


Download from iTunes

-

Buy from Amazon

27
28
I GIORNI, LUDOVICO EINAUDI


Download from iTunes

-

Buy from Amazon

28
23
GAME OF THRONES - SEASON 6 - OST, RAMIN DJAWADI


Download from iTunes

-

Buy from Amazon

29
RE
GAME OF THRONES - SEASON 7 - OST, RAMIN DJAWADI


Download from iTunes

-

Buy from Amazon

30
NEW
MOTHERLAND, KHATIA BUNIATISHVILI


Download from iTunes

-

Buy from Amazon