Classic FM Chart: Sheku Kanneh-Mason holds No. 1 for eighth week in a row
15 July 2018, 18:55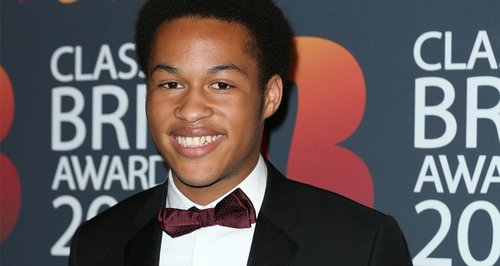 The Classic FM Chart has two new entries at No. 3 and No. 5, but nothing can nudge Sheku Kanneh-Mason from the top spot, as the cellist holds No. 1 for the eighth consecutive week.
Once again, Kanneh-Mason's Inspiration holds the No. 1 spot in the Classic FM Chart, closely followed by Einaudi's Islands – an long-time favourite in the top five.
Andris Nelsons and the Boston Symphony Orchestra's recording of Shostakovich's symphonies has jumped in at No. 3, nudging John Williams: A Life in Music down to No. 4.
There are two further new entries in the chart, with Sir Richard Rodney Bennett's Orchestral Works at No. 5, and Sarah Connolly and Joseph Middleton's new album Come to Me in my Dreams at No. 25. Plus, Andre Rieu's Amore has reentered the chart at No. 30.
This
Week
Last
Week
Title & Artist
1
1
INSPIRATION, SHEKU KANNEH-MASON


Download from iTunes

-

Buy from Amazon

2
2
ISLANDS - ESSENTIAL EINAUDI, LUDOVICO EINAUDI


Download from iTunes

-

Buy from Amazon

3
NEW
SHOSTAKOVICH/SYMPHONIES NOS 4 & 11, BOSTON SO/NELSONS


Download from iTunes

-

Buy from Amazon

4
3
JOHN WILLIAMS - A LIFE IN MUSIC, LSO/GREENAWAY


Download from iTunes

-

Buy from Amazon

5
NEW
BENNETT/ORCHESTRAL WORKS - VOL 2, MCGILL/BBC SSO/WILSON


Download from iTunes

-

Buy from Amazon

6
9
THE LITTLE MERMAID - OST, ALAN MENKEN


Download from iTunes

-

Buy from Amazon

7
19
IN A TIME LAPSE, LUDOVICO EINAUDI


Download from iTunes

-

Buy from Amazon

8
18
THE LORD OF THE RINGS - TRILOGY - OST, HOWARD SHORE


Download from iTunes

-

Buy from Amazon

9
10
SLEEP, MAX RICHTER


Download from iTunes

-

Buy from Amazon

10
17
THE 50 GREATEST PIECES OF CLASSICAL, LPO/PARRY


Download from iTunes

-

Buy from Amazon

11
6
THE BLUE NOTEBOOKS, MAX RICHTER


Download from iTunes

-

Buy from Amazon

12
13
DIVENIRE, LUDOVICO EINAUDI


Download from iTunes

-

Buy from Amazon

13
16
THE ROYAL WEDDING - OFFICIAL ALBUM 2018, VARIOUS ARTISTS


Download from iTunes

-

Buy from Amazon

14
15
ELEMENTS, LUDOVICO EINAUDI


Download from iTunes

-

Buy from Amazon

15
21
GLADIATOR - OST, HANS ZIMMER & LISA GERRARD


Download from iTunes

-

Buy from Amazon

16
24
THE LORD OF THE RINGS - OST, HOWARD SHORE
17
14
SCORE, 2CELLOS


Download from iTunes

-

Buy from Amazon

18
26
POLDARK - OST, ANNE DUDLEY


Download from iTunes

-

Buy from Amazon

19
12
SOLO - A STAR WARS STORY, JOHN WILLIAMS/JOHN POWELL


Download from iTunes

-

Buy from Amazon

20
23
AVENGERS - INFINITY WAR - OST, ALAN SILVESTRI


Download from iTunes

-

Buy from Amazon

21
RE
STEPHEN HOUGH'S DREAM ALBUM, STEPHEN HOUGH


Download from iTunes

-

Buy from Amazon

22
RE
UNA MATTINA, LUDOVICO EINAUDI


Download from iTunes

-

Buy from Amazon

23
29
GAME OF THRONES - SEASON 6 - OST, RAMIN DJAWADI


Download from iTunes

-

Buy from Amazon

24
11
THE SHAPE OF WATER, ORIGINAL SOUNDTRACK


Download from iTunes

-

Buy from Amazon

25
NEW
COME TO ME IN MY DREAMS, CONNOLLY/MIDDLETON


Download from iTunes

-

Buy from Amazon

26
28
CINEMA, ANDREA BOCELLI


Download from iTunes

-

Buy from Amazon

27
30
CLASSICAL CHILLOUT, VARIOUS ARTISTS


Download from iTunes

-

Buy from Amazon

28
5
ADAMS/DOCTOR ATOMIC, BBC SINGERS/BBC SO/ADAMS


Download from iTunes

-

Buy from Amazon

29
RE
ELGAR/ENIGMA VARIATIONS, LPO/LSO/BOULT


Download from iTunes

-

Buy from Amazon

30
RE
AMORE, ANDRE RIEU


Download from iTunes

-

Buy from Amazon