Classic FM Chart: Ready Player One soundtrack holds No. 1
15 April 2018, 18:55 | Updated: 16 April 2018, 11:11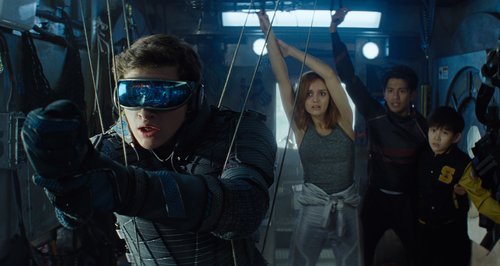 For the second week in a row, Alan Silvestri's soundtrack to the sci-fi adventure movie Ready Player One holds onto the No. 1 spot in the Classic FM Chart.
This week's Classic FM Chart sees little movement in the top three, with Blake and Ludovico Einaudi switching places at No. 2 and No. 3. However, Howard Shore's soundtrack to Lord of the Rings: The Fellowship is a re-entry at No. 4, meaning Shore occupies a tenth of this week's top 30 with his music for Lord of the Rings.
It's bad news for Robin Ticciati and the Scottish Chamber Orchestra at No. 29, as their Brahms: The Symphonies album drops 21 places from last week's position.
There are two new entries this week: the first comes from the Bavarian Royal Symphony Orchestra with their 2016 recording of Mahler's Symphony No. 3, while the second is Paul Lewis' new album of Haydn piano sonatas.
This
Week
Last
Week
Title & Artist
1
1
READY PLAYER ONE - OST, ALAN SILVESTRI


Buy from Amazon

-

Download from iTunes

2
3
ISLANDS - ESSENTIAL EINAUDI, LUDOVICO EINAUDI


Buy from Amazon

-

Download from iTunes

3
2
THE ANNIVERSARY ALBUM, BLAKE


Buy from Amazon

-

Download from iTunes

4
RE
THE LORD OF THE RINGS - THE FELLOWSHIP, HOWARD SHORE


Buy from Amazon

-

Download from iTunes

5
6
INSPIRATION, SHEKU KANNEH-MASON


Buy from Amazon

-

Download from iTunes

6
11
STAR WARS - THE LAST JEDI - OST, JOHN WILLIAMS


Buy from Amazon

-

Download from iTunes

7
5
SLEEP, MAX RICHTER


Buy from Amazon

-

Download from iTunes

8
4
THE GLORIOUS GARDEN, TITCHMARSH/NATIONAL SO/WISEMAN


Buy from Amazon

-

Download from iTunes

9
9
THE LITTLE MERMAID - OST, ALAN MENKEN


Buy from Amazon

-

Download from iTunes

10
13
ELEMENTS, LUDOVICO EINAUDI


Buy from Amazon

-

Download from iTunes

11
12
THE LORD OF THE RINGS - TRILOGY - OST, HOWARD SHORE


Buy from Amazon

-

Download from iTunes

12
16
THE 50 GREATEST PIECES OF CLASSICAL, LPO/PARRY


Buy from Amazon

-

Download from iTunes

13
15
DIVENIRE, LUDOVICO EINAUDI


Buy from Amazon

-

Download from iTunes

14
19
GLADIATOR - OST, HANS ZIMMER & LISA GERRARD


Buy from Amazon

-

Download from iTunes

15
10
AMORE, ANDRE RIEU


Buy from Amazon

-

Download from iTunes

16
21
THE LORD OF THE RINGS - OST, HOWARD SHORE


Buy from Amazon

-

Download from iTunes

17
7
CLASSIC FM HALL OF FAME - THE SILVER, VARIOUS ARTISTS


Buy from Amazon

-

Download from iTunes

18
20
IN A TIME LAPSE, LUDOVICO EINAUDI


Buy from Amazon

-

Download from iTunes

19
NEW
MAHLER/SYMPHONIE NO 3, BAVARIAN RSO/HAITINK


Buy from Amazon

-

Download from iTunes

20
22
SCORE, 2CELLOS


Buy from Amazon

-

Download from iTunes

21
14
JUSTICE LEAGUE - OST, DANNY ELFMAN


Buy from Amazon

-

Download from iTunes

22
27
UNA MATTINA, LUDOVICO EINAUDI


Buy from Amazon

-

Download from iTunes

23
30
GAME OF THRONES - SEASON 7 - OST, RAMIN DJAWADI


Buy from Amazon

-

Download from iTunes

24
26
GAME OF THRONES - SEASON 6 - OST, RAMIN DJAWADI


Buy from Amazon

-

Download from iTunes

25
RE
I GIORNI, LUDOVICO EINAUDI


Buy from Amazon

-

Download from iTunes

26
NEW
HAYDN/PIANO SONATAS NOS 32 40 49 50, PAUL LEWIS


Buy from Amazon

-

Download from iTunes

27
RE
THE BLUE NOTEBOOKS, MAX RICHTER


Buy from Amazon

-

Download from iTunes

28
18
ENGLISH MOTETS, GESUALDO SIX/PARK


Buy from Amazon

-

Download from iTunes

29
8
BRAHMS/THE SYMPHONIES, SCOTTISH CO/TICCIATI


Buy from Amazon

-

Download from iTunes

30
RE
CLASSICAL CHILLOUT, VARIOUS ARTISTS


Buy from Amazon

-

Download from iTunes