Classic FM Chart: 'Music for Mindfulness' knocks Einaudi from the no. 1 spot
5 November 2017, 18:55 | Updated: 14 March 2018, 16:32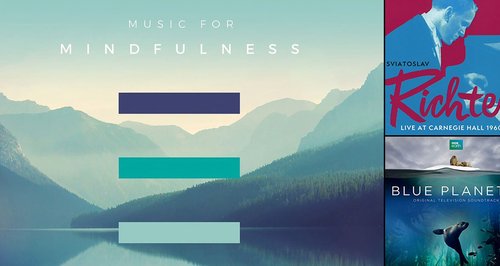 Music for Mindfulness has taken the top spot from Einaudi, whose album Islands has dropped down one place to no. 2. There's a new entry at no. 4, Live at the Carnegie Hall with Sviatoslav Richter, and Kristin Zimerman playing Schubert's Piano Sonatas is up ten places from no. 15 to no. 5. No. 6 is a further new entry, this time from Hans Zimmer with his score for Blue Planet II followed by this week's highest climber - The Very Best of Jacqueline Du Pre up twenty-two places from no. 29 to no. 7. Just inside the top ten is a re-entry from Classic FM presenter Aled Jones with One Voice at Christmas at no. 8, plus two further new entries featuring the music of Vaughan Williams at no. 9 and English composer Roger Sacheverell Coke at no. 10.
Classic FM presenter Alexander Armstrong's latest release Peter and the Wolf has fallen to just outside the top ten, meanwhile Symphonic Adiemus has fallen thirteen places from no. 3 to no. 16. No. 17 is our sixth new entry this week featuring Beethoven's late quartets and at no. 19 The Ultimate Classic FM Album falls seventeen places from no. 2.
There are two further new entries in the lower third of the chart, bringing this week's total to eight, featuring the music of Tchaikovsky and Mozart. At no. 28 Carly Paoli re-enters the chart with Singing My Dreams and at no. 29 Andre Rieu re-enters the chart with December Lights. Finally, Dvorak's quintet's is the biggest faller this week, down twenty-six places from no. 4 to no. 30.
This
Week
Last
Week
Title & Artist
1
NEW
MUSIC FOR MINDFULNESS, VARIOUS ARTISTS


Buy from Amazon

-

Download from iTunes

2
1
ISLANDS - ESSENTIAL EINAUDI, LUDOVICO EINAUDI


Buy from Amazon

-

Download from iTunes

3
5
LAST NIGHT OF THE PROMS - THE ULTIMATE, VARIOUS ARTISTS


Buy from Amazon

-

Download from iTunes

4
NEW
LIVE AT CARNEGIE HALL, SVIATOSLAV RICHTER


Buy from Amazon

-

Download from iTunes

5
15
SCHUBERT/PIANO SONATAS, KRYSTIAN ZIMERMAN


Buy from Amazon

-

Download from iTunes

6
NEW
BLUE PLANET II - OST, HANS ZIMMER/SHEA/FLEMING


Buy from Amazon

-

Download from iTunes

7
29
THE VERY BEST OF, JACQUELINE DU PRE


Buy from Amazon

-

Download from iTunes

8
RE
ONE VOICE AT CHRISTMAS, ALED JONES


Buy from Amazon

-

Download from iTunes

9
NEW
VAUGHAN WILLIAMS/A LONDON SYMPHONY, BBC SO/BRABBINS


Buy from Amazon

-

Download from iTunes

10
NEW
COKE/PIANO CONCERTOS, CALLAGHAN/BBC SSO/BRABBINS


Buy from Amazon

-

Download from iTunes

11
7
PETER AND THE WOLF, ARMSTRONG/RLPO/PETRENKO


Buy from Amazon

-

Download from iTunes

12
12
THE 50 GREATEST PIECES OF CLASSICAL MUSIC, LPO/PARRY


Buy from Amazon

-

Download from iTunes

13
10
ELEMENTS, LUDOVICO EINAUDI


Buy from Amazon

-

Download from iTunes

14
11
THE LORD OF THE RINGS - TRILOGY - OST, HOWARD SHORE


Buy from Amazon

-

Download from iTunes

15
14
IN A TIME LAPSE, LUDOVICO EINAUDI


Buy from Amazon

-

Download from iTunes

16
3
SYMPHONIC ADIEMUS, KARL JENKINS


Buy from Amazon

-

Download from iTunes

17
NEW
BEETHOVEN/THE LATE QUARTETS, QUATUOR MOSAIQUES


Buy from Amazon

-

Download from iTunes

18
13
THE LITTLE MERMAID - OST, ALAN MENKEN


Buy from Amazon

-

Download from iTunes

19
2
THE ULTIMATE CLASSIC FM ALBUM, VARIOUS ARTISTS


Buy from Amazon

-

Download from iTunes

20
9
GAME OF THRONES - SEASON 7 - OST, RAMIN DJAWADI


Buy from Amazon

-

Download from iTunes

21
NEW
TCHAIKOVSKY/SYMPHONY NO 6, MUSICAETERNA/CURRENTZIS


Buy from Amazon

-

Download from iTunes

22
27
GLADIATOR - OST, HANS ZIMMER & LISA GERRARD


Buy from Amazon

-

Download from iTunes

23
RE
THE COMPLETE HARRY POTTER FILM MUSIC, CITY OF PRAGUE PO


Buy from Amazon

-

Download from iTunes

24
NEW
MOZART/REQUIEM, RIAS/FREIBURGER OR/JACOBS


Buy from Amazon

-

Download from iTunes

25
24
DIVENIRE, LUDOVICO EINAUDI


Buy from Amazon

-

Download from iTunes

26
21
THE LORD OF THE RINGS - OST, HOWARD SHORE


Buy from Amazon

-

Download from iTunes

27
22
DUNKIRK - OST, HANS ZIMMER


Buy from Amazon

-

Download from iTunes

28
RE
SINGING MY DREAMS, CARLY PAOLI


Buy from Amazon

-

Download from iTunes

29
RE
DECEMBER LIGHTS, ANDRE RIEU


Buy from Amazon

-

Download from iTunes

30
4
DVORAK/QUINTETS, GILTBURG/NIKL/PAVEL HAAS QRT


Buy from Amazon

-

Download from iTunes