Classic FM Chart: New entry by Max Richter goes straight to no. 1
5 February 2017, 18:55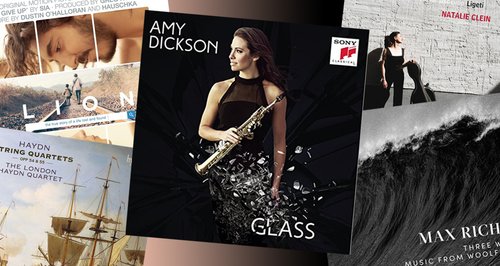 5th February: New entry at no. 1 by Max Richter, while the Classical Album stays within the top 3.
There are 8 strong new entries in this weeks chart, but the stand out performance is without a doubt by Max Richter with his latest album Three Worlds: Music from Woolf Works which enters the chart straight at no. 1.
This is Max Richter's second album in the top 10 of the Classic FM Chart - his other current album Sleep is this week's highest climber, jumping a staggering 18 places to no. 6.
Ludovico Einaudi's Islands and The Classical Album remain in the top 3, while other two other new entries make it in to the top 10 - Amy Dickson's new album Glass is at no. 5 this week and the London Haydn Quartet enter the chart at no. 8.
Other new entries include the latest albums from cellist Natalie Clein at no. 20, Westminster Abbey Choir at no. 21, Dustin O'Halloran's soundtrack for the new award-winning film Lion at 25, the National Youth Orchestra of Great Britain playing Holst at 26 and finally Iestyn Davies re-enters the chart at no. 6.
There are no stand out falls in the chart this week, however many albums which have been dominating the chart for several weeks are now beginning to slide down, including the Royal Liverpool Philharmonic Orchestra's latest Tchaikovsky album which falls from no. 6 into the forties and Hans Zimmer's soundtrack for Planet Earth II.
This
Week
Last
Week
Title & Artist
1
NEW
THREE WORLDS - MUSIC FROM WOOLF WORKS, MAX RICHTER


Buy from Amazon

-

Download from iTunes

2
2
ISLANDS - ESSENTIAL EINAUDI, LUDOVICO EINAUDI


Buy from Amazon

-

Download from iTunes

3
1
THE CLASSICAL ALBUM, VARIOUS ARTISTS


Buy from Amazon

-

Download from iTunes

4
13
BELIEVE, JONATHAN ANTOINE


Buy from Amazon

-

Download from iTunes

5
NEW
GLASS, AMY DICKSON


Buy from Amazon

-

Download from iTunes

6
24
SLEEP, MAX RICHTER


Buy from Amazon

-

Download from iTunes

7
8
THE 50 GREATEST PIECES OF CLASSICAL MUSIC, LPO/PARRY


Buy from Amazon

-

Download from iTunes

8
NEW
HAYDN/STRING QUARTETS - OPP 54 & 55, LONDON HAYDN QUARTET


Buy from Amazon

-

Download from iTunes

9
5
ROGUE ONE - A STAR WARS STORY - OST, MICHAEL GIACCHINO


Buy from Amazon

-

Download from iTunes

10
4
IMMORTAL MEMORY - A BURNS NIGHT, UNI ABERDEEN CHAMBER CH/MEALOR


Buy from Amazon

-

Download from iTunes

11
7
BILL TURNBULL'S RELAXING CLASSICS, VARIOUS ARTISTS


Buy from Amazon

-

Download from iTunes

12
12
ELEMENTS, LUDOVICO EINAUDI


Buy from Amazon

-

Download from iTunes

13
9
BRUNO TONIOLI: AN ITALIAN ROMANCE, VARIOUS ARTISTS


Buy from Amazon

-

Download from iTunes

14
21
THE BLUE NOTEBOOKS, MAX RICHTER


Buy from Amazon

-

Download from iTunes

15
10
ONE VOICE, ALED JONES


Buy from Amazon

-

Download from iTunes

16
RE
BACH/CANTATAS 54 82 & 170, DAVIES/ARCANGELO/COHEN


Buy from Amazon

-

Download from iTunes

17
22
THE LORD OF THE RINGS - TRILOGY - OST, HOWARD SHORE


Buy from Amazon

-

Download from iTunes

18
11
ZIMMER/THE CLASSICS, VARIOUS ARTISTS


Buy from Amazon

-

Download from iTunes

19
20
IN A TIME LAPSE, LUDOVICO EINAUDI


Buy from Amazon

-

Download from iTunes

20
NEW
BLOCH/DALLAPICCOLA/LIGETI/SUITES FOR, NATALIE CLEIN


Buy from Amazon

-

Download from iTunes

21
NEW
FINZI/BAX/IRELAND/LO THE FULL FINAL, WESTMINSTER ABBEY CH/O'DONNELL


Buy from Amazon

-

Download from iTunes

22
14
A YEAR OF SONGS, ALEXANDER ARMSTRONG


Buy from Amazon

-

Download from iTunes

23
17
GAME OF THRONES - SEASON 6 - OST, RAMIN DJAWADI


Buy from Amazon

-

Download from iTunes

24
19
STAR WARS - THE FORCE AWAKENS - OST, JOHN WILLIAMS


Buy from Amazon

-

Download from iTunes

25
NEW
LION - OST, DUSTIN O'HALLORAN & HAUSCHKA


Buy from Amazon

-

Download from iTunes

26
NEW
HOLST/STRAUSS/THE PLANETS/ALSO SPRACH, CBSO YOUTH/NYO/GARDINER


Buy from Amazon

-

Download from iTunes

27
15
STAR WARS - RETURN OF THE JEDI - OST, LSO/WILLIAMS


Buy from Amazon

-

Download from iTunes

28
18
NEW YEAR'S CONCERT 2017, VP/DUDAMEL


Buy from Amazon

-

Download from iTunes

29
NEW
PHILIP GLASS/PIANO WORKS, VIKINGUR OLAFSSON


Buy from Amazon

-

Download from iTunes

30
28
CLASSIC FM - A NIGHT AT THE MOVIES, VARIOUS ARTISTS


Buy from Amazon

-

Download from iTunes