Classic FM Chart: Jurassic World: Fallen Kingdom lands at No. 3
24 June 2018, 18:55 | Updated: 25 June 2018, 16:08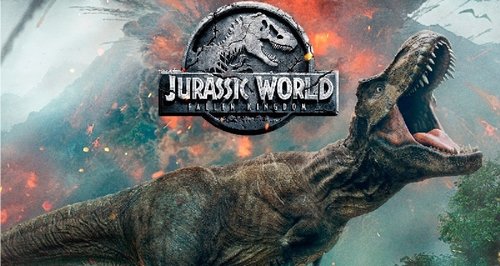 After the release of the second instalment in the Jurassic World franchise, Michael Giacchino's epic score has jumped into the Classic FM Chart at No. 3.
Sheku Kanneh-Mason's debut album Inspiration and John Williams: A Life in Music once again take the top two spots in the Classic FM Chart, lying just ahead of Michael Giacchino's new score to Jurassic World: Fallen Kingdom.
Elsewhere in the chart, there are five re-entries, including Andrea Bocelli's Cinema, Andre Rieu's Amore and Il Volo and Placido Domingo's release, Notte Magica – A Tribute to The Three Tenors.
Plus, there is a second new entry at No. 27 with Reflections, recorded by Huw Wiggin, John Lenehan and Oliver Wass.
This
Week
Last
Week
Title & Artist
1
1
INSPIRATION, SHEKU KANNEH-MASON


Download from iTunes

-

Buy from Amazon

2
2
JOHN WILLIAMS - A LIFE IN MUSIC, LSO/GREENAWAY


Download from iTunes

-

Buy from Amazon

3
NEW
JURASSIC WORLD - FALLEN KINGDOM - OST, MICHAEL GIACCHINO


Download from iTunes

-

Buy from Amazon

4
3
ISLANDS - ESSENTIAL EINAUDI, LUDOVICO EINAUDI


Download from iTunes

-

Buy from Amazon

5
4
THE ROYAL WEDDING - OFFICIAL ALBUM 2018, VARIOUS ARTISTS


Download from iTunes

-

Buy from Amazon

6
5
SOLO - A STAR WARS STORY, JOHN WILLIAMS/JOHN POWELL


Download from iTunes

-

Buy from Amazon

7
7
SLEEP, MAX RICHTER


Download from iTunes

-

Buy from Amazon

8
21
STEPHEN HOUGH'S DREAM ALBUM, STEPHEN HOUGH


Download from iTunes

-

Buy from Amazon

9
11
THE LITTLE MERMAID - OST, ALAN MENKEN


Download from iTunes

-

Buy from Amazon

10
12
GLADIATOR - OST, HANS ZIMMER & LISA GERRARD


Download from iTunes

-

Buy from Amazon

11
8
AVENGERS - INFINITY WAR - OST, ALAN SILVESTRI


Download from iTunes

-

Buy from Amazon

12
10
THE BLUE NOTEBOOKS, MAX RICHTER


Download from iTunes

-

Buy from Amazon

13
13
THE 50 GREATEST PIECES OF CLASSICAL, LPO/PARRY


Download from iTunes

-

Buy from Amazon

14
9
THE LORD OF THE RINGS - TRILOGY - OST, HOWARD SHORE


Download from iTunes

-

Buy from Amazon

15
14
ELEMENTS, LUDOVICO EINAUDI


Download from iTunes

-

Buy from Amazon

16
15
DIVENIRE, LUDOVICO EINAUDI


Download from iTunes

-

Buy from Amazon

17
RE
CINEMA, ANDREA BOCELLI


Download from iTunes

-

Buy from Amazon

18
16
IN A TIME LAPSE, LUDOVICO EINAUDI


Download from iTunes

-

Buy from Amazon

19
RE
AMORE, ANDRE RIEU


Download from iTunes

-

Buy from Amazon

20
18
SCORE, 2CELLOS


Download from iTunes

-

Buy from Amazon

21
19
THE LORD OF THE RINGS - OST, HOWARD SHORE
22
20
GAME OF THRONES - SEASON 7 - OST, RAMIN DJAWADI


Download from iTunes

-

Buy from Amazon

23
25
GAME OF THRONES - SEASON 6 - OST, RAMIN DJAWADI


Download from iTunes

-

Buy from Amazon

24
RE
NOTTE MAGICA - A TRIBUTE TO THE THREE, IL VOLO & PLACIDO DOMINGO


Download from iTunes

-

Buy from Amazon

25
17
POLDARK - OST, ANNE DUDLEY


Download from iTunes

-

Buy from Amazon

26
24
CLASSICAL CHILLOUT, VARIOUS ARTISTS


Download from iTunes

-

Buy from Amazon

27
NEW
REFLECTIONS, WIGGIN/LENEHAN/WASS


Download from iTunes

-

Buy from Amazon

28
28
I GIORNI, LUDOVICO EINAUDI


Download from iTunes

-

Buy from Amazon

29
RE
UNA MATTINA, LUDOVICO EINAUDI


Download from iTunes

-

Buy from Amazon

30
RE
STAR WARS - A NEW HOPE - OST, LSO/WILLIAMS


Download from iTunes

-

Buy from Amazon