Classic FM Chart: Jubilate: 500 Years of Cathedral Music enters the chart at no. 1
26 March 2017, 18:55 | Updated: 27 March 2017, 13:32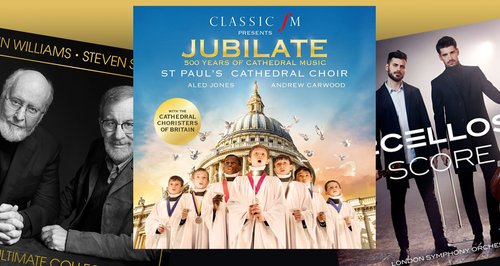 26th March: Classic FM's latest release Jubilate: 500 Years of Cathedral Music by St Paul's Cathedral Choir, Aled Jones and Andrew Carwood enters the chart at no. 1.
There is a new no. 1 in the Classic FM Chart plus three other new entries in the top ten. Classic FM's very own Jubilate: 500 Years Of Cathedral Music enters the chart at no. 1 having only been released this week and featuring as John Suchet's Album of the Week. John Brunning's recent Drive Discovery, 2Cello's new album Score, enters the chart at no. 3; John Williams and Steven Spielberg: The Ultimate Collection enters at no. 6; and there is a further new entry at no. 10 - Lucrezia Borgia's Daughter. Meanwhile, Alfie Boe's Love was a Dream is back at no. 2 and last week's no. 1 from Gok Wan steps down to no. 4.
There are no new entries outside the top 10 in the chart this week. The biggest climber is the original soundtrack for The Little Mermaid which climbs 10 places from no. 26 to no. 16. There are lots of fallers out of the top 30 this week, last week's no. 2 no longer features, however the biggest faller within the chart is Max Richter's Sleep, down 8 places.
The lower half of the chart includes 8 new entries, featuring Aled Jones' One Voice, Classic FM: A Night at the Movies and Jonathan Antoine's Believe.
This
Week
Last
Week
Title & Artist
1
NEW
CLASSIC FM PTS JUBILATE - 500 YEARS OF, JONES/ST PAUL'S CH/CARWOOD


Buy from Amazon

-

Download from iTunes

2
3
LOVE WAS A DREAM, ALFIE BOE


Buy from Amazon

-

Download from iTunes

3
NEW
SCORE, 2CELLOS


Buy from Amazon

-

Download from iTunes

4
1
GOK'S DIVAS, VARIOUS ARTISTS


Buy from Amazon

-

Download from iTunes

5
4
ISLANDS - ESSENTIAL EINAUDI, LUDOVICO EINAUDI


Buy from Amazon

-

Download from iTunes

6
NEW
WILLIAMS/SPIELBERG/ULTIMATE COLLECTION, JOHN WILLIAMS


Buy from Amazon

-

Download from iTunes

7
7
ELEMENTS, LUDOVICO EINAUDI


Buy from Amazon

-

Download from iTunes

8
5
THREE WORLDS - MUSIC FROM WOOLF WORKS, MAX RICHTER


Buy from Amazon

-

Download from iTunes

9
10
THE CLASSICAL ALBUM, VARIOUS ARTISTS


Buy from Amazon

-

Download from iTunes

10
NEW
LUCREZIA BORGIA'S DAUGHTER, MUSICA SECRETA/STRAS/ROBERTS


Buy from Amazon

-

Download from iTunes

11
9
THE 50 GREATEST PIECES OF CLASSICAL MUSIC, LPO/PARRY


Buy from Amazon

-

Download from iTunes

12
11
THE BLUE NOTEBOOKS, MAX RICHTER


Buy from Amazon

-

Download from iTunes

13
6
CINEMA, ANDREA BOCELLI


Buy from Amazon

-

Download from iTunes

14
12
RECOMPOSED BY MAX RICHTER/VIVALDI - FOUR, HOPE/KONZERTHAUS CO/RIDDER


Buy from Amazon

-

Download from iTunes

15
17
THE LORD OF THE RINGS - TRILOGY - OST, HOWARD SHORE


Buy from Amazon

-

Download from iTunes

16
26
THE LITTLE MERMAID - OST, ALAN MENKEN


Buy from Amazon

-

Download from iTunes

17
22
IN A TIME LAPSE, LUDOVICO EINAUDI


Buy from Amazon

-

Download from iTunes

18
18
LION - OST, DUSTIN O'HALLORAN & HAUSCHKA


Buy from Amazon

-

Download from iTunes

19
RE
THE ARMED MAN - A MASS FOR PEACE, KARL JENKINS


Buy from Amazon

-

Download from iTunes

20
19
GAME OF THRONES - SEASON 6 - OST, RAMIN DJAWADI


Buy from Amazon

-

Download from iTunes

21
28
GLADIATOR - OST, HANS ZIMMER & LISA GERRARD


Buy from Amazon

-

Download from iTunes

22
14
SLEEP, MAX RICHTER


Buy from Amazon

-

Download from iTunes

23
RE
DIVENIRE, LUDOVICO EINAUDI


Buy from Amazon

-

Download from iTunes

24
RE
BELIEVE, JONATHAN ANTOINE


Buy from Amazon

-

Download from iTunes

25
30
ROGUE ONE - A STAR WARS STORY - OST, MICHAEL GIACCHINO


Buy from Amazon

-

Download from iTunes

26
RE
ONE VOICE, ALED JONES


Buy from Amazon

-

Download from iTunes

27
RE
THE LORD OF THE RINGS - OST, HOWARD SHORE


Buy from Amazon

-

Download from iTunes

28
21
BACH/ST MATTHEW PASSION, GILCHRIST/LOGES/MONTEVERDI CH


Buy from Amazon

-

Download from iTunes

29
RE
CLASSICAL - THE COLLECTION, VARIOUS ARTISTS


Buy from Amazon

-

Download from iTunes

30
RE
CLASSIC FM - A NIGHT AT THE MOVIES, VARIOUS ARTISTS


Buy from Amazon

-

Download from iTunes