Classic FM Chart: John Williams' Across the Stars and Netflix's The Dark Crystal soundtrack make entries
8 September 2019, 18:55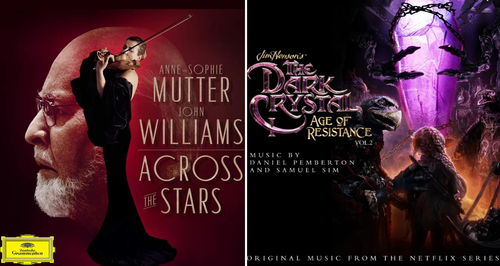 John Williams' stunning film score transcriptions for violin, performed by Anne-Sophie Mutter, enters this week's chart, along with the soundtrack from Netflix's The Dark Crystal and seven other new entries.
There are plenty of wonderful new entries in this week's chart – including the soundtrack to Netflix's fantasy series, The Dark Crystal, and John Williams's collaboration with violinist Ann-Sophie Mutter, Across the Stars, which features his best film scores in new transcriptions for the violin.
There are also plenty of familiar faces here – from Einaudi and Pavarotti, to the Avengers: Endgame soundtrack, and Isata Kanneh-Mason's beautiful disc of Clara Schumann Romances.
This
Week
Last
Week
Title & Artist
1
1
ISLANDS - ESSENTIAL EINAUDI, LUDOVICO EINAUDI


Download from iTunes

-

Buy from Amazon

2
6
AVENGERS - ENDGAME - OST, ALAN SILVESTRI


Download from iTunes

-

Buy from Amazon

3
NEW
ACROSS THE STARS, MUTTER/RECORDING ARTS OR LA


Download from iTunes

-

Buy from Amazon

4
2
SI, ANDREA BOCELLI


Download from iTunes

-

Buy from Amazon

5
NEW
KORNGOLD/SYMPHONY IN F SHARP, SINFONIA OF LONDON/WILSON


Download from iTunes

-

Buy from Amazon

6
NEW
BRAHMS/VIOLIN SONATAS, IBRAGIMOVA/TIBERGHIEN


Download from iTunes

-

Buy from Amazon

7
10
SEVEN DAYS WALKING - DAY ONE, LUDOVICO EINAUDI


Download from iTunes

-

Buy from Amazon

8
3
THE LITTLE MERMAID - OST, ALAN MENKEN


Download from iTunes

-

Buy from Amazon

9
4
PAVAROTTI - OST, LUCIANO PAVAROTTI


Download from iTunes

-

Buy from Amazon

10
NEW
SCHUBERT/WINTERREISE, BOSTRIDGE/ADES


Download from iTunes

-

Buy from Amazon

11
9
THE 50 GREATEST PIECES OF CLASSICAL, LPO/PARRY


Download from iTunes

-

Buy from Amazon

12
5
SLEEP, MAX RICHTER


Download from iTunes

-

Buy from Amazon

13
7
THE LORD OF THE RINGS - TRILOGY - OST, HOWARD SHORE
14
13
THE BLUE NOTEBOOKS, MAX RICHTER


Download from iTunes

-

Buy from Amazon

15
NEW
BRITISH TONE POEMS - VOL 2, BBC PO/GAMBA


Download from iTunes

-

Buy from Amazon

16
27
ROMANCE - THE PIANO MUSIC OF CLARA, ISATA KANNEH-MASON


Download from iTunes

-

Buy from Amazon

17
NEW
RILEY/SUN RINGS, KRONOS QUARTET


Download from iTunes

-

Buy from Amazon

18
11
GLADIATOR - OST, HANS ZIMMER & LISA GERRARD


Download from iTunes

-

Buy from Amazon

19
12
IN A TIME LAPSE, LUDOVICO EINAUDI


Download from iTunes

-

Buy from Amazon

20
18
UNA MATTINA, LUDOVICO EINAUDI


Download from iTunes

-

Buy from Amazon

21
8
SEVEN DAYS WALKING - DAY SIX, LUDOVICO EINAUDI


Download from iTunes

-

Buy from Amazon

22
17
THE LORD OF THE RINGS - OST, HOWARD SHORE
23
16
POLDARK - THE ULTIMATE COLLECTION - OST, ANNE DUDLEY


Download from iTunes

-

Buy from Amazon

24
14
GAME OF THRONES - SEASON 8 - OST, RAMIN DJAWADI


Download from iTunes

-

Buy from Amazon

25
NEW
PFITZNER/BRAUNFELS/THE ROMANTIC PNO CTO, BECKER/BERLIN RSO/TRINKS


Download from iTunes

-

Buy from Amazon

26
22
SCORE, 2CELLOS


Download from iTunes

-

Buy from Amazon

27
21
DIVENIRE, LUDOVICO EINAUDI


Download from iTunes

-

Buy from Amazon

28
NEW
THE DARK CRYSTAL - AGE OF RESISTANCE - 1, DANIEL PEMBERTON


Download from iTunes

-

Buy from Amazon

29
19
THE GREATEST HITS, LUCIANO PAVAROTTI


Download from iTunes

-

Buy from Amazon

30
20
EVOLUTION, ALEXIS FFRENCH


Download from iTunes

-

Buy from Amazon