Classic FM Chart: Game of Thrones Season 7 is at no. 1 for the second week
10 September 2017, 18:55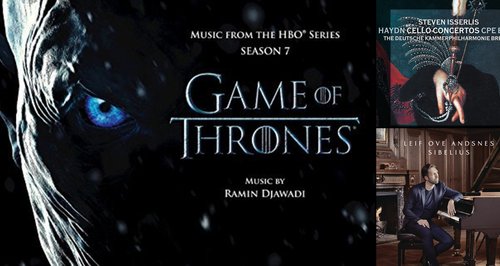 Ramin Djawadi's soundtrack for Game of Thrones: Season 7 remains at no. 1 in the Classic FM Chart for the second week. Meanwhile, Einaudi's Islands finally drops down one place to no. 3 after spending more than a month at no. 2. Many of the other albums in the top ten remain the same as last week, with the addition of this week's highest climber, Classic FM's own Vivaldi: The Four Seasons, up 9 places from no. 17 to no. 8, and Einaudi's Elements at no. 10, up six places.
Just outside the top ten, there are two new entries. First of all at no. 11 is Steven Isserlis's new recordings of Haydn and C.P.E. Bach's Cello Concertos, and at no. 12 is Leif Ove Andsnes playing Sibelius.
There are a further four new entries in the lower half of the Classic FM Chart this week, including Pavarotti: The Peoples Tenor and Martha Argerich's Live from Lugano 2016, bringing this week's total number of new entries to six. Meanwhile, there are three reentries this week - two from Max Richter and finally The City of Prague Philharmonic Orchestra playing The Complete Harry Potter Film Music at no. 30.
This
Week
Last
Week
Title & Artist
1
1
GAME OF THRONES - SEASON 7 - OST, RAMIN DJAWADI


Buy from Amazon

-

Download from iTunes

2
4
LAST NIGHT OF THE PROMS - THE ULTIMATE, VARIOUS ARTISTS


Buy from Amazon

-

Download from iTunes

3
2
ISLANDS - ESSENTIAL EINAUDI, LUDOVICO EINAUDI


Buy from Amazon

-

Download from iTunes

4
5
DUNKIRK - OST, HANS ZIMMER


Buy from Amazon

-

Download from iTunes

5
6
GAME OF THRONES - SEASON 6 - OST, RAMIN DJAWADI


Buy from Amazon

-

Download from iTunes

6
9
CLASSIC FM - PIANO FAVOURITES, VARIOUS ARTISTS


Buy from Amazon

-

Download from iTunes

7
8
CLASSIC FM - WILLIAMS/THE LARK ASCENDING, ASMIF/MARRINER


Buy from Amazon

-

Download from iTunes

8
17
CLASSIC FM - VIVALDI/THE FOUR SEASONS, STANDAGE/ECO/PINNOCK


Buy from Amazon

-

Download from iTunes

9
11
PEACEFUL PIANO, VARIOUS ARTISTS


Buy from Amazon

-

Download from iTunes

10
16
ELEMENTS, LUDOVICO EINAUDI


Buy from Amazon

-

Download from iTunes

11
NEW
HAYDN/BACH/CELLO CONCERTOS, ISSERLIS/DEUTSCHE KAMMERPHIL


Buy from Amazon

-

Download from iTunes

12
NEW
SIBELIUS, LEIF OVE ANDSNES


Buy from Amazon

-

Download from iTunes

13
10
CLASSIC FM - HOLST/PLANETS, MONTREAL SO/DUTOIT


Buy from Amazon

-

Download from iTunes

14
14
CLASSIC FM - LAND OF HOPE AND GLORY, VARIOUS ARTISTS


Buy from Amazon

-

Download from iTunes

15
3
EULOGY FOR EVOLUTION 2017, OLAFUR ARNALDS


Buy from Amazon

-

Download from iTunes

16
15
THE LITTLE MERMAID - OST, ALAN MENKEN


Buy from Amazon

-

Download from iTunes

17
NEW
THE PEOPLE'S TENOR, LUCIANO PAVAROTTI


Buy from Amazon

-

Download from iTunes

18
19
GLADIATOR - OST, HANS ZIMMER & LISA GERRARD


Buy from Amazon

-

Download from iTunes

19
NEW
MOZART/VIOLIN SONATAS, IBRAGIMOVA/TIBERGHIEN


Buy from Amazon

-

Download from iTunes

20
18
THE 50 GREATEST PIECES OF CLASSICAL MUSIC, LPO/PARRY


Buy from Amazon

-

Download from iTunes

21
20
THE LORD OF THE RINGS - TRILOGY - OST, HOWARD SHORE


Buy from Amazon

-

Download from iTunes

22
23
IN A TIME LAPSE, LUDOVICO EINAUDI


Buy from Amazon

-

Download from iTunes

23
NEW
ROYAL AIR FORCE - 100TH ANNIVERSARY, CENTRAL BAND RAF/RAF COLLEGE


Buy from Amazon

-

Download from iTunes

24
13
SCORE, 2CELLOS


Buy from Amazon

-

Download from iTunes

25
RE
THE BLUE NOTEBOOKS, MAX RICHTER


Buy from Amazon

-

Download from iTunes

26
29
THE LORD OF THE RINGS - OST, HOWARD SHORE


Buy from Amazon

-

Download from iTunes

27
NEW
AND FRIENDS - LIVE FROM LUGANO 2016, MARTHA ARGERICH


Buy from Amazon

-

Download from iTunes

28
RE
THE LEFTOVERS - SEASON 1 - OST, MAX RICHTER


Buy from Amazon

-

Download from iTunes

29
27
DIVENIRE, LUDOVICO EINAUDI


Buy from Amazon

-

Download from iTunes

30
RE
THE COMPLETE HARRY POTTER FILM MUSIC, CITY OF PRAGUE PO


Buy from Amazon

-

Download from iTunes