Classic FM Chart: Einaudi's 'Islands' continues it's reign at no. 1
22 October 2017, 18:55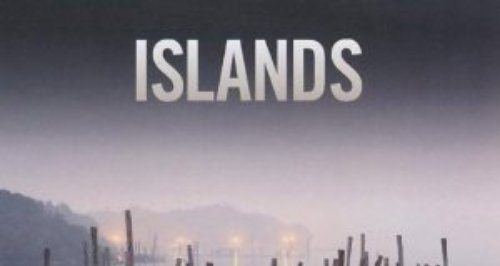 Einaudi's Islands is a non-mover this week, holding onto it's place at no. 1, and Symphonic Adiemus by Karl Jenkins is also another non-mover at the top of the chart, remaining at no. 3. However, the highlight of the top ten this week is in fact at no. 7, Schubert's Piano Sonatas by Kristin Zimerman, which is this week's highest climber rising twenty-three places from no. 30 to no. 7.
Just outside the top ten is another high climber from Einaudi with In A Time Lapse, rising thirteen places. Just below at no. 12 is a re-entry by Jonas Kaufmann and at no. 14 this week is a further high climber - Rupert Gregson-Williams soundtrack for Wonder Woman - up fourteen places.
The first new entry this week doesn't appear until no. 20 - Brian's Symphonies by the New Russia Symphony Orchestra - followed by another new entry at no. 22, The Monteverdi Choir singing Bach's Magnificat. Lord of the Rings has re-entered the chart at no. 23 alongside Dana Ciocarlie playing Schumann entering the chart at no. 25. Finally, there are four further re-entries in the lower end of the chart with one final new entry from Clint Mansell with his soundtrack to Loving Vincent.
This
Week
Last
Week
Title & Artist
1
1
ISLANDS - ESSENTIAL EINAUDI, LUDOVICO EINAUDI


Buy from Amazon

-

Download from iTunes

2
6
LAST NIGHT OF THE PROMS - THE ULTIMATE, VARIOUS ARTISTS


Buy from Amazon

-

Download from iTunes

3
3
SYMPHONIC ADIEMUS, KARL JENKINS


Buy from Amazon

-

Download from iTunes

4
8
PETER AND THE WOLF, ARMSTRONG/RLPO/PETRENKO


Buy from Amazon

-

Download from iTunes

5
11
THE 50 GREATEST PIECES OF CLASSICAL MUSIC, LPO/PARRY


Buy from Amazon

-

Download from iTunes

6
5
THE PIANO ALBUM, ALISTAIR MCGOWAN


Buy from Amazon

-

Download from iTunes

7
30
SCHUBERT/PIANO SONATAS, KRYSTIAN ZIMERMAN


Buy from Amazon

-

Download from iTunes

8
12
ELEMENTS, LUDOVICO EINAUDI


Buy from Amazon

-

Download from iTunes

9
2
VICTORIA - OST, MARTIN PHIPPS & RUTH BARRETT


Buy from Amazon

-

Download from iTunes

10
9
GAME OF THRONES - SEASON 7 - OST, RAMIN DJAWADI


Buy from Amazon

-

Download from iTunes

11
24
IN A TIME LAPSE, LUDOVICO EINAUDI


Buy from Amazon

-

Download from iTunes

12
RE
L'OPERA, JONAS KAUFMANN


Buy from Amazon

-

Download from iTunes

13
15
DUNKIRK - OST, HANS ZIMMER


Buy from Amazon

-

Download from iTunes

14
28
WONDER WOMAN - OST, RUPERT GREGSON-WILLIAMS


Buy from Amazon

-

Download from iTunes

15
17
THE LITTLE MERMAID - OST, ALAN MENKEN


Buy from Amazon

-

Download from iTunes

16
19
THE LORD OF THE RINGS - TRILOGY - OST, HOWARD SHORE


Buy from Amazon

-

Download from iTunes

17
20
GLADIATOR - OST, HANS ZIMMER & LISA GERRARD


Buy from Amazon

-

Download from iTunes

18
27
GAME OF THRONES - SEASON 6 - OST, RAMIN DJAWADI


Buy from Amazon

-

Download from iTunes

19
22
CLASSIC FM HALL OF FAME - THE SILVER, VARIOUS ARTISTS


Buy from Amazon

-

Download from iTunes

20
NEW
BRIAN/SYMPHONIES 8 21 & 26, NEW RUSSIA SO/WALKER


Buy from Amazon

-

Download from iTunes

21
23
DIVENIRE, LUDOVICO EINAUDI


Buy from Amazon

-

Download from iTunes

22
NEW
BACH/MAGNIFICAT IN E FLAT/MISSA, MONTVERDI CHOIR/GARDINER


Buy from Amazon

-

Download from iTunes

23
RE
THE LORD OF THE RINGS - OST, HOWARD SHORE


Buy from Amazon

-

Download from iTunes

24
29
THREE WORLDS - MUSIC FROM WOOLF WORKS, MAX RICHTER


Buy from Amazon

-

Download from iTunes

25
NEW
SCHUMANN/LIVE COMPLETE SOLO PIANO WORKS, DANA CIOCARLIE


Buy from Amazon

-

Download from iTunes

26
RE
THE BLUE NOTEBOOKS, MAX RICHTER


Buy from Amazon

-

Download from iTunes

27
RE
UNA MATTINA, LUDOVICO EINAUDI


Buy from Amazon

-

Download from iTunes

28
RE
40 MOST BEAUTIFUL ARIAS, VARIOUS ARTISTS


Buy from Amazon

-

Download from iTunes

29
RE
GLADIATOR - OST - SPECIAL ANNIVERSARY, HANS ZIMMER & LISA GERRARD


Buy from Amazon

-

Download from iTunes

30
NEW
LOVING VINCENT - OST, CLINT MANSELL


Buy from Amazon

-

Download from iTunes