Classic FM Chart: Ludovico Einaudi knocks Andrea Bocelli off the top spot
24 March 2019, 18:55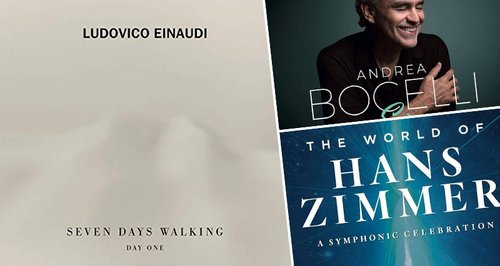 After 20 weeks at No. 1 in the Classic FM Chart Andrea Bocelli has met his match, in the form of fellow musical Italian Ludovico Einaudi
The first installation in Ludovico Einaudi's new album series has nudged Andrea Bocelli's Sì off the top spot, after 20 weeks at No. 1.
In its first week of release, Seven Days Walking: Day One became the fastest-streamed classical album of all time, exceeding two million streams on release day alone.
And the good news doesn't stop there for the Italian composer-pianist. Einaudi has six other albums in this week's Classic FM Chart, including Islands and In a Time Lapse which both appear in the top 10.
Elsewhere in the chart, The World Of – A Symphonic Celebration is a new entry for German film composer Hans Zimmer at No. 5. Plus, Isabelle Faust's new recording of Bach's Violin Concertos, recorded with the Akademie für Alte Musik Berlin orchestra, has entered the chart at No. 13.
This
Week
Last
Week
Title & Artist
1
NEW
SEVEN DAYS WALKING - DAY ONE, LUDOVICO EINAUDI


Download from iTunes

-

Buy from Amazon

2
1
SI, ANDREA BOCELLI


Download from iTunes

-

Buy from Amazon

3
3
ISLANDS - ESSENTIAL EINAUDI, LUDOVICO EINAUDI


Download from iTunes

-

Buy from Amazon

4
2
ROMANTIC MOMENTS II, ANDRE RIEU & JOHANN STRAUSS OR


Download from iTunes

-

Buy from Amazon

5
NEW
THE WORLD OF - A SYMPHONIC CELEBRATION, HANS ZIMMER


Download from iTunes

-

Buy from Amazon

6
6
GUIDING LIGHT, KATHERINE JENKINS


Download from iTunes

-

Buy from Amazon

7
5
IN HARMONY, ALED JONES & RUSSELL WATSON


Download from iTunes

-

Buy from Amazon

8
11
IN A TIME LAPSE, LUDOVICO EINAUDI


Download from iTunes

-

Buy from Amazon

9
14
ELEMENTS, LUDOVICO EINAUDI


Download from iTunes

-

Buy from Amazon

10
9
THE LITTLE MERMAID - OST, ALAN MENKEN


Download from iTunes

-

Buy from Amazon

11
4
CAPTAIN MARVEL - OST, PINAR TOPRAK


Download from iTunes

-

Buy from Amazon

12
10
THE LORD OF THE RINGS - TRILOGY - OST, HOWARD SHORE
13
NEW
BACH/VIOLIN CONCERTOS, FAUST/AKADEMIE FUR ALTE MUSIK


Download from iTunes

-

Buy from Amazon

14
13
SLEEP, MAX RICHTER


Download from iTunes

-

Buy from Amazon

15
20
THE BLUE NOTEBOOKS, MAX RICHTER


Download from iTunes

-

Buy from Amazon

16
16
DIVENIRE, LUDOVICO EINAUDI


Download from iTunes

-

Buy from Amazon

17
15
THE LORD OF THE RINGS - OST, HOWARD SHORE
18
17
THE 50 GREATEST PIECES OF CLASSICAL, LPO/PARRY


Download from iTunes

-

Buy from Amazon

19
12
THE ULTIMATE CLASSICAL COLLECTION, VARIOUS ARTISTS


Download from iTunes

-

Buy from Amazon

20
28
UNA MATTINA, LUDOVICO EINAUDI


Download from iTunes

-

Buy from Amazon

21
23
GLADIATOR - OST, HANS ZIMMER & LISA GERRARD


Download from iTunes

-

Buy from Amazon

22
22
INSPIRATION, SHEKU KANNEH-MASON


Download from iTunes

-

Buy from Amazon

23
RE
BLUE PLANET II - OST, HANS ZIMMER/SHEA/FLEMING


Download from iTunes

-

Buy from Amazon

24
18
NOCTURNE, VANGELIS


Download from iTunes

-

Buy from Amazon

25
25
EVOLUTION, ALEXIS FFRENCH


Download from iTunes

-

Buy from Amazon

26
24
THE REAL CLASSICAL, VARIOUS ARTISTS


Buy from Amazon

27
30
I GIORNI, LUDOVICO EINAUDI


Download from iTunes

-

Buy from Amazon

28
RE
GAME OF THRONES - SEASON 6 - OST, RAMIN DJAWADI


Download from iTunes

-

Buy from Amazon

29
26
THE ARMED MAN - A MASS FOR PEACE, KARL JENKINS


Download from iTunes

-

Buy from Amazon

30
NEW
HAYDN/STRING QUARTETS, MAXWELL QUARTET


Download from iTunes

-

Buy from Amazon