Classic FM Chart: Einaudi keeps the No. 1 spot
7 October 2018, 18:55 | Updated: 19 October 2018, 15:26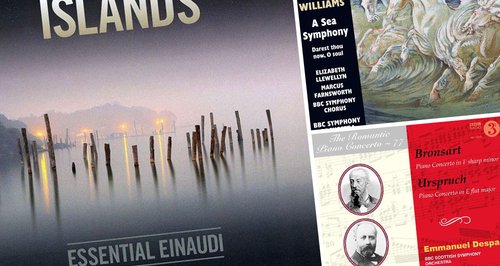 Einaudi stays at No. 1 and four new albums enter the chart.
This week's top 10 stays almost the same as the previous chart – Einaudi is No. 1 with Islands, and The Great War Symphony by Patrick Hawes, Evolution by Alexis Ffrench and John Williams' Solo – A Star Wars Story remain among the favourites. Sleep by Max Richter has jumped up nine places since last week and now claims the No. 5 spot.
Four new entries make it into the Classic FM Chart this week – a recording of Bronsart/Urspruch: Piano Concertos from Emmanuel Despax, A Sea Symphony by Vaughan Williams recorded by the BBC Symphony Orchestra and Martyn Brabbins, Chopin/Schubert: Cello Sonata & Arppeggione Sonata recorded by Steven Isserlis and Dénes Várjon, and Johann Sebastian Bach by Vikingur Olafsson. Placido Domingo and Il Volo also re-enter the chart at No. 28 with Notte Magica – A Tribute to the Three Tenors.
This
Week
Last
Week
Title & Artist
1
1
ISLANDS - ESSENTIAL EINAUDI, LUDOVICO EINAUDI


Download from iTunes

-

Buy from Amazon

2
3
THE REAL CLASSICAL, VARIOUS ARTISTS


Buy from Amazon

3
4
THE GREAT WAR SYMPHONY, HAWES/RPO/NATIONAL YOUTH CHRS


Download from iTunes

-

Buy from Amazon

4
5
EVOLUTION, ALEXIS FFRENCH


Download from iTunes

-

Buy from Amazon

5
14
SLEEP, MAX RICHTER


Download from iTunes

-

Buy from Amazon

6
6
SOLO - A STAR WARS STORY, JOHN WILLIAMS/JOHN POWELL


Download from iTunes

-

Buy from Amazon

7
7
INSPIRATION, SHEKU KANNEH-MASON


Download from iTunes

-

Buy from Amazon

8
9
THE LITTLE MERMAID - OST, ALAN MENKEN


Download from iTunes

-

Buy from Amazon

9
10
BACH/SIX EVOLUTIONS - CELLO SUITES, YO-YO MA


Download from iTunes

-

Buy from Amazon

10
11
DIVENIRE, LUDOVICO EINAUDI


Download from iTunes

-

Buy from Amazon

11
17
THE 50 GREATEST PIECES OF CLASSICAL, LPO/PARRY


Download from iTunes

-

Buy from Amazon

12
NEW
BRONSART/URSPRUCH/PIANO CONCERTOS, DESPAX/BBC SSO/TZIGANE


Download from iTunes

-

Buy from Amazon

13
16
ELEMENTS, LUDOVICO EINAUDI


Download from iTunes

-

Buy from Amazon

14
12
THE LORD OF THE RINGS - TRILOGY - OST, HOWARD SHORE


Download from iTunes

-

Buy from Amazon

15
20
IN A TIME LAPSE, LUDOVICO EINAUDI


Download from iTunes

-

Buy from Amazon

16
NEW
VAUGHAN WILLIAMS/A SEA SYMPHONY, FARNSWORTH/LLEWELLYN/BBC SO


Download from iTunes

-

Buy from Amazon

17
13
GLADIATOR - OST, HANS ZIMMER & LISA GERRARD


Download from iTunes

-

Buy from Amazon

18
NEW
CHOPIN/SCHUBERT/CELLO SONATA/ARPEGGIONE, STEVEN ISSERLIS/DENES VARJON


Download from iTunes

-

Buy from Amazon

19
18
THE LORD OF THE RINGS - OST, HOWARD SHORE
20
22
THE BLUE NOTEBOOKS, MAX RICHTER


Download from iTunes

-

Buy from Amazon

21
24
SPIDER-MAN - HOMECOMING - OST, MICHAEL GIACCHINO


Download from iTunes

-

Buy from Amazon

22
26
SCORE, 2CELLOS


Download from iTunes

-

Buy from Amazon

23
23
AVENGERS - INFINITY WAR - OST, ALAN SILVESTRI


Download from iTunes

-

Buy from Amazon

24
15
AN ITALIAN NIGHT - LIVE, KAUFMANN/RACHVELISHVILI


Download from iTunes

-

Buy from Amazon

25
25
I GIORNI, LUDOVICO EINAUDI


Download from iTunes

-

Buy from Amazon

26
30
UNA MATTINA, LUDOVICO EINAUDI


Download from iTunes

-

Buy from Amazon

27
8
BESAME MUCHO, JUAN DIEGO FLOREZ


Download from iTunes

-

Buy from Amazon

28
RE
NOTTE MAGICA - A TRIBUTE TO THE THREE, IL VOLO & PLACIDO DOMINGO


Download from iTunes

-

Buy from Amazon

29
29
THE COMPLETE HARRY POTTER FILM MUSIC, CITY OF PRAGUE PO


Download from iTunes

-

Buy from Amazon

30
NEW
JOHANN SEBASTIAN BACH, VIKINGUR OLAFSSON


Download from iTunes

-

Buy from Amazon