Classic FM Chart: Eight new entries in the classic fm chart
15 October 2017, 18:55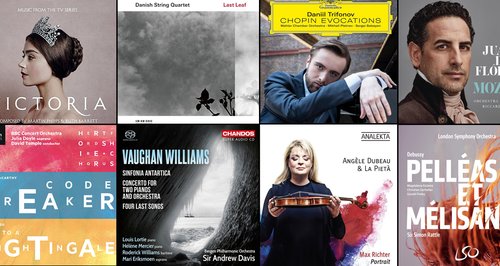 Einaudi's Islands is back at no. 1, having featured in the top ten of the Classic FM Chart for all of 2017 - a whole 40 weeks. However, there are eight new entries chasing Einaudi's tail…
No. 2 is our first new entry this week, Martin Phipps and Ruth Barett's soundtrack for television series Victoria. Symphonic Adiemus by Karl Jenkins, last week's no. 1, is at no. 3 this week, with a re-entry from Red Priest at no. 4. Alistair McGowan's The Piano Album is at no. 5, down three places, with two further new entries in the top 10 - Chopin Evocations played by Daniil Trifonov at no. 7 and Simon Rattle conducting the London Symphony Orchestra playing Debussy's Pelleas et Melisande at no. 10.
Just outside the top 10 is The 50 Greatest Pieces of Classical Music by the London Philharmonic Orchestra, down eight places to no. 11. There are also three further new entries in the middle of the chart - Juan Diego Florez playing Mozart at no. 14, Last Leaf at no. 16 and works by James McCarthy and Will Todd at no. 18.
The lower third of the chart features another two new entries - the first at no. 21 by Angele Dubeau playing the music of Max Richter and Sinfonia Antartica playing Vaughan Williams at no. 28. This week's biggest faller is Max Richter's Three Worlds: Music from Woolf Works, down 20 places from no. 9 to no. 29, and the second re-entry this week is Schubert's Piano Sonatas by Krystian Zimerman at no. 30.
This
Week
Last
Week
Title & Artist
1
5
ISLANDS - ESSENTIAL EINAUDI, LUDOVICO EINAUDI


Buy from Amazon

-

Download from iTunes

2
NEW
VICTORIA - OST, MARTIN PHIPPS & RUTH BARRETT


Buy from Amazon

-

Download from iTunes

3
1
SYMPHONIC ADIEMUS, KARL JENKINS


Buy from Amazon

-

Download from iTunes

4
RE
THE BAROQUE BOHEMIANS - GYPSY FEVER FROM , RED PRIEST


Buy from Amazon

-

Download from iTunes

5
2
THE PIANO ALBUM, ALISTAIR MCGOWAN


Buy from Amazon

-

Download from iTunes

6
7
LAST NIGHT OF THE PROMS - THE ULTIMATE, VARIOUS ARTISTS


Buy from Amazon

-

Download from iTunes

7
NEW
CHOPIN EVOCATIONS, TRIFONOV/MAHLER CO/PLETNEV


Buy from Amazon

-

Download from iTunes

8
4
PETER AND THE WOLF, ARMSTRONG/RLPO/PETRENKO


Buy from Amazon

-

Download from iTunes

9
6
GAME OF THRONES - SEASON 7 - OST, RAMIN DJAWADI


Buy from Amazon

-

Download from iTunes

10
NEW
DEBUSSY/PELLEAS & MELISANDE, LSO/RATTLE


Buy from Amazon

-

Download from iTunes

11
3
THE 50 GREATEST PIECES OF CLASSICAL MUSIC, LPO/PARRY


Buy from Amazon

-

Download from iTunes

12
12
ELEMENTS, LUDOVICO EINAUDI


Buy from Amazon

-

Download from iTunes

13
8
THE AYOUB SISTERS, AYOUB SISTERS


Buy from Amazon

-

Download from iTunes

14
NEW
MOZART, JUAN DIEGO FLOREZ


Buy from Amazon

-

Download from iTunes

15
11
DUNKIRK - OST, HANS ZIMMER


Buy from Amazon

-

Download from iTunes

16
NEW
LAST LEAF, DANISH STRING QUARTET


Buy from Amazon

-

Download from iTunes

17
21
THE LITTLE MERMAID - OST, ALAN MENKEN


Buy from Amazon

-

Download from iTunes

18
NEW
MCCARTHY/TODD/CODEBREAKER/ODE TO A, DOYLE/BBC CONCERT OR/TEMPLE


Buy from Amazon

-

Download from iTunes

19
22
THE LORD OF THE RINGS - TRILOGY - OST, HOWARD SHORE


Buy from Amazon

-

Download from iTunes

20
17
GLADIATOR - OST, HANS ZIMMER & LISA GERRARD


Buy from Amazon

-

Download from iTunes

21
NEW
RICHTER/PORTRAIT, ANGELE DUBEAU & LA PIETA


Buy from Amazon

-

Download from iTunes

22
13
CLASSIC FM HALL OF FAME - THE SILVER, VARIOUS ARTISTS


Buy from Amazon

-

Download from iTunes

23
18
DIVENIRE, LUDOVICO EINAUDI


Buy from Amazon

-

Download from iTunes

24
16
IN A TIME LAPSE, LUDOVICO EINAUDI


Buy from Amazon

-

Download from iTunes

25
24
SCORE, 2CELLOS


Buy from Amazon

-

Download from iTunes

26
NEW
VAUGHAN WILLIAMS/SINFONIA ANTARTICA, LORTIE/BERGEN PO/DAVIS


Buy from Amazon

-

Download from iTunes

27
20
GAME OF THRONES - SEASON 6 - OST, RAMIN DJAWADI


Buy from Amazon

-

Download from iTunes

28
30
WONDER WOMAN - OST, RUPERT GREGSON-WILLIAMS


Buy from Amazon

-

Download from iTunes

29
9
THREE WORLDS - MUSIC FROM WOOLF WORKS, MAX RICHTER


Buy from Amazon

-

Download from iTunes

30
RE
SCHUBERT/PIANO SONATAS, KRYSTIAN ZIMERMAN


Buy from Amazon

-

Download from iTunes