Classic FM Chart: Doctor Who and Avengers: Infinity War are favourites at No. 1 and 2
6 May 2018, 18:55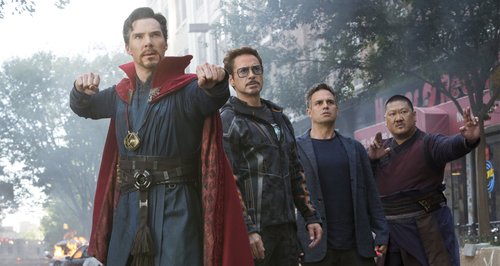 There's a new top two in this week's Classic FM Chart, as Murray Gold's soundtrack to Doctor Who Series 9 and Alan Silvestri's soundtrack to Avengers: Infinity War bag the top spots.
It's a good week for soundtracks in the Classic FM Chart, with Doctor Who and Avengers: Infinity War jumping straight in at No. 1 and 2 and Alan Silvestri's second hit soundtrack of the chart, Ready Player One, lurking just behind at No. 3.
Bear McCreary's soundtrack to the video game God of War has jumped up six places this week to No. 5, with the soundtracks to Star Wars: The Last Jedi and The Lord of the Rings also remaining steady in the top 10.
We've also seen the Music for a Royal Wedding album creep in at No. 25, as the wedding of Prince Harry and Meghan Markle fast approaches. Find out what music will be played at the wedding here.
This
Week
Last
Week
Title & Artist
1
NEW
DOCTOR WHO SERIES 9 - OST, MURRAY GOLD


Buy from Amazon

2
NEW
AVENGERS - INFINITY WAR - OST, ALAN SILVESTRI


Buy from Amazon

3
1
READY PLAYER ONE - OST, ALAN SILVESTRI


Download from iTunes

-

Buy from Amazon

4
4
ISLANDS - ESSENTIAL EINAUDI, LUDOVICO EINAUDI


Download from iTunes

-

Buy from Amazon

5
11
GOD OF WAR - OST, BEAR MCCREARY


Buy from Amazon

6
7
INSPIRATION, SHEKU KANNEH-MASON


Download from iTunes

-

Buy from Amazon

7
8
STAR WARS - THE LAST JEDI - OST, JOHN WILLIAMS


Download from iTunes

-

Buy from Amazon

8
9
SLEEP, MAX RICHTER


Buy from Amazon

9
2
VIVALDI/LE QUATTRO STAGIONI, PODGER/BRECON BAROQUE


Buy from Amazon

10
13
THE LORD OF THE RINGS - TRILOGY - OST, HOWARD SHORE
11
22
THE 50 GREATEST PIECES OF CLASSICAL, LPO/PARRY


Download from iTunes

-

Buy from Amazon

12
14
THE LITTLE MERMAID - OST, ALAN MENKEN


Download from iTunes

-

Buy from Amazon

13
17
DIVENIRE, LUDOVICO EINAUDI


Download from iTunes

-

Buy from Amazon

14
NEW
RAVEL/MA MERE L OYE/LE TOMBEAU, LES SIECLES/ROTH
15
19
ELEMENTS, LUDOVICO EINAUDI


Download from iTunes

-

Buy from Amazon

16
25
GLADIATOR - OST, HANS ZIMMER & LISA GERRARD


Download from iTunes

-

Buy from Amazon

17
5
THE ANNIVERSARY ALBUM, BLAKE


Buy from Amazon

18
23
THE LORD OF THE RINGS - OST, HOWARD SHORE
19
3
BLUE PLANET II - OST, HANS ZIMMER/SHEA/FLEMING


Buy from Amazon

20
16
SCHUBERT/WINTER JOURNEY, GLYNN/WILLIAMS


Buy from Amazon

21
6
THE BLUE NOTEBOOKS, MAX RICHTER


Buy from Amazon

22
21
IN A TIME LAPSE, LUDOVICO EINAUDI


Buy from Amazon

23
NEW
RIES/PIANO CONCERTOS NOS 8 & 9, LANE/THE ORCH NOW/BOTSTEIN


Buy from Amazon

24
12
THE GLORIOUS GARDEN, TITCHMARSH/NATIONAL SO/WISEMAN


Buy from Amazon

25
NEW
MUSIC FOR A ROYAL WEDDING, VARIOUS ARTISTS


Buy from Amazon

26
29
UNA MATTINA, LUDOVICO EINAUDI


Buy from Amazon

27
RE
GAME OF THRONES - SEASON 7 - OST, RAMIN DJAWADI


Buy from Amazon

28
NEW
SCHUBERT/PIANO SONATA/FOUR IMPROMPTUS, MARC-ANDRE HAMELIN


Buy from Amazon

29
RE
CLASSICAL CHILLOUT, VARIOUS ARTISTS


Buy from Amazon

30
26
SCORE, 2CELLOS


Buy from Amazon