Classic FM Chart: Einaudi's 'Divenire' makes its 150th appearance in the Classic FM Chart
17 September 2017, 18:55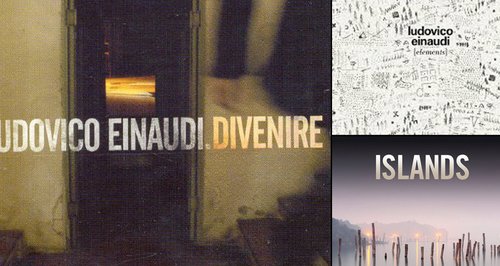 There are plenty of reasons for Ludovico Einaudi to celebrate this week, as he has three very special moments in the Classic FM Chart. Firstly, his album Divenire, which is 10 years old this year, makes its 150th appearance in the Classic FM Chart. Equally as monumental, his 2015 album Elements has now featured in the Classic FM Chart 100 times. Finally, his 2011 album titled Islands has now featured in the top 10 of the Classic FM Chart for all of 2017 so far, a staggering thirty-six weeks.
Einaudi's achievements are joined by five new albums in the top half of the chart, including the soundtrack for 1986 horror film Blue Velvet at no. 4, the soundtrack to video game Destiny 2 at no 5., I Love My Love at no. 6, Schubert's piano sonatas played by Kristian Zimerman at no. 9 and Monteverdi's Vespers sung by the Dunedin Consort at no. 11.
There isn't a stand out highest climber this week, but there is a considerable drop for Peaceful Piano which falls nineteen places to no. 28.
This
Week
Last
Week
Title & Artist
1
2
LAST NIGHT OF THE PROMS - THE ULTIMATE, VARIOUS ARTISTS


Buy from Amazon

-

Download from iTunes

2
3
ISLANDS - ESSENTIAL EINAUDI, LUDOVICO EINAUDI


Buy from Amazon

-

Download from iTunes

3
1
GAME OF THRONES - SEASON 7 - OST, RAMIN DJAWADI


Buy from Amazon

-

Download from iTunes

4
NEW
BLUE VELVET - OST, ANGELO BADALAMENTI


Buy from Amazon

-

Download from iTunes

5
NEW
DESTINY 2 - OST, SALVATORI/LEWIN/JOHNSON/MOAV


Buy from Amazon

-

Download from iTunes

6
NEW
I LOVE MY LOVE, VARIOUS ARTISTS


Buy from Amazon

-

Download from iTunes

7
10
ELEMENTS, LUDOVICO EINAUDI


Buy from Amazon

-

Download from iTunes

8
4
DUNKIRK - OST, HANS ZIMMER


Buy from Amazon

-

Download from iTunes

9
NEW
SCHUBERT/PIANO SONATAS, KRYSTIAN ZIMERMAN


Buy from Amazon

-

Download from iTunes

10
5
GAME OF THRONES - SEASON 6 - OST, RAMIN DJAWADI


Buy from Amazon

-

Download from iTunes

11
NEW
MONTEVERDI/VESPERS 1610, DUNEDIN CONSORT/BUTT


Buy from Amazon

-

Download from iTunes

12
7
CLASSIC FM - WILLIAMS/THE LARK ASCENDING, ASMIF/MARRINER


Buy from Amazon

-

Download from iTunes

13
6
CLASSIC FM - PIANO FAVOURITES, VARIOUS ARTISTS


Buy from Amazon

-

Download from iTunes

14
20
THE 50 GREATEST PIECES OF CLASSICAL MUSIC, LPO/PARRY


Buy from Amazon

-

Download from iTunes

15
13
CLASSIC FM - HOLST/PLANETS, MONTREAL SO/DUTOIT


Buy from Amazon

-

Download from iTunes

16
8
CLASSIC FM - VIVALDI/THE FOUR SEASONS, STANDAGE/ECO/PINNOCK


Buy from Amazon

-

Download from iTunes

17
17
THE PEOPLE'S TENOR, LUCIANO PAVAROTTI


Buy from Amazon

-

Download from iTunes

18
22
IN A TIME LAPSE, LUDOVICO EINAUDI


Buy from Amazon

-

Download from iTunes

19
16
THE LITTLE MERMAID - OST, ALAN MENKEN


Buy from Amazon

-

Download from iTunes

20
14
CLASSIC FM - LAND OF HOPE AND GLORY, VARIOUS ARTISTS


Buy from Amazon

-

Download from iTunes

21
18
GLADIATOR - OST, HANS ZIMMER & LISA GERRARD


Buy from Amazon

-

Download from iTunes

22
RE
POULENC/MASS IN G/UN SOIR DE NEIGE, SIXTEEN/CHRISTOPHERS


Buy from Amazon

-

Download from iTunes

23
11
HAYDN/BACH/CELLO CONCERTOS, ISSERLIS/DEUTSCHE KAMMERPHIL


Buy from Amazon

-

Download from iTunes

24
27
AND FRIENDS - LIVE FROM LUGANO 2016, MARTHA ARGERICH


Buy from Amazon

-

Download from iTunes

25
21
THE LORD OF THE RINGS - TRILOGY - OST, HOWARD SHORE


Buy from Amazon

-

Download from iTunes

26
RE
CINEMA, ANDREA BOCELLI


Buy from Amazon

-

Download from iTunes

27
RE
THE ARMED MAN - A MASS FOR PEACE, KARL JENKINS


Buy from Amazon

-

Download from iTunes

28
9
PEACEFUL PIANO, VARIOUS ARTISTS


Buy from Amazon

-

Download from iTunes

29
29
DIVENIRE, LUDOVICO EINAUDI


Buy from Amazon

-

Download from iTunes

30
24
SCORE, 2CELLOS


Buy from Amazon

-

Download from iTunes