Classic FM Chart: Craig Armstrong new album success
16 September 2018, 18:55 | Updated: 19 October 2018, 15:28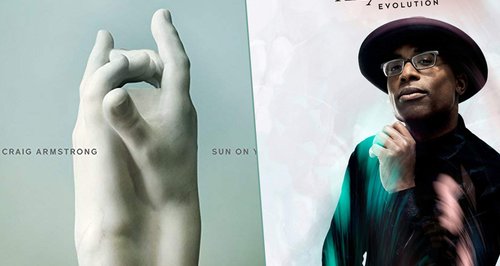 Craig Armstrong's new album makes a strong entry at No.3, whilst Alexis Ffrench holds the No.1 spot for its second consecutive week.
Evolution by Alexis Ffrench remains the firm favourite this week, followed by Yo-Yo Ma's Six Evolutions – Bach Cello Suites that has climbed an impressive 14 positions since last week.
Craig Armstrong's new album Sun On You has made an impact and has entered the chart in the top three. The Gladiator soundtrack has also jumped up seven positions putting it in the top 10.
Baroque music is significantly present in this week's chart with five albums solely dedicated to Bach's music – three by Yo-Yo Ma, a new entry by pianist Víkingur Ólafsson titled Johann Sebastian Bach, and another new entry, Bach by Benjamin Appl and Concerto Köln. Again, Einaudi's music claims six spots in the chart.
This
Week
Last
Week
Title & Artist
1
1
EVOLUTION, ALEXIS FFRENCH


Download from iTunes

-

Buy from Amazon

2
16
BACH/SIX EVOLUTIONS - CELLO SUITES, YO-YO MA


Download from iTunes

-

Buy from Amazon

3
NEW
SUN ON YOU, CRAIG ARMSTRONG


Download from iTunes

-

Buy from Amazon

4
3
ISLANDS - ESSENTIAL EINAUDI, LUDOVICO EINAUDI


Download from iTunes

-

Buy from Amazon

5
2
THE REAL CLASSICAL, VARIOUS ARTISTS


Buy from Amazon

6
4
INSPIRATION, SHEKU KANNEH-MASON


Download from iTunes

-

Buy from Amazon

7
5
AVENGERS - INFINITY WAR - OST, ALAN SILVESTRI


Download from iTunes

-

Buy from Amazon

8
10
THE 50 GREATEST PIECES OF CLASSICAL, LPO/PARRY


Download from iTunes

-

Buy from Amazon

9
7
THE LITTLE MERMAID - OST, ALAN MENKEN


Download from iTunes

-

Buy from Amazon

10
17
GLADIATOR - OST, HANS ZIMMER & LISA GERRARD


Download from iTunes

-

Buy from Amazon

11
RE
BACH/THE 6 UNACCOMPANIED CELLO SUITES, YO-YO MA


Download from iTunes

-

Buy from Amazon

12
11
DIVENIRE, LUDOVICO EINAUDI


Download from iTunes

-

Buy from Amazon

13
13
SLEEP, MAX RICHTER


Download from iTunes

-

Buy from Amazon

14
9
THE LORD OF THE RINGS - TRILOGY - OST, HOWARD SHORE


Download from iTunes

-

Buy from Amazon

15
NEW
BACH, BENJAMIN APPL/CONCERTO KOLN


Download from iTunes

-

Buy from Amazon

16
18
THE BLUE NOTEBOOKS, MAX RICHTER


Download from iTunes

-

Buy from Amazon

17
RE
THE AYOUB SISTERS, AYOUB SISTERS


Download from iTunes

-

Buy from Amazon

18
15
THE LORD OF THE RINGS - OST, HOWARD SHORE
19
14
IN A TIME LAPSE, LUDOVICO EINAUDI


Download from iTunes

-

Buy from Amazon

20
12
ELEMENTS, LUDOVICO EINAUDI


Download from iTunes

-

Buy from Amazon

21
NEW
FINZI/CELLO CONCERTO, WATKINS/LORTIE/LSO/DAVIS


Download from iTunes

-

Buy from Amazon

22
6
DALE/REQUIEM FOR MY MOTHER, KANTOS CC/RLPO/CANTUS ENS


Download from iTunes

-

Buy from Amazon

23
19
SCORE, 2CELLOS


Download from iTunes

-

Buy from Amazon

24
RE
LAST NIGHT OF THE PROMS - THE ULTIMATE, VARIOUS ARTISTS


Download from iTunes

-

Buy from Amazon

25
21
THE ARMED MAN - A MASS FOR PEACE, KARL JENKINS


Download from iTunes

-

Buy from Amazon

26
27
UNA MATTINA, LUDOVICO EINAUDI


Download from iTunes

-

Buy from Amazon

27
28
I GIORNI, LUDOVICO EINAUDI


Download from iTunes

-

Buy from Amazon

28
RE
GAME OF THRONES - SEASON 6 - OST, RAMIN DJAWADI


Download from iTunes

-

Buy from Amazon

29
NEW
JOHANN SEBASTIAN BACH, VIKINGUR OLAFSSON


Download from iTunes

-

Buy from Amazon

30
RE
PLAYS BACH, YO-YO MA


Download from iTunes

- Buy from Amazon