Classic FM Chart: 'The Glorious Garden' by Alan Titchmarsh and Debbie Wiseman holds its No. 1 position
18 March 2018, 18:55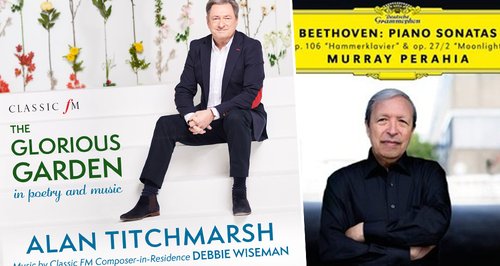 This week in the Classic FM Chart, 'The Glorious Garden' has managed to hold onto its No. 1 spot from last week - and Murray Perahia jumps up 20 places with his Beethoven Piano Sonatas!
The Classic FM Chart sees Alan Titchmarsh and Debbie Wiseman holding the No. 1 spot, with their brand-new album of original poetry and symphonic music. And it's good news for Andre Rieu with his album Amore, which stays strong at No. 2. The only change in this week's top five sees Einaudi's Islands and Sheku Kanneh-Mason's Inspiration switching places at No. 3 and No. 4 respectively.
At No. 6, Murray Perahia has leapt up a huge 20 places with his album of Beethoven Piano Sonatas, while Sing Me Home by Yo-Yo Ma and the Silk Road Ensemble has also leapt up seven places from No. 14 to No. 7.
There are only two new entries this week: Language of the Heart by the Santiago Quartet at No. 9, and The Complete Recitals on Warner Classics by Christa Ludwig at No. 12. However, the bottom end of the chart sees a number of re-entries, including Ramin Djawadi's soundtrack to Game of Thrones Season 7, Karl Jenkins' The Armed Man, and two albums from Ludovico Einaudi.
This
Week
Last
Week
Title & Artist
1
1
THE GLORIOUS GARDEN, TITCHMARSH/NATIONAL SO/WISEMAN


Buy from Amazon

-

Download from iTunes

2
2
AMORE, ANDRE RIEU


Buy from Amazon

-

Download from iTunes

3
4
ISLANDS - ESSENTIAL EINAUDI, LUDOVICO EINAUDI


Buy from Amazon

-

Download from iTunes

4
3
INSPIRATION, SHEKU KANNEH-MASON


Buy from Amazon

-

Download from iTunes

5
5
THE SHAPE OF WATER, ORIGINAL SOUNDTRACK


Buy from Amazon

-

Download from iTunes

6
26
BEETHOVEN/PIANO SONATAS, MURRAY PERAHIA


Buy from Amazon

-

Download from iTunes

7
14
SING ME HOME, YO-YO MA & SILK ROAD ENSEMBLE


Buy from Amazon

-

Download from iTunes

8
9
THE LITTLE MERMAID - OST, ALAN MENKEN


Buy from Amazon

-

Download from iTunes

9
NEW
LANGUAGE OF THE HEART, SANTIAGO QUARTET/ROWLANDS


Buy from Amazon

-

Download from iTunes

10
11
DIVENIRE, LUDOVICO EINAUDI


Buy from Amazon

-

Download from iTunes

11
12
THE LORD OF THE RINGS - TRILOGY - OST, HOWARD SHORE


Buy from Amazon

-

Download from iTunes

12
NEW
THE COMPLETE RECITALS ON WARNER CLASSICS, CHRISTA LUDWIG


Buy from Amazon

-

Download from iTunes

13
13
SCORE, 2CELLOS


Buy from Amazon

-

Download from iTunes

14
7
LANDFALL, LAURIE ANDERSON/KRONOS QUARTET


Buy from Amazon

-

Download from iTunes

15
16
ELEMENTS, LUDOVICO EINAUDI


Buy from Amazon

-

Download from iTunes

16
10
THE 50 GREATEST PIECES OF CLASSICAL, LPO/PARRY


Buy from Amazon

-

Download from iTunes

17
15
GLADIATOR - OST, HANS ZIMMER & LISA GERRARD


Buy from Amazon

-

Download from iTunes

18
17
IN A TIME LAPSE, LUDOVICO EINAUDI


Buy from Amazon

-

Download from iTunes

19
21
THE LORD OF THE RINGS - OST, HOWARD SHORE


Buy from Amazon

-

Download from iTunes

20
8
PHANTOM THREAD - OST, JONNY GREENWOOD


Buy from Amazon

-

Download from iTunes

21
19
CINEMA, ANDREA BOCELLI


Buy from Amazon

-

Download from iTunes

22
23
STAR WARS - THE LAST JEDI - OST, JOHN WILLIAMS


Buy from Amazon

-

Download from iTunes

23
30
BRAVEHEART - OST, LSO/HORNER


Buy from Amazon

-

Download from iTunes

24
RE
GAME OF THRONES - SEASON 7 - OST, RAMIN DJAWADI


Buy from Amazon

-

Download from iTunes

25
RE
THE ARMED MAN - A MASS FOR PEACE, KARL JENKINS


Buy from Amazon

-

Download from iTunes

26
NEW
REICH/DRUMMING, COLIN CURRIE GROUP/SYNERGY


Buy from Amazon

-

Download from iTunes

27
RE
I GIORNI, LUDOVICO EINAUDI


Buy from Amazon

-

Download from iTunes

28
29
CLASSICAL CHILLOUT, VARIOUS ARTISTS


Buy from Amazon

-

Download from iTunes

29
22
THE BLUE NOTEBOOKS, MAX RICHTER


Buy from Amazon

-

Download from iTunes

30
RE
UNA MATTINA, LUDOVICO EINAUDI


Buy from Amazon

-

Download from iTunes