Classic FM Chart: Tony Banks, Nick Ingman & The Czech National Symphony Orchestra enter at No. 1 with 'Five'
4 March 2018, 18:55 | Updated: 7 March 2018, 15:24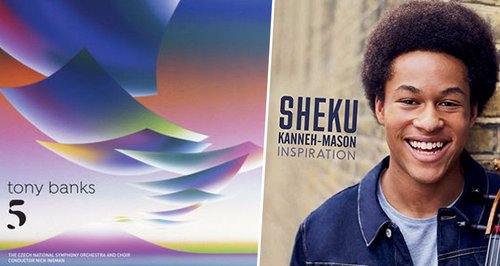 Tony Banks and Nick Ingham enter the Classic FM Chart at No. 1 with 'Five', a classical crossover album recorded with the Czech National Symphony Orchestra.
This week in the Classic FM Chart, we see a brand-new entry at No. 1 with Five by Tony Banks the Czech National Symphony Orchestra conducted by Nick Ingham, pushing Sheku Kanneh-Mason's Inspiration from the top spot. Inspiration is now at No. 2, with Andre Rieu's Amore also falling just one spot to No. 3.
Divenire by Ludovico Einaudi is this week's joint-highest climber, climbing six places to No. 13. Score by 2Cellos has similarly climbed an impressive six places to No.11.
In the lower third of the chart, there's a new entry for Federico Albanese's By The Deep Sea at No. 21, the only other new entry this week alongside the new No. 1, Five. The lowest end of the chart sees five new re-entries: Classical Chillout at No. 25, Einaudi's I Giorni at No. 26, Yo-Yo Ma playing Six Unaccompanied Cello Suites by J.S. Bach at No. 27, plus the Justice League soundtrack at No. 29 and Einaudi's Una Mattina at No. 30.
This adds up to a huge six chart entries for Ludovico Einaudi – two more than his four entries last week.
This
Week
Last
Week
Title & Artist
1
NEW
FIVE, BANKS/CZECH NSO & CH/INGMAN
-

Download from iTunes

2
1
INSPIRATION, SHEKU KANNEH-MASON


Buy from Amazon

-

Download from iTunes

3
2
AMORE, ANDRE RIEU


Buy from Amazon

-

Download from iTunes

4
4
ISLANDS - ESSENTIAL EINAUDI, LUDOVICO EINAUDI


Buy from Amazon

-

Download from iTunes

5
5
THE SHAPE OF WATER, ORIGINAL SOUNDTRACK


Buy from Amazon

-

Download from iTunes

3
3
LANDFALL, LAURIE ANDERSON/KRONOS QUARTET


Buy from Amazon

-

Download from iTunes

7
13
DIVENIRE, LUDOVICO EINAUDI


Buy from Amazon

-

Download from iTunes

8
7
THE LITTLE MERMAID - OST, ALAN MENKEN


Buy from Amazon

-

Download from iTunes

9
10
THE 50 GREATEST PIECES OF CLASSICAL, LPO/PARRY


Buy from Amazon

-

Download from iTunes

10
9
THE LORD OF THE RINGS - TRILOGY - OST, HOWARD SHORE


Buy from Amazon

-

Download from iTunes

11
17
SCORE, 2CELLOS


Buy from Amazon

-

Download from iTunes

12
RE
SING ME HOME, YO-YO MA & SILK ROAD ENSEMBLE


Buy from Amazon

-

Download from iTunes

13
8
PHANTOM THREAD - OST, JONNY GREENWOOD


Buy from Amazon

-

Download from iTunes

14
12
ELEMENTS, LUDOVICO EINAUDI


Buy from Amazon

-

Download from iTunes

15
15
IN A TIME LAPSE, LUDOVICO EINAUDI


Buy from Amazon

-

Download from iTunes

16
19
THE LORD OF THE RINGS - OST, HOWARD SHORE


Buy from Amazon

-

Download from iTunes

17
RE
BEETHOVEN/PIANO SONATAS, MURRAY PERAHIA


Buy from Amazon

-

Download from iTunes

18
23
STAR WARS - THE LAST JEDI - OST, JOHN WILLIAMS


Buy from Amazon

-

Download from iTunes

19
16
GLADIATOR - OST, HANS ZIMMER & LISA GERRARD


Buy from Amazon

-

Download from iTunes

20
21
STRAVINSKY/THE RITE OF SPRING, HAMELIN/ANDSNES


Buy from Amazon

-

Download from iTunes

21
NEW
BY THE DEEP SEA, FEDERICO ALBANESE


Buy from Amazon

-

Download from iTunes

22
22
MUSIC FOR MINDFULNESS, VARIOUS ARTISTS


Buy from Amazon

-

Download from iTunes

23
11
ORPHEE, JOHANN JOHANNSSON


Buy from Amazon

-

Download from iTunes

24
27
GAME OF THRONES - SEASON 7 - OST, RAMIN DJAWADI


Buy from Amazon

-

Download from iTunes

25
RE
CLASSICAL CHILLOUT, VARIOUS ARTISTS


Buy from Amazon

-

Download from iTunes

26
RE
I GIORNI, LUDOVICO EINAUDI


Buy from Amazon

-

Download from iTunes

27
RE
BACH/THE 6 UNACCOMPANIED CELLO SUITES, YO-YO MA


Buy from Amazon

-

Download from iTunes

28
29
THE BLUE NOTEBOOKS, MAX RICHTER


Buy from Amazon

-

Download from iTunes

29
RE
JUSTICE LEAGUE - OST, DANNY ELFMAN


Buy from Amazon

-

Download from iTunes

30
RE
UNA MATTINA, LUDOVICO EINAUDI


Buy from Amazon

-

Download from iTunes