Classic FM Chart: Einaudi climbs back up to no. 1
25 June 2017, 18:55 | Updated: 26 June 2017, 08:06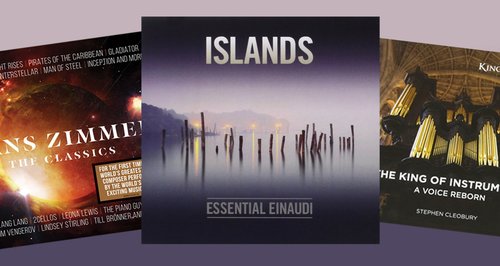 Einaudi's Islands is back at no. 1, bumping the Wonder Woman soundtrack down to no. 2 after two weeks at no. 1. After a few of the same albums sitting within the top ten, this week there are finally some changes. One loss from the top ten is this week's biggest faller, Pirates of the Caribbean: Dead Men Tell No Tales, which drops twelve places from no. 8 to no. 20. This week's top 10 also includes the highest climber from Hans Zimmer: The Classics, which jumps an impressive 25 places from no. 29 to no. 4.
Hans Zimmer's music has several other appearances in the Classic FM Chart this week, including the soundtrack for Gladiator at six, a new addition to the top ten, as well as Gladiator: Special Anniversary Edition which is a re-entry at no. 22 plus Music of Hans Zimmer at no. 26 - the increase possibly due to his current UK tour.
Other re-entries this week include Max Richter's Three Worlds: Music from Woolf Works and Recomposed at no. 12 and no. 15 respectively, Monteverdi and Other Vespers at no. 28 and also Mahler Symphony No. 3 at no. 29, bringing the total number of re-entries this week to six. There is only one new entry this week from Stephen Cleobury titled The King of Instruments: A Voice Reborn which enters the chart no. 23.
This
Week
Last
Week
Title & Artist
1
4
ISLANDS - ESSENTIAL EINAUDI, LUDOVICO EINAUDI


Buy from Amazon

-

Download from iTunes

2
1
WONDER WOMAN - OST, RUPERT GREGSON WILLIAMS


Buy from Amazon

-

Download from iTunes

3
3
PEACEFUL PIANO, VARIOUS ARTISTS


Buy from Amazon

-

Download from iTunes

4
29
ZIMMER/THE CLASSICS, VARIOUS ARTISTS


Buy from Amazon

-

Download from iTunes

5
7
ELEMENTS, LUDOVICO EINAUDI


Buy from Amazon

-

Download from iTunes

6
15
GLADIATOR - OST, HANS ZIMMER & LISA GERRARD


Buy from Amazon

-

Download from iTunes

7
9
THE ALEHOUSE SESSIONS, BJARTE EIKE/BAROKKSOLISTENE


Buy from Amazon

-

Download from iTunes

8
5
CLASSIC FM HALL OF FAME - THE SILVER, VARIOUS ARTISTS


Buy from Amazon

-

Download from iTunes

9
13
PROKOFIEV/PETER AND THE WOLF, BOWIE/PHILADELPHIA OR/ORMANDY


Buy from Amazon

-

Download from iTunes

10
6
LOVE IN VENICE, ANDRE RIEU & JOHANN STRAUSS OR


Buy from Amazon

-

Download from iTunes

11
2
THE 50 GREATEST PIECES OF CLASSICAL MUSIC, LPO/PARRY


Buy from Amazon

-

Download from iTunes

12
RE
THREE WORLDS - MUSIC FROM WOOLF WORKS, MAX RICHTER


Buy from Amazon

-

Download from iTunes

13
11
IN A TIME LAPSE, LUDOVICO EINAUDI


Buy from Amazon

-

Download from iTunes

14
12
THE LITTLE MERMAID - OST, ALAN MENKEN


Buy from Amazon

-

Download from iTunes

15
RE
RECOMPOSED BY MAX RICHTER/VIVALDI - FOUR, HOPE/KONZERTHAUS CO/RIDDER


Buy from Amazon

-

Download from iTunes

16
17
GAME OF THRONES - SEASON 6 - OST, RAMIN DJAWADI


Buy from Amazon

-

Download from iTunes

17
10
THE LORD OF THE RINGS - TRILOGY - OST, HOWARD SHORE


Buy from Amazon

-

Download from iTunes

18
21
ROGUE ONE - A STAR WARS STORY - OST, MICHAEL GIACCHINO


Buy from Amazon

-

Download from iTunes

19
16
SCORE, 2CELLOS


Buy from Amazon

-

Download from iTunes

20
8
PIRATES OF THE CARIBBEAN- DEAD MEN - OST, GEOFF ZANELLI


Buy from Amazon

-

Download from iTunes

21
24
SLEEP, MAX RICHTER


Buy from Amazon

-

Download from iTunes

22
RE
GLADIATOR - OST - SPECIAL ANNIVERSARY, HANS ZIMMER & LISA GERRARD


Buy from Amazon

-

Download from iTunes

23
NEW
THE KING OF INSTRUMENTS - A VOICE REBORN, STEPHEN CLEOBURY


Buy from Amazon

-

Download from iTunes

24
19
THE BLUE NOTEBOOKS, MAX RICHTER


Buy from Amazon

-

Download from iTunes

25
23
DIVENIRE, LUDOVICO EINAUDI


Buy from Amazon

-

Download from iTunes

26
THE MUSIC OF HANS ZIMMER, LONDON MUSIC WORKS/PRAGUE PO


Buy from Amazon

-

Download from iTunes

27
18
THE LORD OF THE RINGS - TRILOGY - OST, HOWARD SHORE


Buy from Amazon

-

Download from iTunes

28
RE
MONTEVERDI/THE OTHER VESPERS, I FAGIOLINI/24/HOLLINGWORTH


Buy from Amazon

-

Download from iTunes

29
RE
MAHLER/SYMPHONY NO 3, BUDAPEST FESTIVAL OR/FISCHER


Buy from Amazon

-

Download from iTunes

30
26
THE LEFTOVERS - SEASON 1 - OST, MAX RICHTER


Buy from Amazon

-

Download from iTunes