Classic FM Chart: Bryn Terfel enters the chart at No.1
28 October 2018, 18:55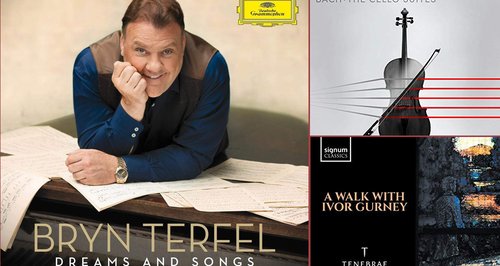 Bryn Terfel's new album 'Dreams and Songs' enters the chart at No.1, knocking Einaudi off the top spot.
Not many artists can jump to No.1 with a new album, but Bryn Terfel has done just that with his new release Dreams and Songs. The album, including duets with Emma Thompson, Alfie Boe and Rob Brydon, has displaced Einaudi's Islands from the top of the chart.
Alexis Ffrench's album Evolution catches a second wind this week and moves up three places to No.3, above one of the chart stalwarts, The Real Classical.
Other new entries on the chart this week are Bach: The Cello Suites – Recomposed by Peter Gregson, and A Walk with Ivor Gurney by Tenebrae, the Aurora Orchestra and Nigel Short. They enter the chart at No.11 and No.17 respectively.
Two re-entries make it back into the chart this week from two world-famous Welsh artists: Karl Jenkins and Katherine Jenkins.
This
Week
Last
Week
Title & Artist
1
NEW
DREAMS AND SONGS, BRYN TERFEL


Download from iTunes

-

Buy from Amazon

2
1
ISLANDS - ESSENTIAL EINAUDI, LUDOVICO EINAUDI


Download from iTunes

-

Buy from Amazon

3
6
EVOLUTION, ALEXIS FFRENCH


Download from iTunes

-

Buy from Amazon

4
3
THE REAL CLASSICAL, VARIOUS ARTISTS


Buy from Amazon

5
8
THE LITTLE MERMAID - OST, ALAN MENKEN


Download from iTunes

-

Buy from Amazon

6
4
THE GREAT WAR SYMPHONY, HAWES/RPO/NATIONAL YOUTH CHRS


Download from iTunes

-

Buy from Amazon

7
9
INSPIRATION, SHEKU KANNEH-MASON


Download from iTunes

-

Buy from Amazon

8
10
THE 50 GREATEST PIECES OF CLASSICAL, LPO/PARRY


Download from iTunes

-

Buy from Amazon

9
12
THE LORD OF THE RINGS - TRILOGY - OST, HOWARD SHORE


Download from iTunes

-

Buy from Amazon

10
11
DIVENIRE, LUDOVICO EINAUDI


Download from iTunes

-

Buy from Amazon

11
NEW
BACH/THE CELLO SUITES - RECOMPOSED, PETER GREGSON


Download from iTunes

-

Buy from Amazon

12
13
SLEEP, MAX RICHTER


Download from iTunes

-

Buy from Amazon

13
15
THE LORD OF THE RINGS - OST, HOWARD SHORE
14
21
JOHN WILLIAMS - A LIFE IN MUSIC, LSO/GREENAWAY


Download from iTunes

-

Buy from Amazon

15
14
CINEMA, ANDREA BOCELLI


Download from iTunes

-

Buy from Amazon

16
2
LIFE, IGOR LEVIT


Download from iTunes

-

Buy from Amazon

17
NEW
A WALK WITH IVOR GURNEY, TENEBRAE/AURORA OR/SHORT


Download from iTunes

-

Buy from Amazon

18
16
GLADIATOR - OST, HANS ZIMMER & LISA GERRARD


Download from iTunes

-

Buy from Amazon

19
23
SCORE, 2CELLOS


Download from iTunes

-

Buy from Amazon

20
24
THE BLUE NOTEBOOKS, MAX RICHTER


Download from iTunes

-

Buy from Amazon

21
18
IN A TIME LAPSE, LUDOVICO EINAUDI


Download from iTunes

-

Buy from Amazon

22
19
ELEMENTS, LUDOVICO EINAUDI


Download from iTunes

-

Buy from Amazon

23
7
DESTINATION RACHMANINOV - DEPARTURE, TRIFONOV/PHILADELPHIA OR


Download from iTunes

-

Buy from Amazon

24
RE
THE ARMED MAN - A MASS FOR PEACE, KARL JENKINS


Download from iTunes

-

Buy from Amazon

25
27
UNA MATTINA, LUDOVICO EINAUDI


Download from iTunes

-

Buy from Amazon

26
28
HARRY POTTER & THE PHILOSOPHER'S STONE, JOHN WILLIAMS


Download from iTunes

-

Buy from Amazon

27
5
BEYOND, LIBERA


Download from iTunes

-

Buy from Amazon

28
22
THE COMPLETE HARRY POTTER FILM MUSIC, CITY OF PRAGUE PO


Download from iTunes

-

Buy from Amazon

29
25
BACH/SIX EVOLUTIONS - CELLO SUITES, YO-YO MA


Download from iTunes

-

Buy from Amazon

30
RE
THE PLATINUM COLLECTION, KATHERINE JENKINS


Download from iTunes

-

Buy from Amazon