Classic FM Chart: The Ayoub Sisters enter at no. 2
1 October 2017, 18:55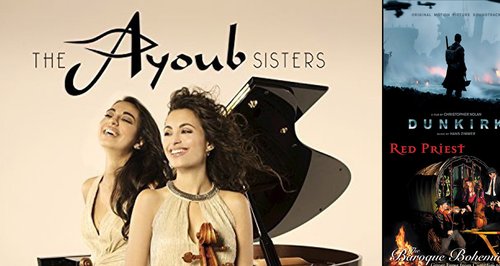 Hans Zimmer's score for Dunkirk has climbed up eight places to the take the top spot from Jonas Kaufmann. The Ayoub Sisters debut album, a previous Album of the Week, enters at no. 2, while Red Priest's The Baroque Bohemians: Gypsy Fever from Campfire to Court enters at no. 7.
There are plenty other new entries in the Classic FM Chart this week, including Blessing by Christina Johnston at no. 18, the latest album from Phantasm at no. 21, plus Kol Nidrei Elegy for Pamala at no. 26 and finally Crazy Girl Crazy by Barbara Hannigan at no. 30. There are also two re-entries this week which are both film scores.
This week's biggest faller is Classic FM: Vivaldi - The Four Seasons and Steven Isserlis's recent release is the highest climber, up seven places from no. 11 to no. 18.
This
Week
Last
Week
Title & Artist
1
9
DUNKIRK - OST, HANS ZIMMER


Buy from Amazon

-

Download from iTunes

2
NEW
THE AYOUB SISTERS, AYOUB SISTERS


Buy from Amazon

-

Download from iTunes

3
8
THE 50 GREATEST PIECES OF CLASSICAL MUSIC, LPO/PARRY


Buy from Amazon

-

Download from iTunes

4
3
ISLANDS - ESSENTIAL EINAUDI, LUDOVICO EINAUDI


Buy from Amazon

-

Download from iTunes

5
2
LAST NIGHT OF THE PROMS - THE ULTIMATE, VARIOUS ARTISTS


Buy from Amazon

-

Download from iTunes

6
7
MY JOURNEY, RAMI BASISAH/PRAGUE PO


Buy from Amazon

-

Download from iTunes

7
NEW
THE BAROQUE BOHEMIANS - GYPSY FEVER FROM, RED PRIEST


Buy from Amazon

-

Download from iTunes

8
1
L'OPERA, JONAS KAUFMANN


Buy from Amazon

-

Download from iTunes

9
4
ELEMENTS, LUDOVICO EINAUDI


Buy from Amazon

-

Download from iTunes

10
6
GAME OF THRONES - SEASON 7 - OST, RAMIN DJAWADI


Buy from Amazon

-

Download from iTunes

11
18
HAYDN/BACH/CELLO CONCERTOS, ISSERLIS/DEUTSCHE KAMMERPHIL


Buy from Amazon

-

Download from iTunes

12
15
THE LITTLE MERMAID - OST, ALAN MENKEN


Buy from Amazon

-

Download from iTunes

13
17
IN A TIME LAPSE, LUDOVICO EINAUDI


Buy from Amazon

-

Download from iTunes

14
19
THE LORD OF THE RINGS - TRILOGY - OST, HOWARD SHORE


Buy from Amazon

-

Download from iTunes

15
20
SCORE, 2CELLOS


Buy from Amazon

-

Download from iTunes

16
12
GAME OF THRONES - SEASON 6 - OST, RAMIN DJAWADI


Buy from Amazon

-

Download from iTunes

17
16
GLADIATOR - OST, HANS ZIMMER & LISA GERRARD


Buy from Amazon

-

Download from iTunes

18
NEW
BLESSING, CHRISTINA JOHNSTON


Buy from Amazon

-

Download from iTunes

19
13
CLASSIC FM - PIANO FAVOURITES, VARIOUS ARTISTS


Buy from Amazon

-

Download from iTunes

20
RE
THREE WORLDS - MUSIC FROM WOOLF WORKS, MAX RICHTER


Buy from Amazon

-

Download from iTunes

21
NEW
TYE/COMPLETE CONSORT MUSIC, PHANTASM


Buy from Amazon

-

Download from iTunes

22
23
DESTINY 2 - OST, SALVATORI/LEWIN/JOHNSON/MOAV


Buy from Amazon

-

Download from iTunes

23
14
CLASSIC FM - VIVALDI/THE FOUR SEASONS, STANDAGE/ECO/PINNOCK


Buy from Amazon

-

Download from iTunes

24
27
DIVENIRE, LUDOVICO EINAUDI


Buy from Amazon

-

Download from iTunes

25
21
CLASSIC FM - WILLIAMS/THE LARK ASCENDING, ASMIF/MARRINER


Buy from Amazon

-

Download from iTunes

26
NEW
KOL NIDREI ELEGY FOR PAMELA, WIHAN QUARTET


Buy from Amazon

-

Download from iTunes

27
24
MOZART/VIOLIN CONCERTOS, FAUST/IL GIARDINO ARMONICO


Buy from Amazon

-

Download from iTunes

28
RE
THE LORD OF THE RINGS - OST, HOWARD SHORE


Buy from Amazon

-

Download from iTunes

29
RE
WONDER WOMAN - OST, RUPERT GREGSON-WILLIAMS


Buy from Amazon

-

Download from iTunes

30
NEW
CRAZY GIRL CRAZY, BARBARA HANNIGAN


Buy from Amazon

-

Download from iTunes