Classic FM Chart: Avengers Endgame soars to No. 1
9 June 2019, 18:55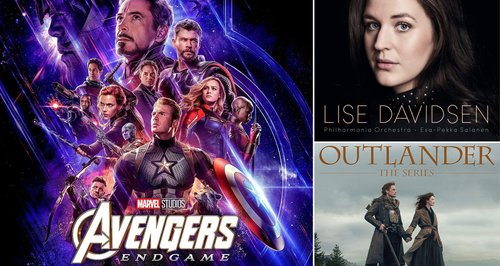 Action films jump up to the top of this week's chart, alongside four new entries.
The score to Avengers: Endgame by Alan Silvestri has jumped up from No. 12 to No. 1 in this week's chart, following the film's box office success, as does Bear McCreary's score to Godzilla – King of Monsters, which jumps up 14 places to No. 5 this week.
Also making a jump in the chart is new entry Lise Davidsen, the self-titled album by the up-and-coming Norwegian soprano. Three other new entries make it on to the chart: Outlander – Season Four soundtrack by Bear McCreary at No. 8, O Radiant Dawn by Apollo5, and Vaughan Williams: Symphony No. 7 & 9 recorded by the Royal Liverpool Philharmonic Orchestra, conducted by Andrew Manze.
This
Week
Last
Week
Title & Artist
1
12
AVENGERS - ENDGAME - OST, ALAN SILVESTRI


Download from iTunes

-

Buy from Amazon

2
2
100 HITS - THE BEST CLASSICAL ALBUM, VARIOUS ARTISTS


Buy from Amazon

3
NEW
LISE DAVIDSEN, DAVIDSEN/PHILHARMONIA OR


Download from iTunes

-

Buy from Amazon

4
3
ISLANDS - ESSENTIAL EINAUDI, LUDOVICO EINAUDI


Download from iTunes

-

Buy from Amazon

5
19
GODZILLA - KING OF THE MONSTERS - OST, BEAR MCCREARY


Download from iTunes

-

Buy from Amazon

6
5
SI, ANDREA BOCELLI


Download from iTunes

-

Buy from Amazon

7
1
GAME OF THRONES - SEASON 8 - OST, RAMIN DJAWADI


Download from iTunes

-

Buy from Amazon

8
NEW
OUTLANDER - SEASON 4 - OST, BEAR MCCREARY


Download from iTunes

-

Buy from Amazon

9
6
SEVEN DAYS WALKING - DAY ONE, LUDOVICO EINAUDI


Download from iTunes

-

Buy from Amazon

10
NEW
O RADIANT DAWN, APOLLO5


Download from iTunes

-

Buy from Amazon

11
8
ROMANTIC MOMENTS II, ANDRE RIEU & JOHANN STRAUSS OR


Download from iTunes

-

Buy from Amazon

12
9
THE LITTLE MERMAID - OST, ALAN MENKEN


Download from iTunes

-

Buy from Amazon

13
7
GAME OF THRONES - SEASON 6 - OST, RAMIN DJAWADI


Download from iTunes

-

Buy from Amazon

14
10
SEVEN DAYS WALKING - DAY THREE, LUDOVICO EINAUDI


Download from iTunes

-

Buy from Amazon

15
20
IN A TIME LAPSE, LUDOVICO EINAUDI


Download from iTunes

-

Buy from Amazon

16
16
THE LORD OF THE RINGS - TRILOGY - OST, HOWARD SHORE
17
17
SLEEP, MAX RICHTER


Download from iTunes

-

Buy from Amazon

18
14
PIANO BOOK, LANG LANG


Download from iTunes

-

Buy from Amazon

19
18
THE 50 GREATEST PIECES OF CLASSICAL, LPO/PARRY


Download from iTunes

-

Buy from Amazon

20
4
GUIDING LIGHT, KATHERINE JENKINS


Download from iTunes

-

Buy from Amazon

21
23
THE BLUE NOTEBOOKS, MAX RICHTER


Download from iTunes

-

Buy from Amazon

22
22
THE LORD OF THE RINGS - OST, HOWARD SHORE
23
26
UNA MATTINA, LUDOVICO EINAUDI


Download from iTunes

-

Buy from Amazon

24
13
GAME OF THRONES - SEASON 7 - OST, RAMIN DJAWADI


Download from iTunes

-

Buy from Amazon

25
27
AVENGERS - INFINITY WAR - OST, ALAN SILVESTRI


Download from iTunes

-

Buy from Amazon

26
NEW
VAUGHAN WILLIAMS/SINFONIA ANTARTICA, ROYAL LIVERPOOL PHIL OR


Download from iTunes

-

Buy from Amazon

27
24
GLADIATOR - OST, HANS ZIMMER & LISA GERRARD


Download from iTunes

-

Buy from Amazon

28
15
WEINBERG/SYMPHONIES NOS. 2 & 21, KREMER/CBSO/KREMERATA BALTICA


Download from iTunes

-

Buy from Amazon

29
25
ELEMENTS, LUDOVICO EINAUDI


Download from iTunes

-

Buy from Amazon

30
11
RISE, JESS GILLAM


Download from iTunes

-

Buy from Amazon