Classic FM Chart: André Rieu's new album 'Happy Days' nabs the top spot
1 December 2019, 18:55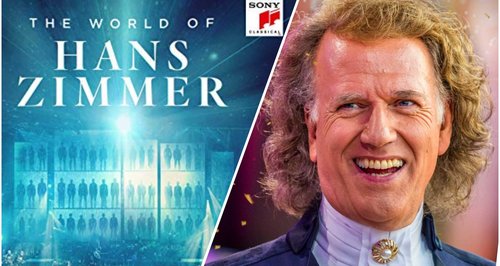 The king of the waltz celebrates turning 70 with a selection of popular classics – and the album is straight in at No. 1, overtaking Aled Jones and Russell Watson.
Dutch violinist and maestro André Rieu celebrates turning 70 in style, as his new album Happy Days is straight in at No. 1 in the Classic FM Chart.
It's good news for German film giant Hans Zimmer, who has been on tour this week, as his Symphonic Celebration disc reenters the chart.
Plus, there's a new album from Ludovico Einaudi in the chart: his Seven Days Walking albums, combined in one boxset, are in at No. 6.
This
Week
Last
Week
Title & Artist
1
NEW
HAPPY DAYS, ANDRE RIEU & JOHANN STRAUSS OR


Download from iTunes

-

Buy from Amazon

2
1
BACK IN HARMONY, ALED JONES & RUSSELL WATSON


Download from iTunes

-

Buy from Amazon

3
2
SI FOREVER, ANDREA BOCELLI


Download from iTunes

-

Buy from Amazon

4
3
MUSIC FOR HEALING, GARETH MALONE


Download from iTunes

-

Buy from Amazon

5
4
ISLANDS - ESSENTIAL EINAUDI, LUDOVICO EINAUDI


Download from iTunes

-

Buy from Amazon

6
NEW
SEVEN DAYS WALKING, LUDOVICO EINAUDI


Download from iTunes

-

Buy from Amazon

7
6
SI, ANDREA BOCELLI


Download from iTunes

-

Buy from Amazon

8
5
CHRISTMAS AT DOWNTON ABBEY, VARIOUS ARTISTS


Download from iTunes

-

Buy from Amazon

9
8
IN HARMONY, ALED JONES & RUSSELL WATSON


Download from iTunes

-

Buy from Amazon

10
14
CAROLS FROM KING'S COLLEGE CAMBRIDGE, KING'S COLLEGE CHOIR/WILLCOCKS


Download from iTunes

-

Buy from Amazon

11
7
ROYAL FIREWORKS, ALISON BALSOM/BALSOM ENSEMBLE


Download from iTunes

-

Buy from Amazon

12
11
BEST OF CHRISTMAS, ANDRE RIEU & JOHANN STRAUSS OR


Download from iTunes

-

Buy from Amazon

13
10
SEVEN DAYS WALKING - DAY ONE, LUDOVICO EINAUDI


Download from iTunes

-

Buy from Amazon

14
RE-ENTRY
THE WORLD OF - A SYMPHONIC CELEBRATION, HANS ZIMMER


Download from iTunes

-

Buy from Amazon

15
18
THE GREAT BRITISH CAROL COLLECTION, CHOIR OF TRINITY COLLEGE


Download from iTunes

-

Buy from Amazon

16
13
MY MUSIC MY WORLD - THE VERY BEST OF, ANDRE RIEU & JOHANN STRAUSS OR


Download from iTunes

-

Buy from Amazon

17
12
THE LITTLE MERMAID - OST, ALAN MENKEN


Download from iTunes

-

Buy from Amazon

18
16
VOYAGER - ESSENTIAL, MAX RICHTER


Download from iTunes

-

Buy from Amazon

19
15
THE LORD OF THE RINGS - TRILOGY - OST, HOWARD SHORE
20
RE-ENTRY
THE NATION'S FAVOURITE CAROLS, RPO/CITY LONDON CH/WETTON


Download from iTunes

-

Buy from Amazon

21
RE-ENTRY
HOME ALONE - OST, JOHN WILLIAMS


Download from iTunes

-

Buy from Amazon

22
9
CHRISTMAS CAROLS WITH, LIBERA


Download from iTunes

-

Buy from Amazon

23
17
SLEEP, MAX RICHTER


Download from iTunes

-

Buy from Amazon

24
19
THE BLUE NOTEBOOKS, MAX RICHTER


Download from iTunes

-

Buy from Amazon

25
RE-ENTRY
CHRISTMAS AT KING'S, KING'S COLLEGE CHOIR


Download from iTunes

-

Buy from Amazon

26
NEW
AD ASTRA, ORIGINAL SOUNDTRACK


Download from iTunes

-

Buy from Amazon

27
21
IN A TIME LAPSE, LUDOVICO EINAUDI


Download from iTunes

-

Buy from Amazon

28
23
THE ULTIMATE CLASSICAL COLLECTION, VARIOUS ARTISTS


Download from iTunes

-

Buy from Amazon

29
26
THE 50 GREATEST PIECES OF CLASSICAL, LPO/PARRY


Download from iTunes

-

Buy from Amazon

30
24
UNA MATTINA, LUDOVICO EINAUDI


Download from iTunes

-

Buy from Amazon