Classic FM Chart: André Rieu crowned Classic FM Christmas No. 1
17 December 2017, 18:55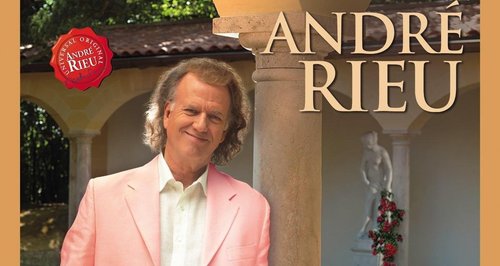 André Rieu's latest album Amore remains at no. 1, after entering at the top spot two weeks ago, making the violinist the Classic FM Christmas No. 1 2017. The rest of the top three are also non-movers for the second week running, plus The Nation's Favourite Carols is also a non-mover this week at no. 4. The rest of the top ten remains mostly the same this week, with the loss of Hans Zimmer's Blue Planet, this week's biggest faller, dropping ten places out of the top ten from no. 5 to no. 15.
Surprisingly, there are no new entries in the Classic FM Chart this week. However, there are five re-entries, all outside the top ten, including Alistair McGowan's The Piano Album, The Bets of King's College Choir, The Very Best of Carols from Cambridge, The Ultimate Classic FM Album plus John Williams's score for Star Wars: The Force Awakens.
There will be no Classic FM Chart on Sunday 25th December. Instead, you can tune in to Christmas Eve Requests with Anne-Marie Minhall and John Brunning from 1-5.30pm, followed by Aled Jones narrating The Snowman at 5.30pm and then the Children & The Arts' Christmas Carol Concert with Catherine Bott from 6-8pm.
> Information on all our Christmas programmes
On New Year's Day, John Brunning will present a special countdown of the biggest selling classical releases of 2017 in The Classic FM Chart of the Year. The contenders for the number one spot include André Rieu, Jonas Kaufmann, and Ludovico Einaudi, all of whom have topped the weekly Classic FM Chart at some point over the last year. Join John from 4pm on Monday 1st January on Classic FM to find out which release is crowned victorious as he unveils the Top 30 in full.
This
Week
Last
Week
Title & Artist
1
1
AMORE, ANDRE RIEU


Buy from Amazon

-

Download from iTunes

2
2
IN A WINTER LIGHT, ALEXANDER ARMSTRONG


Buy from Amazon

-

Download from iTunes

3
3
ONE VOICE - BELIEVE, ALED JONES


Buy from Amazon

-

Download from iTunes

4
4
THE NATION'S FAVOURITE CAROLS, RPO/CITY LONDON CH/WETTON


Buy from Amazon

-

Download from iTunes

5
6
CAROLS FROM KING'S COLLEGE CAMBRIDGE, KING'S COLLEGE CHOIR/WILLCOCKS


Buy from Amazon

-

Download from iTunes

6
7
BEST OF CHRISTMAS, ANDRE RIEU & JOHANN STRAUSS


Buy from Amazon

-

Download from iTunes

7
11
ESSENTIAL CAROLS, KING'S COLLEGE CHOIR/WILLCOCKS


Buy from Amazon

-

Download from iTunes

8
8
DECEMBER LIGHTS, ANDRE RIEU


Buy from Amazon

-

Download from iTunes

9
10
ISLANDS - ESSENTIAL EINAUDI, LUDOVICO EINAUDI


Buy from Amazon

-

Download from iTunes

10
9
CHRISTMAS WITH, CANTERBURY CATH GIRLS CH


Buy from Amazon

-

Download from iTunes

11
RE
THE PIANO ALBUM, ALISTAIR MCGOWAN


Buy from Amazon

-

Download from iTunes

12
0
CLASSIC FM - CAROLS WITH ST PAUL'S, ST PAUL'S CATHEDRAL CH/CARWOOD


Buy from Amazon

-

Download from iTunes

13
15
HOME ALONE - OST, JOHN WILLIAMS


Buy from Amazon

-

Download from iTunes

14
13
THE COLLECTION, ANDRE RIEU & JOHANN STRAUSS OR


Buy from Amazon

-

Download from iTunes

15
5
BLUE PLANET II - OST, HANS ZIMMER/SHEA/FLEMING


Buy from Amazon

-

Download from iTunes

16
22
THE JOHN RUTTER CHRISTMAS ALBUM, CAMBRIDGE SINGERS/RUTTER


Buy from Amazon

-

Download from iTunes

17
26
CHRISTMAS AT KING'S, KING'S COLLEGE CHOIR


Buy from Amazon

-

Download from iTunes

18
14
LAST NIGHT OF THE PROMS - THE ULTIMATE, VARIOUS ARTISTS


Buy from Amazon

-

Download from iTunes

19
18
ONE VOICE AT CHRISTMAS, ALED JONES


Buy from Amazon

-

Download from iTunes

20
RE
THE BEST OF KING'S, KING'S COLLEGE CHOIR


Buy from Amazon

-

Download from iTunes

21
17
SCORE, 2CELLOS


Buy from Amazon

-

Download from iTunes

22
23
THE GREAT BRITISH CAROL COLLECTION, CHOIR OF TRINITY COLLEGE


Buy from Amazon

-

Download from iTunes

23
25
ESSENTIAL CHRISTMAS CAROLS - THE FINEST, VARIOUS ARTISTS


Buy from Amazon

-

Download from iTunes

24
RE
CAROLS FROM CAMBRIDGE - THE VERY BEST, CAMBRIDGE KING'S COLLEGE CH


Buy from Amazon

-

Download from iTunes

25
21
CHRISTMAS CLASSICAL VOICES, VARIOUS ARTISTS


Buy from Amazon

-

Download from iTunes

26
RE
THE ULTIMATE CLASSIC FM ALBUM, VARIOUS ARTISTS


Buy from Amazon

-

Download from iTunes

27
28
ELEMENTS, LUDOVICO EINAUDI


Buy from Amazon

-

Download from iTunes

28
29
WINTER SONGS, GJEILO/ROYAL HOLLOWAY CH


Buy from Amazon

-

Download from iTunes

29
30
A YEAR OF SONGS, ALEXANDER ARMSTRONG


Buy from Amazon

-

Download from iTunes

30
RE
STAR WARS - THE FORCE AWAKENS - OST, JOHN WILLIAMS


Buy from Amazon

-

Download from iTunes