Classic FM Chart: Alexis Ffrench stays at No.1
23 September 2018, 18:55 | Updated: 19 October 2018, 15:27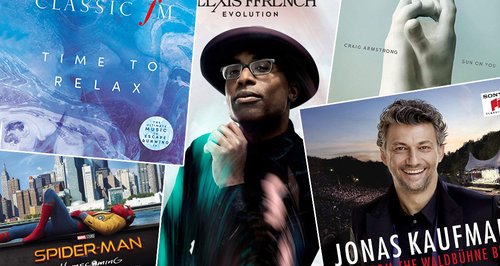 'Evolution' by Alexis Ffrench stays at No.1 for its third week, and two new releases enter the top 10.
Four new albums have made it into the Classic FM chart this week, two of which are in the top 10. Jonas Kaufmann's album An Italian Night has entered at No. 5 and Classic FM's Time To Relax compilation album at No. 7.
Alexis Ffrench stays at the top of the chart for the third week since his Evolution album release. It is joined in the top 3 by Einaudi's Islands album and The Real Classical. Cello albums Bach / Six Evolutions – Cello Suites (Yo-Yo Ma) and Inspiration (Sheku Kanneh-Mason) also remain in the top 10 from last week.
Two film soundtracks, Spider-Man – Homecoming (Michael Giacchino) and Harry Potter & the Philosopher's Stone (John Williams) have re-entered the chart at No. 16 and No. 30 respectively.
This
Week
Last
Week
Title & Artist
1
1
EVOLUTION, ALEXIS FFRENCH


Download from iTunes

-

Buy from Amazon

2
4
ISLANDS - ESSENTIAL EINAUDI, LUDOVICO EINAUDI


Download from iTunes

-

Buy from Amazon

3
5
THE REAL CLASSICAL, VARIOUS ARTISTS


Buy from Amazon

4
2
BACH/SIX EVOLUTIONS - CELLO SUITES, YO-YO MA


Download from iTunes

-

Buy from Amazon

5
NEW
AN ITALIAN NIGHT - LIVE, KAUFMANN/RACHVELISHVILI


Download from iTunes

-

Buy from Amazon

6
6
INSPIRATION, SHEKU KANNEH-MASON


Download from iTunes

-

Buy from Amazon

7
NEW
CLASSIC FM - TIME TO RELAX, VARIOUS ARTISTS


Buy from Amazon

8
12
DIVENIRE, LUDOVICO EINAUDI


Download from iTunes

-

Buy from Amazon

9
9
THE LITTLE MERMAID - OST, ALAN MENKEN


Download from iTunes

-

Buy from Amazon

10
3
SUN ON YOU, CRAIG ARMSTRONG


Download from iTunes

-

Buy from Amazon

11
13
SLEEP, MAX RICHTER


Download from iTunes

-

Buy from Amazon

12
14
THE LORD OF THE RINGS - TRILOGY - OST, HOWARD SHORE


Download from iTunes

-

Buy from Amazon

13
8
THE 50 GREATEST PIECES OF CLASSICAL, LPO/PARRY


Download from iTunes

-

Buy from Amazon

14
10
GLADIATOR - OST, HANS ZIMMER & LISA GERRARD


Download from iTunes

-

Buy from Amazon

15
25
THE ARMED MAN - A MASS FOR PEACE, KARL JENKINS


Download from iTunes

-

Buy from Amazon

16
RE
SPIDER-MAN - HOMECOMING - OST, MICHAEL GIACCHINO


Download from iTunes

-

Buy from Amazon

17
16
THE BLUE NOTEBOOKS, MAX RICHTER


Download from iTunes

-

Buy from Amazon

18
7
AVENGERS - INFINITY WAR - OST, ALAN SILVESTRI


Download from iTunes

-

Buy from Amazon

19
20
ELEMENTS, LUDOVICO EINAUDI


Download from iTunes

-

Buy from Amazon

20
18
THE LORD OF THE RINGS - OST, HOWARD SHORE
21
19
IN A TIME LAPSE, LUDOVICO EINAUDI


Download from iTunes

-

Buy from Amazon

22
23
SCORE, 2CELLOS


Download from iTunes

-

Buy from Amazon

23
11
BACH/THE 6 UNACCOMPANIED CELLO SUITES, YO-YO MA


Download from iTunes

-

Buy from Amazon

24
26
UNA MATTINA, LUDOVICO EINAUDI


Download from iTunes

-

Buy from Amazon

25
NEW
WEINBERG/SYMPHONY NO 13, SIBERIAN STATE SO/LANDE


Download from iTunes

-

Buy from Amazon

26
RE
CLASSICAL CHILLOUT, VARIOUS ARTISTS


Download from iTunes

-

Buy from Amazon

27
28
GAME OF THRONES - SEASON 6 - OST, RAMIN DJAWADI


Download from iTunes

-

Buy from Amazon

28
27
I GIORNI, LUDOVICO EINAUDI


Download from iTunes

-

Buy from Amazon

29
NEW
ROSSINI/SEMIRAMIDE, ORCH AGE OF ENLIGHT/ELDER


Download from iTunes

-

Buy from Amazon

30
RE
HARRY POTTER & THE PHILOSOPHER'S STONE, JOHN WILLIAMS


Download from iTunes

-

Buy from Amazon