Vote for your winner at the Music & Drama Education Awards!
20 November 2019, 10:42 | Updated: 20 November 2019, 10:47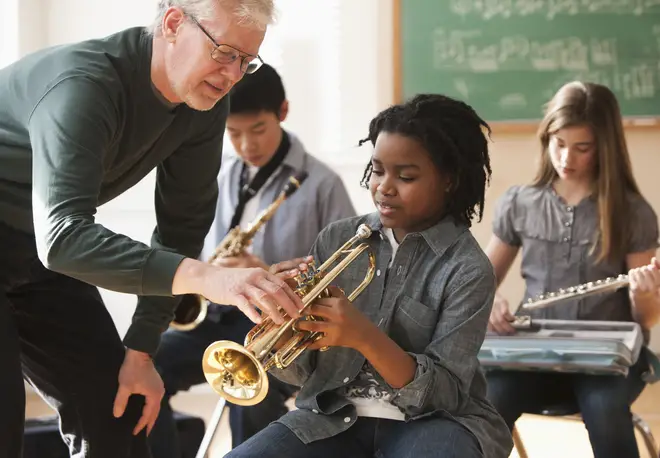 Classic FM is sponsoring the award for the Best Classical Music Education Initiative as part of the Music & Drama Education Awards 2020. And we need your votes...
At next year's Music & Drama Education Awards, Classic FM is sponsoring the award for the Best Classical Music Education Initiative.
This award will honour an education project that has used classical music in an innovative way, shown musical excellence and had a positive impact on a significant number of participants.
The Music & Drama Education Awards 2020 celebrate the extraordinary contribution made by professionals, companies, charities, schools and other organisations to the lives of others through the medium of these two key performing arts.
The winners are chosen by a prominent panel of expert judges – except for the Best Classical Music Education Initiative award, which is voted for by Classic FM listeners.
Vote for your winner below!
Find out more about the nominees
VOCES8 Foundation
Vocal ensemble VOCES8 is passionate about music education and performance. Since starting the group and the VOCES8 Foundation in 2005, VOCES8 and sister group Apollo5 have made a huge commitment to inspiring people through music with projects which include uplifting massed choir educational programmes, a VOCES8 Scholars programme, an international summer school, work with inner city schools and partnerships with music hubs across the UK which engage students of all ages, from primary school children to aspiring young professionals.
The VOCES8 Foundation works with 40,000 young people every year, and VOCES8 is one of the only vocal ensembles in the world to have started its own centre for vocal music, outreach and education. They are ambassadors for Edition Peters and publish many resources for choirs and schools, including 'The VOCES8 Method' for teachers which encourages whole-school music-making in a way that links music with literacy, numeracy and linguistics. The Method is used in thousands of schools around the world and is now published in four languages.
VOCES8 Foundation: Sing Every Day
National Schools Symphony Orchestra
For more than 25 years the National Schools Symphony Orchestra has provided intensive, high-quality orchestral experience for young players aged nine to 19 years old. The annual course provides a stimulating and rewarding mix of individual coaching by expert tutors, playing in small ensembles, sectional and full rehearsals, and a final concert at a major national venue.
The essence of the week is the hallmark balance of concentrated music-making and a vibrant social regime masterminded by a hugely experienced and committed pastoral team. The courses are held at Malvern College, with its outstanding facilities for music and extra-curricular activity, set amid beautiful surroundings, in the heart of Elgar country. NSSO works hard to support players whose parents need help to meet the cost of the course, as it believes finance should not be a defining factor in deciding to apply. Means-tested bursaries are available, covering up to a maximum of 80 percent of the course fee.
NSSO Philharmonic and Chorus | 25th Anniversary Concert | Birmingham Symphony Hall
Chineke! Junior Orchestra
The sister ensemble of the professional Chineke Orchestra, the Chineke Junior Orchestra is a youth orchestra of majority black and minority ethnic (BME) players aged 11-18. Members of the senior Chineke Orchestra play an important role as mentors, teachers and role models to the younger musicians.
In this way, the Chineke Junior Orchestra acts as a bridge between youth music schemes and higher education, giving its players experience, encouragement and confidence during their formative years, with the hope of increasing the numbers of BME candidates currently studying music in higher education. This process has already begun, with several Chineke Juniors winning full scholarships to the Royal Academy of Music, Royal College of Music, Royal Northern College of Music and the Guildhall School of Music and Drama.
BBC Proms: Chineke!: the best bits