Don't miss the incredible Royal International Air Tattoo!
6 March 2019, 06:00 | Updated: 12 March 2019, 17:20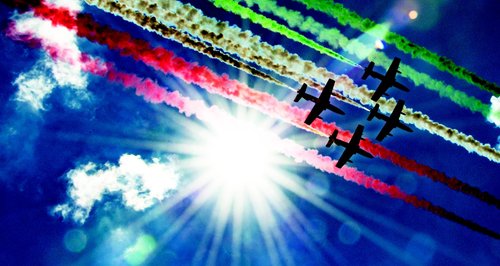 It's one of the most dramatic events to take place in the UK – here's how you could enjoy this incredible spectacle 19-21 July at RAF Fairford.
Few events can rival the intensity, drama and spectacle on offer at the world's greatest airshow. The Air Tattoo returns on the 19-21 July at RAF Fairford near Swindon with lots of exciting aviation action, both in the sky and on the ground on. It's the Glastonbury, Henley or Ascot of Airshows! And under-18s go free with a ticket holder making it a great day out for all the family.
Last year a record crowd of 185,000 people enjoyed a feast of flying at the 2018 Air Tattoo, marking the Royal Air Force's Centenary. In total, 302 aircraft, representing 30 nations attended the airshow, with 121 taking part in the flying display.
Find out more and buy tickets >
For 2019 the world famous Red Arrows have confirmed they will be returning to the Cotswolds to take part in the Air Tattoo and their displays on the Friday, Saturday and Sunday of the event will be their last in the UK this year as they jet off shortly after on a high-profile tour of the US and Canada.
In addition, it's just been announced that astronaut Tim Peake will be making an appearance at the airshow on Friday 19 July. Tim was the first British ESA astronaut to stay on the International Space Station and he's now Head of Astronaut Operations at ESA's European Astronaut Centre in Germany.
The 2019 Air Tattoo also takes place on the weekend of the 50th anniversary of the first manned landing on the Moon so space will be a central theme, in addition to aviation.
On July 20, 1969, the world watched as Neil Armstrong and Buzz Aldrin took mankind's first steps on the lunar surface. Half a century later, this unprecedented feat of engineering, scientific and human endeavour will be celebrated at the Air Tattoo as they look to inspire the next generation.