Madrigals, opera, jazz and humour with the Mayfair Mints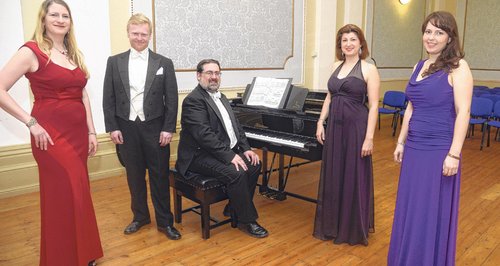 Join the Mayfair Mints for a glamorous evening of elegant fizz and fine music.
You'll be greeted with a glass (or two) of wine or bubbles before we take you on a journey of beautiful choral music, exhilarating madrigals, jazz and opera, and some delightfully humorous songs.

Whether you relish: an evening of light-hearted entertainment, wine and merriment; an evening of lively, erudite stimulation; or an evening of beautiful, rich quality - look no further.

The Mayfair Mints offer you all the above.



CLASSIC FM LISTENER DISCOUNT

*Get £10 off your tickets!* Use the code 'CLASSICFM' when buying your tickets online to get £25 tickets for £15.

Tickets include reception and interval drinks. Buy yours now!
PROGRAMME

A selection of beautiful choral church music, lively madrigals, opera arias, jazz standards, humorous songs and show tunes including:

- The Flower Duet

- Schubert's Ave Maria

- Mendelssohn - Lift Thine Eyes

- Rossini - Cat's Duet

- Diamonds are a Girl's Best Friend

- Teddy Bear's Picnic

- Somewhere over the Rainbow.

For a special, memorable night that will elevate the spirits and put a musical spring in your step, book now.
ABOUT THE MAYFAIR MINTS

The Mayfair Mints are a talented, professional vocal ensemble who perform at private parties, corporate events, weddings and other special occasions. The singers are hand-picked for their ability to perform a range of styles, from choral polyphony to solo opera to jazz; and we pride ourselves on engaging with our audiences and performing with great zest.

Each programme is carefully tailored to the tone of the event, creating a delightful, memorable occasion.

The most unique feature of the group is that we also write and perform personal songs about the guest of honour, bride or groom or product being launched.

For more details, see www.mayfairmints.co.uk.
Picture: KM Group