Classic BRIT Awards 2013 - live blog
Join our Live Blog, direct from the Royal Albert Hall for the Classic BRITs 2013! All the backstage gossip, red carpet action and amazing performances in one place, from 5pm. Full coverage will start at 5, but we'll be updating throughout the day - keep refreshing to stay up to date.
Please remember to refresh the page to see the latest posts!
22:23 - And that's it for another year! Thanks for joining us, and make sure you visit our Classic BRITs page to see all the BRITs-related goodness you could ever need - pictures, interviews, red carpet gossip, winners, everything.

22:19 - Samantha Barks has come to join Alfie in a burst of 'Come What May' from Moulin Rouge. Amazing voices. Classy job, guys. Ooh, confetti!

Now @SamanthaBarks has joined @AlfieBoe on stage! What a duet this is! #ClassicBRITs pic.twitter.com/f6DiD4oDKN

— ClassicBRITs (@classicbrits) October 2, 2013
22:15 - With that, we're almost done! There's time for a final performance from Alfie Boe and Samantha Barks, with the London Community Gospel Choir. There's Alfie, doing his best Elvis baritone - loving the new short haircut, too.

22:11 - If you weren't an emotional wreck already, you most certainly will be after that VT. Pavarotti really was something else, wasn't he? There's also a message from Placido Domingo too, via video: "a God-given, beautiful voice..." His widow, Nicoletta, is now on stage to accept the award on his behalf. She thanks everyone, pays tribute to her late husband and salutes the love that people still have for him.

22:09 - José Carreras has just arrived. The list of legends at tonight's awards is getting ridiculous. It's the final award of the night, and it's going to Luciano Pavarotti - the Lifetime Achievement Award, given posthumously. "A unique talent... a rather brilliant poker player..." says José.

Standing ovation #pavarotti #ClassicBRITs pic.twitter.com/vDcUjwbtPT

— Ali Castriotis (@AliCastriotis) October 2, 2013
22:05 - And what a humble speech! "Thanks to all of these people," he says, gesturing to the crowd. *wells up, makes Zimmer playlist on iPod for journey home*

22:02 - Cor blimey guvnor, it's Michael Caine! He's here to present the award for Outstanding Contribution to Music to Hans Zimmer. A living legend saluting another. Basically, it doesn't get more epic than this. "One of the best ever exponents of the art," says Michael, and who are we to disagree?

22:00 - Fair comment:
Hans Zimmer what a legend #ClassicBRITs

— Emma Kirrage (@emmakirrage) October 2, 2013
21:56 - It's the moment we've all been waiting for, the tribute to Hans Zimmer. All the hits are in there - Inception, Pirates, The Lion King - and the London Contemporary Orchestra sound on top, top form. And the man himself is there to play his own music on the piano. What a guy.

21:53 - Heartbreakingly, André isn't here to reveive the award in person, but his message is typically enthusiastic. "I heard you had a lot of fun listening to it!" he says of his winning album. And a plug for the tour. Good man.

21:51 - Here's Aled Jones to present the Classic FM Album of the Year award. It's a mighty list of albums. Can Bocelli get it? Will Calleja triumph? John Rutter and Catrin Finch? No! It's André Rieu, for Magic of the Movies! Incredibly, this is the third time in a row that André has scooped the award.

21:44 - After a lovely bit of Beethoven's 5th, it's time for Breakthrough Artist winner Amy Dickson to play live. She's playing Mark Knopfler's theme from Local Hero. Which, in our eyes, makes her a hero too. What an incredible tone she gets out of that soprano sax.

21:35 - And now it's time for the first award of the second half, the Critics' Award. Hotly contested, much coveted, and with amazing nominees. And it goes too... Jonas Kaufmann! Congrats, sir! He's not here in person, but his video message is lovely. He seems to be in some sort of baronial parlour that we're going to assume belongs to him.

21:29 - Myleene's back, and here to introduce Ludovico Einaudi. This is quite an intense performance to say the least.

21:24 - "Ladies and gentlemen, please take your seats. Tonight's performance will recommence in one minute." Let's do this! We've got some amazing stuff coming in the second half - the Zimmer tribute, Amy Dickson and some words from the amazing José Carreras. Get ready!

21:13 - And most importantly before the ceremony recommences, take a look at our gallery of the ceremony itself by clicking here.

21:09 - We also had a delightful chat with the great Lang Lang, winner of the International Artist award and owner of an exceptional suit:

21:02 - Phew. Interval time. Time to catch up with the latest video interviews from the red carpet! We were very lucky and rather touched to be able to speak with the great José Carreras and Nicoletta Mantovani:

20:53 - A standing ovation for Jack! Oh crikey, we're all a bit emotional...

20:51 - Jack Topping, the 11-year-old choirboy, is singing 'You Will Never Walk Alone'. It's fair to say that some tears are starting to flow in the press room. And we haven't even been to the bar yet.

20:47 - Ladies and gentlemen, some serious news. Myleene Klass has stolen the Classic BRIT Awards.

20:44 - Ah, and now some Radetsky March! André Rieu might not be here in person, but his spirit is most certainly in the Albert Hall tonight. Look at them clapping!

20:40 - That was some delightful Chopin from Lang Lang, showing exactly why he wins massive awards all the time. What a showman!

20:36 - Oh hang on, she thanked Classic FM too! Amy, you were always our favourite. Cheque's in the post. Here's some more from our news section.

20:34 - Breakthrough Artist is the next one, and another strong field including Joseph Calleja (who just sang his lungs to bits). But who's going to get it...? Crumbs! It's Amy Dickson! Aww, and she thanks her "beautiful family and friends," and her husband.

20:30 - Joseph Calleja is here to sing Caruso. That voice is an absolute beast.

20:26 - Here's the lovely Samantha Barks to present Lang Lang with his International Artist award. What an inspiration. What a talent. What a suit. "Ladies and gentlemen... Thank you so much!!" He's clearly quite excited.

20:22 - After a delightful bit of Gareth Malone's new choir, it's time for the Female Artist category... and it's Nicola Benedetti! Two years in a row! What a great speech - "Discover the symphonies of Beethoven, Sibelius, Shostakovich..." More here.

20:16 - And they're coming thick and fast now - it's time for the Male Artist category - a strong field... is it Lang Lang...? No, it's Daniel Barenboim! And what a modest video acceptance speech. Aww. More on that here.

20:12 - Hello Myleene! Looking splendid! It's time to get the composer of the year out of the way first - and it's Hans Zimmer! Oh, and Jonathan Ross presenting the award? Amazing stuff. Gangnam Style jokes might have fallen on deaf ears, but we love you Wossy.
20:08 - Lang Lang and Nicola Benedetti are on stage, playing Khacahaturian's Sabre Dance at a furious lick, and with incredible lasers. This is basically awesome.

20:03 - Places people, it's happening!!

19:49 - And who's this? It's only Hans Zimmer! Chatting about why he's bad at receiving compliments.

19:45 - Eeek, 15 minutes to go! That means you've got time to watch Ludovico Einaudi chatting to us on the red carpet!

19:25 - Are you twiddling your thumbs in anticipation of the biggest night of the classical music calendar? Have a look through our amazing gallery of pictures from the red carpet.

19.01 - It's all kicking off in the press room - sandwiches are disappearing at a frightening rate, and everyone's itching for the show to start! Only an hour to go, folks...

18:54 - In the meantime, take a look at these legends: José Carreras and Samantha Barks in the same snap!

18:47 - That's it! The paps are packing their cameras down, the stars have been snapped and chatted to, it's time for their tea! We'll have some more videos and pictures for you to look at very soon.

18:44 - See what Tine Thing Helseth had to say on the red carpet by watching Lucy's interview with her here.

18:33 - If you want all the most glamorous shots from the red carpet, head over to our gallery right now!

18:27 - Looking delightful on the red carpet this evening, it's Les Mis star Samantha Barks *suffers dizzy spell*. She'll be smashing out some classics from the musicals later tonight.

18:20 - And here he is!

18:14 - Rumour has it that José Carreras is on his way - we're hoping to grab him for a quick chat before he heads inside. It's sure to be an emotional evening for him as he presents the posthumous Lifetime Achievement award for Luciano Pavarotti.

18:05 - Don't know to break this to you everyone, but we only just spoke to Hans Zimmer. Hans. Zimmer. Coolest guy here by a stretch. Here he is chatting to Lucy on the red carpet.
17:58 - Look lively everyone, Lang Lang is on the red carpet in a red suit. He'll be chatting with us any minute now. This guy.

17:52 - They're coming through thick and fast now - choirboy Jack Topping, BGT faves and no strangers to a jazzy shirt Jonathan & Charlotte, and now Ludovico Einaudi. Cannot WAIT to see him play later tonight.
17:46 - And now Gareth Malone is here! We are being spoilt... here he is chatting to Lucy Coward.

17:40 - Oh, and Martynas is here too. Playing Lady Gaga's 'Telephone', obviously. Great red carpet work, sir.

17:32 - They're here! We just had a lovely chinwag with trumpeter and Breakthrough Artist nominee Tine Thing Helseth, who is looking splendid as you might expect.

17:19 - Come on celebs, get a move on! We want to talk to you! The red carpet is ready for you! We're hoping that the stars of the show will come out and talk to us, including Hans Zimmer, Joseph Calleja, Alfie Boe, Samantha Barks, José Carreras... basically EVERYONE.

17:04 - Hans Zimmer just on stage there, rehearsing the epic musical tribute that the Classic BRITs have planned for tonight. Debate in the press room about how underrated the soundtrack to The Lion King is.

16:52 - Our very own Lucy Coward is in position and ready to take on the red carpet - she'll be talking to all the stars as they arrive, so check back later to find out what they're chatting about.
Red carpet ready.... #Classicbrits pic.twitter.com/AmTqWsg82N

— Lucy Coward (@ArtsLucy) October 2, 2013
16:34 - Saxophonist Amy Dickson is currently on stage in rehearsal - we're welling up, quite frankly. You lucky, lucky audience. Even the crew are clapping!

16:23 - We've just been up to take a look at the red carpet. It is very red. We are excited. Expecting the great and good to be arriving around 5ish, so make sure you stay with us!

15:44 - Look who Myleene bumped into backstage! Ah, showbiz...

15:26 - It's all gone a bit quiet in rehearsal, so why not take a look at our gallery of behind the scenes snaps? Go on, see what we've been up to all morning...

14:51 - The dress rehearsal has begun, and Nicola Benedetti and Lang Lang are on first. We know this seems like boasting, but we're in for an incredible show tonight.

14:31 - Wow, it seems so real! The red carpet is out, ready for the feet of the celebs later tonight...

14:16 - Right, lunch is over - Myleene Klass is on stage and ready to run through her presenting links for tonight. Looking lovely, obviously. How does she do it? "My Lords, Ladies and Gentlemen..."
13:40 - Want to know what the guests get in their goodie bags from the Classic BRITS?

OK, so what's in the #ClassicBRITs goodie bag? http://t.co/hoWf8iMdrm

— ClassicBRITs (@classicbrits) October 2, 2013
13:12 - Phew. Lunch time. Jamie Crick is on the air as we speak, taking over from John Suchet - this is what they did for a hand-over: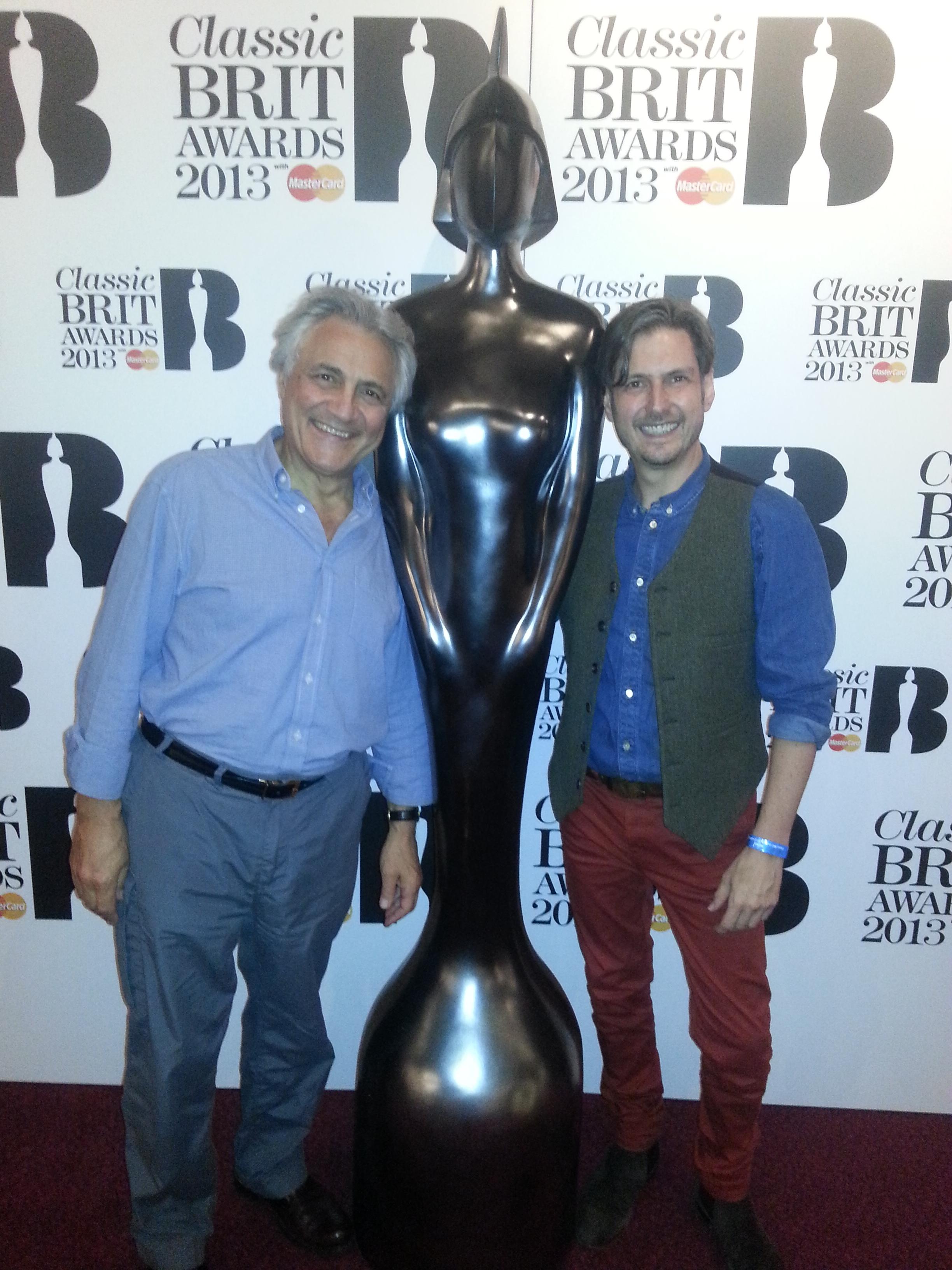 12:51 - Lang Lang is still on stage, giving us a little bit of Chopin... what a treat for the crew. And us, obviously. We snuck a picture of his Steinway: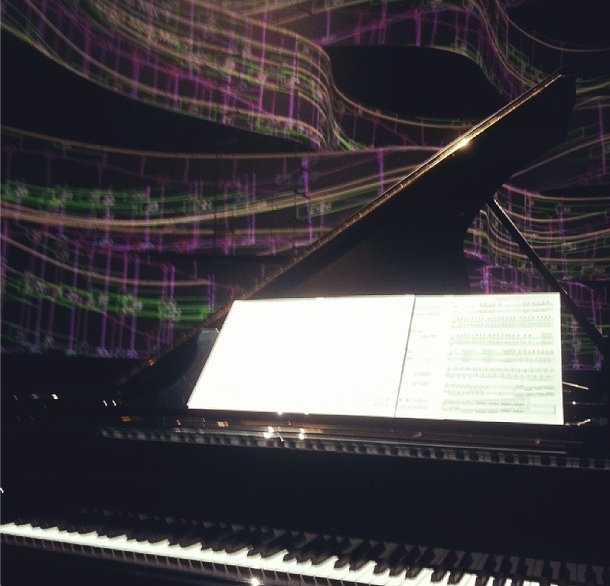 12:24 - We've just seen an incredible rehearsal - Lang Lang and Nicola Benedetti duking it out with some seriously up-tempo Khachaturian. Blinding stuff.
12:01 - Myleene Klass is ready for tonight, look:

School run, done, meetings, done. Now of to sound check for tonights #classicBRITS. BEYOND excited!

— Myleene Klass (@KlassMyleene) October 2, 2013
11:46 - Don't forget that John Suchet is on the air right now, soaking up the atmosphere and wandering about in the Albert Hall. Listen to him here.
11:25 - That was Joseph Calleja rehearsing on stage. We don't need to tell you that he is sounding mighty.
11:15 - We're off! The Classic BRIT Awards 2013 is upon us, and we're in the Albert Hall to report on everything. Now, we don't want to brag, but we just saw Alfie Boe and Samantha Barks rehearsing their epic performance for tonight. Quite a start to the day.