Audience member proposes in shock moment at Texas symphony orchestra concert
27 April 2023, 13:13 | Updated: 28 April 2023, 20:19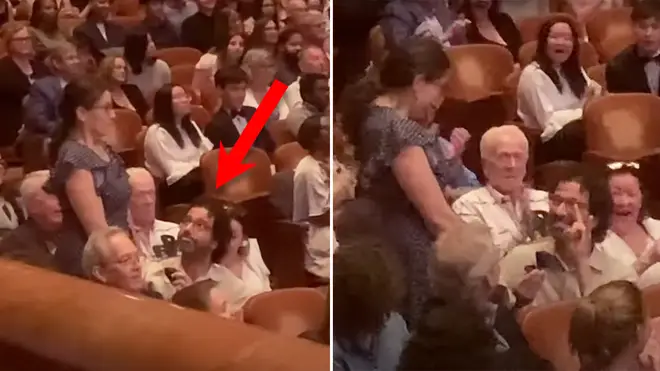 "An unexpected thing happened at the Dallas Symphony Orchestra…"
A man who proposed to his girlfriend at a Dallas Symphony Orchestra concert has described it as "a movie-like experience".
Nikola Olic is a Serbian photographer based in Dallas, Texas, where he is president of the board of the non-profit 'Open Classical', which produces and promotes classical music events.
This week, during the Dallas Symphony's performance of Stravinsky's Rite of Spring, Nikola decided to orchestrate a surprise proposal for his girlfriend Kelly, who is also a musician.
Kelly and Nikola were seated in the audience, when the orchestra began their well-rehearsed script, leading up to the surprise proposal.
One of the musicians walked up on stage and asked a 'random' person for their thoughts on the Stravinsky work. "All of these musicians behind me fully understand the intimacy and charisma and historical value and cultural and musical importance of this piece, and we present it back to you guys," the musician said.
"But what we don't know is … what you feel about it."
Read more: Cape Town Opera singers surprise airplane passengers with unexpected Verdi chorus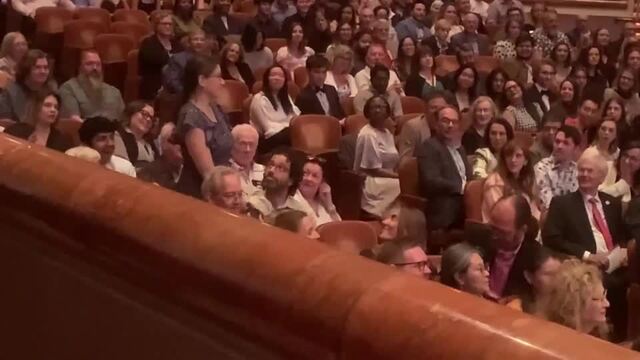 Audience member surprises girlfriend with proposal at symphony orchestra concert!
"Now, I needed to know this," the musician continued, "So I went to the Box Office today to help find a spokesperson in the audience, to tell us what your thoughts are about what we are playing.
"We figured we would ask the person in seat L3. So, who is in seat L3?"
As fate – and Nikola's superb planning – would have it, the person seated in L3, was Kelly. "Please tell me your name," the musician asks her.
As she responds, "Kelly", the musician asks her another question, "Will you marry Nikola?".
Read more: Singer's surprise marriage proposal brings the house down at San Francisco Opera's Tosca
Kelly, realising what is happening, throws her hand to her mouth in shock, prompting the audience to begin screaming with delight.
"The DSO played along with my script marvellously, with one of the musicians coming on stage and asking a 'random' person for their thoughts on Stravinsky, and when she got up to answer her question, they also asked her to marry me," Nikola told Classic FM.
"It was a movie-like experience, with every one of the 1000+ people in attendance seemingly acting as extras in a movie, screaming and shouting and clapping."
An unexpected thing happened at the Dallas Symphony Orchestra
Nikola added: "A violist with the orchestra told me that in his 23 years they never had a proposal of this kind, as they usually just had announcements. So it was a pleasant break and surprise for the whole orchestra as well."
Wishing Nikola and Kelly many happy years of duets, and more symphonic surprises to come...