Lizzo plays 'The Lord of the Rings' theme in surprise recorder performance on the movie set
28 July 2023, 08:53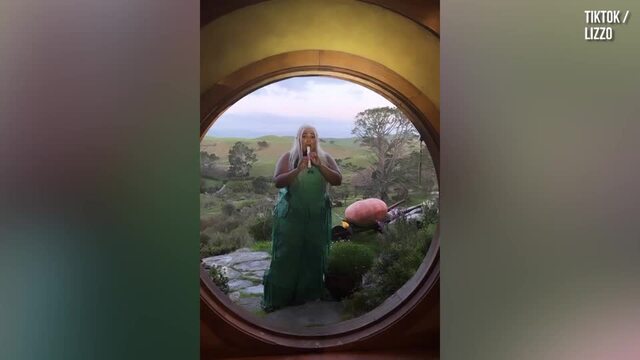 Lizzo plays The Shire theme from The Lord of the Rings at Hobbiton
Lizzo dressed up to play the fantasy film series' famous theme, on the now-historic 'Hobbiton' movie set.
A moment of pop and movie music 'fellowship' occurred on Friday, as one of the world's biggest stars made a tribute to The Lord of the Rings.
Singer, rapper and instrumentalist Lizzo is in New Zealand as part of her world tour, and it appears she could not resist a visit to the country's most famous fantasy film location, and a melodic moment to match.
'Hobbiton' is one of the most important filming locations for Peter Jackson's The Lord of the Rings and The Hobbit film trilogies. The vast rural location in the New Zealand region of Waikato features the green rolling hills and circular-windowed cottages of J.R.R. Tolkien's fantasy 'Shire'.
The filming location is now immortalised as the fantasy shire, and is a down-under place of pilgrimage for fans of J.R.R. Tolkien's books and the film series.
With recorder to hand, and dressed in green, the singer played a few bars of Howard Shore's main theme to The Lord of the Rings series.
"Lizzolas," she wrote when sharing to Instagram, a name in homage to Legolas, played in the film series by Orlando Bloom, "in her natural habitat…". Watch her performance above.
Read more: Flute player performs haunting 'Lord of the Rings' melody in mile-long tunnel
The singer's fans were understandably delighted. "This might be the most iconic thing I've ever seen," one replied to the post of her performance.
Lizzo's performance is just the latest time the singer has brought her instrumental exploits to the fore. In her June Glastonbury set, the singer blasted a few motifs from Mozart's opera The Magic Flute on her main instrument. There have also been viral duets, and musical friendships with legendary flutist Sir James Galway.
But this cosplay recorder feels like taking things to another level.
Clearly, Lizzo is a fan of The Lord of the Rings trilogy and Howard Shore's iconic music. Another thing she could do would be to vote for it in the Classic FM Movie Music Hall of Fame 2023.
We're currently on a hunt to find the nation's Top 100 favourite movie themes. Everyone can place their votes and have their say. Even Lizzolas.
To have your say in the Classic FM Movie Music Hall of Fame 2023, and for the chance to win a Smart TV or Sony Soundbar, place your vote for the best film music now on Global Player.