'Sir James Galway championed the flute in the 1970s – Lizzo is doing the same for today's generation!'
11 May 2023, 18:14 | Updated: 18 May 2023, 22:45
Sir James and Lady Jeanne Galway talk performing with Lizzo at the Met Gala 2023!
Off the back of their viral duet, legendary flautist Sir James Galway reveals how he first got in touch with Lizzo, what they have been teaching each other, and the secrecy of performing together at the Met Gala.
One of today's biggest US rappers, and a living legend of the classical flute: Lizzo and Sir James Galway might be 2023's favourite duo and most wholesome friendship.
After they played together in public for the first time, in a duet of Rimsky-Korsakov's lively 'Flight of the Bumblebee' at the Met Gala 2023, Lizzo put out a touching statement saying Galway's famous album The Man with the Golden Flute had "changed the trajectory of her life".
Lizzo wrote on Instagram that at the age of 14, "I fell in love with virtuosic flute music.
"Now, years later I [have] had the honor to play beside Sir James Galway," she added. "I can confidently say I wouldn't be the musician I am today without his influence."
Now, Sir James and his wife, flautist Lady Jeanne Galway, have spoken to Classic FM exclusively about meeting Lizzo, and making music with her. "She's so nice and charming," Sir James said.
"And funny! Very, very funny," Lady Galway added.
Sir James added: "I thought that [our sounds] matched very well. Because of our classical teaching."
Read more: Lizzo and Sir James Galway's 'treasured' duet – flute footage emerges from 2023 Met Gala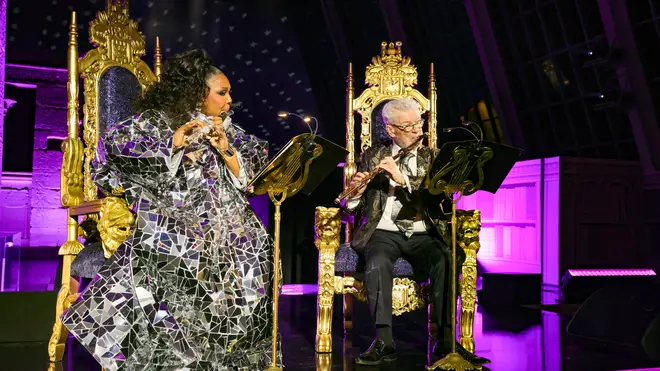 'Sir James championed the flute in the 70s – Lizzo can carry it on in 2023'
Sir James Galway is one of the world's best known flautists, and the winner of the 2005 Brit Award for Outstanding Contribution to Music. His recordings, which have sold over 30 million copies, range from Mozart and Bach, to Mancini and even Dolly Parton.
"In the old days," Lady Jeanne said, "Classical flautists used to have their nose up a little bit if there was anything that wasn't Mozart… I mean you had great difficulties with that, didn't you?" she said looking over at her husband. "Many times, they saw him as a crossover artist.
"What has surprised us," she added, "Is the reaction from classical flautists of all different ages. How much they love Lizzo!"
In 2019, it was reported that Lizzo's impact had helped to boost beginner flute sales by a third at the largest flute specialty store in North America. Lady Jeanne said she believes Lizzo can "carry on" the championing of the flute into this generation of young music lovers.
Lizzo plays the flute with Sir James Galway backstage at the Met Gala
"I think that she can carry it on," she said. "Sir James did this way back in the 70s … when he burst on the scene with [John Denver's] 'Annie's Song' and The Top of the Pops." ("That was a scream!" Sir James added at this point)
His wife continued: "And so there has been a little bit of a blank with the flute. So now we have somebody who really [gets it] and also who speaks of music education."
Lizzo majored in music at the University of Houston, where she played in the marching band and studied classical flute performance. In the last few years, she has been outspoken about the "stigma" many young musicians receive at school or in university.
"You get the stigma, like, band geek or band nerd. And people start to drop out and get other extracurriculars," she told CBS. "They played football… I stuck with it."
Read more: Lizzo makes history by playing the Library of Congress' 200-year-old crystal flute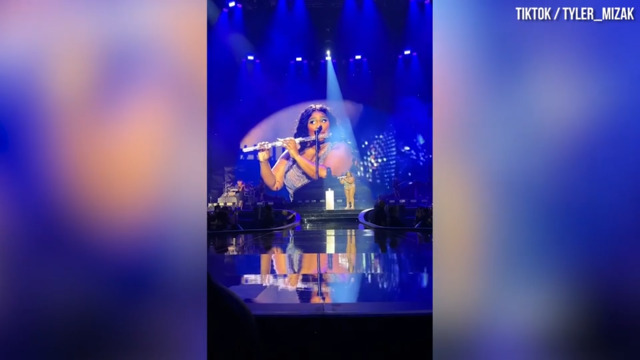 Lizzo plays James Madison's crystal flute in iconic moment on stage
'I sent Lizzo a note at Christmas, and she broke down crying'
Lizzo and Galway struck up a social media friendship after the 83-year-old virtuoso sent the pop star a video message in which he played 'We wish you a merry Christmas' and he declared himself her "number one fan".
Galway told Classic FM: "I sent Lizzo a little note at Christmas, wishing her a happy Christmas and she read it out online and she broke down crying… so that was our first encounter."
After that, they started speaking and were asked to play together on a new recording of The Pink Panther to celebrate composer Henry Mancini's centenary next April. Mancini's family contacted Galway, saying they thought of Lizzo and Sir James because they wanted to bring the composer's music to the younger generation.
Sir James asked Lizzo, and she responded that "she would only do it if I would play in the main concert [at the Met Gala]."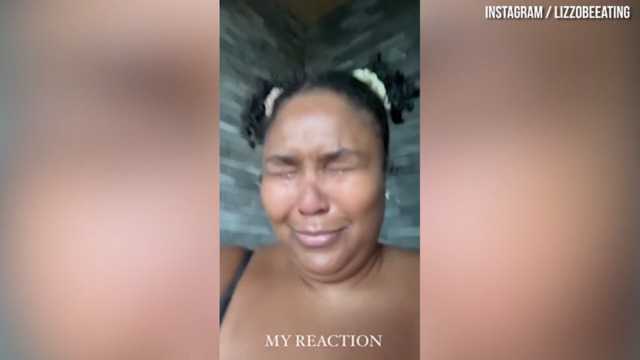 Lizzo cries as Sir James Galway wishes her a Merry Christmas
To open her show at the Met Gala, Lizzo brought on 18 young flautists, who all played music from Mozart's The Magic Flute.
"I was very impressed with her show," Sir James remarked. "She really takes command of the stage."
He added it was "not a small sound" that Lizzo can create on her flute – whom she affectionately refers to as 'Sasha' on her social media. "It really filled a concert hall."
Of course, their Met Gala duet plans had to be kept under lock and key, ahead of the high-profile event which every year sees the red carpet filled with dazzlingly dressed celebrities.
"We had to sign a couple of NDA forms," Lady Galway added. "We weren't allowed to say that we were performing. We weren't allowed to mention the word 'Lizzo'!"
Very little footage has been released of the Met Gala duet. The only clip is on her Instagram, showing their rehearsal time during which they played The Carnival of Venice and the Doppler Hungarian Fantasy.
"It's very secretive and there's absolutely no filming inside," Lady Galway added. "It's a pity, so they'll just have to do it again. Maybe they can do it at Classic FM Live for you!"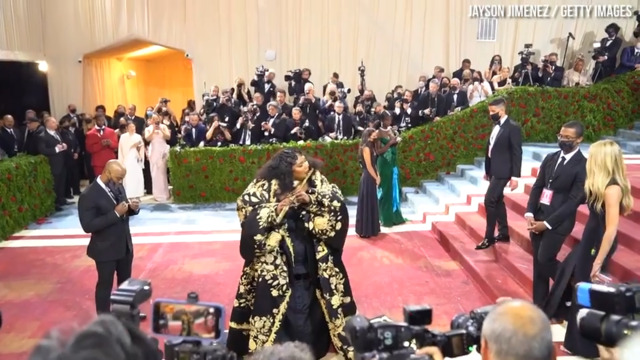 Lizzo plays opening bars of Debussy on the flute as she attends Met Gala red carpet
On hearing Lizzo and her husband playing together for the first time, Lady Galway remarked that their sound on the flute was extraordinarily similar.
But that is no coincidence.
"What was really funny… she gets so excited in the recording when we say 'hey Lizzo, you sound great. And I say, you sound just like my husband!'
"She says, 'It's because I grew up learning from his sound. Today I sound like James Galway!'"
Since the pandemic, Lady Galway went on to say, life had "changed" for the couple – until finding this contact with Lizzo.
"This has been absolutely fabulous because [...] I think after getting COVID rather seriously, my husband was a bit wary of walking back into the arena. And you turned down some nice offers!" she said to her husband.
"But I think now this has opened some doors and you're definitely thriving on it, that's for sure."