An orchestra just played a massive blast of Prokofiev in the middle of Primark
9 January 2019, 17:13 | Updated: 9 January 2019, 17:36
Shoppers were treated to a blast of Montagues and Capulets in a Liverpool branch of Primark this weekend.
Members of Street Orchestra Live, a pop-up orchestra founded in 2016, were behind the flashmob which took shoppers in Primark by surprise.
Describing themselves as 'the UK's first pop-up orchestra', the ensemble says its mission is 'to take orchestral music to everyone, everywhere' from Primark stores to prisons.
The clip, which was posted on Facebook, shows the orchestra playing 'Montagues and Capulets' from Sergei Prokofiev's ballet Romeo and Juliet.
Shoppers might have also recognised the melody from the The Apprentice.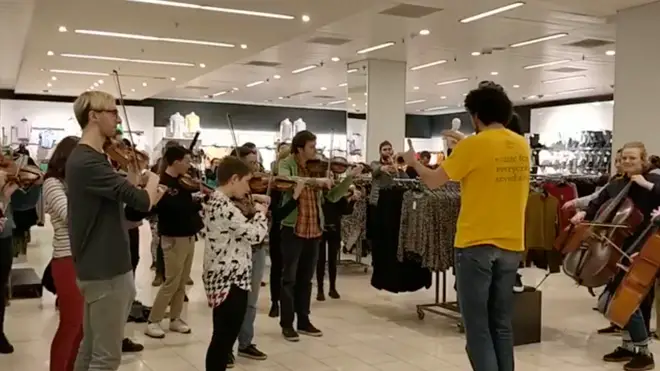 Near the end of the video, a Primark security guard appears to confront the conductor.
Facebook user and orchestra member Gillian Mott commented on the post: "We could see the steam coming off the security guy's face it was so red!! Made it all the more fun for us to be playing for you in the crowd!!"
Prokofiev's Romeo and Juliet: making headlines since 1938.