80 percent of schoolchildren say more could be done to engage young people with orchestral music
1 March 2023, 12:07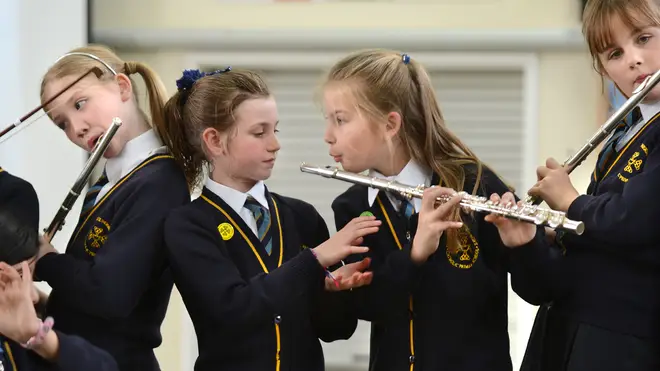 The new report, conducted by the Royal Philharmonic Orchestra, also found two in five young people expressed a desire for more music lessons in schools.
Research has found that while young people are increasingly relying on orchestral music for concentration and to reduce stress, many feel there is not enough music being taught in schools.
Eight in 10 children surveyed said there was a lot more that could be done to get young people into orchestral music, with almost two in five respondents saying there needed to be more music lessons at school.
An overwhelming proportion of children surveyed (85 percent) said they would either like to learn, or are already learning, a musical instrument. The most popular choice was the piano, closely followed by the guitar.
However, around a quarter of those aged six to 11 said their school did not encourage them to learn a musical instrument – a feeling that increased to 73 percent among 17 to 18-year-olds.
Over a third of those surveyed said there needed to be more school trips to orchestral concerts, and just over a quarter wanted to see more focus on getting young people into playing in music ensembles at school.
The findings come from the Royal Philharmonic Orchestra (RPO)'s annual report on engagement with orchestral music, published on 1 March 2023 and compiled over the last 18 months.
James Williams, the RPO's managing director, argued: "We appear to be losing sight of the innumerable benefits the arts can offer young people – from numeracy, self-expression, self-confidence, analytical thought, to simply mastering something they enjoy."
Read more: Schools should offer at least 'one hour of music a week' – new music education plan revealed
Star Wars Finale! Orchestra plays with organist Anna Lapwood | Classic FM Live
Overall, the study found almost nine in 10 children under the age of 18 are engaging with orchestral music in their daily lives.
Compared to pre-pandemic times, children are increasingly choosing to listen to orchestral music while doing their homework. More are also now relaxing to orchestral music as they go to sleep at night – a rise of 8 percent, to 14 percent.
Music is also an important tool for students, in helping to reduce stress levels. The RPO found a significant increase in the number of young people listening to orchestral music in the background to ease anxiety, compared to its 2019 report.
Asked how they access orchestral music, the majority (27 percent) of respondents said they enjoy music through films, closely followed by listening on YouTube.
School also played an important role, but this changed according to age group. At primary age, school is the main way children engage with orchestral music (28 percent). By secondary school, children are more likely to engage with orchestral music while relaxing with headphones on or while watching something on screen (22 percent).
Social media was also an important factor, with a fifth of children saying they would like to see more classical music on YouTube and social media.
Read more: Research says orchestral music is more popular on social media than in schools – one TikTok star explains why
The orchestra's report also compared the responses of children from higher income backgrounds, with those from low-income backgrounds. Almost a third from low-income backgrounds – compared to around a quarter from higher income backgrounds – felt they were not encouraged to learn an instrument at school.
These children were also more likely not to have experienced orchestral music as part of their lives.
A focus on STEM (science, technology, engineering, maths) subjects for the last decade has led to a consistent decline in entry figures for GCSE A-Level music. Last year, they plummeted to the lowest this century.
The orchestra argues that "much work needs to be done to nurture children's interest in music during secondary school age, and to sustain the desire to learn that's so clear among younger pupils."
Williams added: "In terms of education, throughout the last year we have continued to see emphasis placed on STEM subjects in the curriculum above everything else. While these are no doubt important subjects, we appear to be losing sight of the innumerable benefits the arts can offer young people.
"We need to ensure we focus on STEAM, not just STEM, with an acknowledgement that leaving out this 'A' for 'Arts' will cause massive damage not just to the music industry, but society at large."