Here's why Puccini's La Bohème always leaves you in a tearful, blubbering mess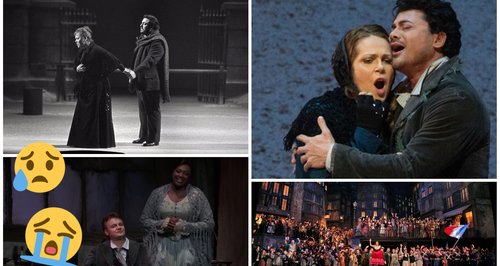 No opera can equal the captivating romance and heartfelt tragedy of Puccini's La Bohème.
It has all the romance, tragedy and soaring tunes you could ever want from a trip to the opera house.
On Saturday 24th February, you can experience it in cinemas, live from one of the world's great opera houses, The Metropolitan Opera in New York with The Met: Live in HD. It's starring the great voices of Sonya Yoncheva and Michael Fabiano - get tickets to your local screening here.
With a great storyline and hugely engaging music, it's the perfect opera for a newcomer. At the end of the first act, we see one of most remarkable moments in all music: two fantastic arias and a glorious duet between the two impoverished love-birds, Mimi and Roldofo.
Let's indulge in the beauty of this moment, taking in some classic Met productions.
First up, it's the romantic 'Che gelida manina', during which Roldofo takes Mimi's hand for the first time and makes his declaration of love. Here's a classic recording of that great opera stage with the incomparable Luciano Pavarotti.
Mimi then tells the young poet of her hopes and dreams...
And love blossoms! This remarkable act concludes with the glorious duet 'O soave fanciulla' and the music just overflows with emotion.
*No, I'm fine. I've just got something in my eye*
But it's not all tearful embraces – there are loads of joyous choruses too. Here's a fantastically rousing moment from the end of Act Two, performed at the Met in 2014.
Visit The Met: Live in HD and experience it all in your local cinema!