Hans Zimmer and Billie Eilish to give first performance of 'No Time To Die' theme at BRIT Awards
14 February 2020, 10:34 | Updated: 19 February 2020, 10:38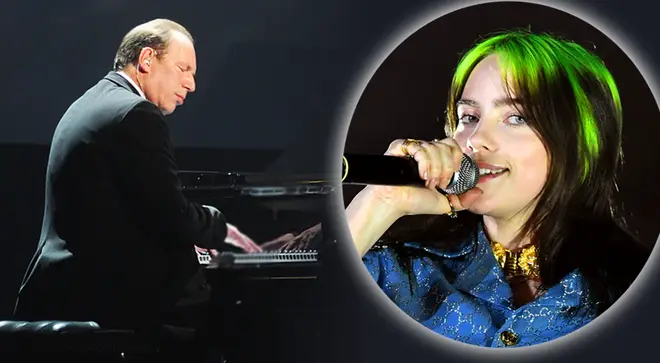 The legendary film composer will join pop singer Billie Eilish for an orchestral performance of the newly-released 'No Time To Die' theme at the awards ceremony next week.
Hans Zimmer and Billie Eilish will premiere the recently released No Time To Die theme at next week's BRIT Awards.
The iconic composer will join the singer-songwriter on stage at the O2 next Tuesday (18 February) for the 40th ceremony of the annual event.
The highly-anticipated theme to the latest instalment of the Bond franchise was released today (14 February), and has already had more than 3.5 million views on YouTube.
Read more: No Time To Die soundtrack: what's the music in the new Bond film? >
Zimmer (Pirates of the Caribbean, Gladiator) took on the soundtrack just months before its release date, taking the reins from previous composer Dan Romer who was dismissed over "creative differences", Variety reported.
Speaking about Zimmer's work on the latest Bond movie, Director Cary Joji Fukunaga said: "I'm beyond excited that Hans is scoring No Time To Die.
"The music of Bond has always been iconic and I've already witnessed Hans adding his touch of genius to the Bond legacy."
Read more: Hans Zimmer confirmed as new 'No Time to Die' composer >
Zimmer and Eilish will be joined at the BRITs by guitarist Johnny Marr and Eilish's brother – songwriter and pianist Finneas – to perform the haunting ballad, which was produced by Finneas and Stephen Lipson.
Billie Eilish, who is the youngest artist ever to perform a Bond theme, is nominated for the International Female Solo Artist award at the awards ceremony.
The BRIT Awards 2020 will be broadcast live on ITV1 from 8-10pm on Tuesday 18 February.