Epic orchestral flashmob sees Handel's 'Zadok the Priest' take over a supermarket
9 May 2023, 17:06 | Updated: 10 May 2023, 12:30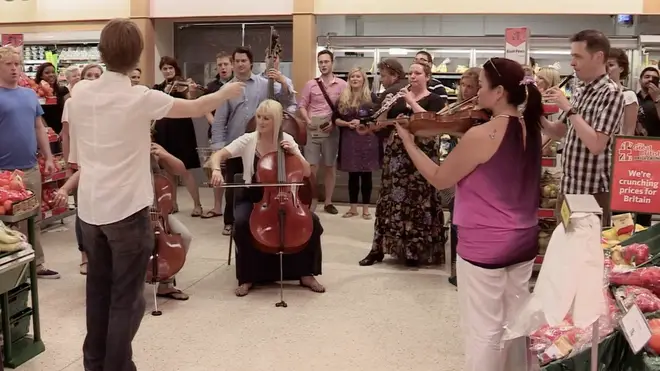 Handel's coronation classic is topping the pop charts in 2023 – and here's the proof that it can pop up anywhere!
Would you like some Handel with your halloumi? These shoppers got an unexpected choral surprise while picking up their groceries.
'Zadok the Priest' was composed in 1727 by George Frideric Handel for the coronation of King George II. Ever since it has remained a much-loved piece for the ushering-in of new monarchs, and moments of general splendour.
In May 2023 it found national fame anew, being sung at the coronation of King Charles III in Westminster Abbey. On the days following the service, it even entered the pop charts – sitting alongside the likes of Lewis Capaldi and Miley Cyrus in the Official Big Top 40 chart.
Its slow build and glorious vocal entry is a worthy anthem for any time. Watch a very unexpected performance, and the reaction, below.
Read more: What are the lyrics to Handel's 'Zadok The Priest'?
Classic FM's 20th Birthday Flashmob | Classic FM
The triumphant piece has had a long and special association with Classic FM. It was the very first piece we played when we hit the airwaves, at 6am on 7 September 1992. This flashmob was created and recorded by Classic FM, for our 20th anniversary celebrations in 2012.

It was performed by choral and instrumental friends of Classic FM, from a number of UK orchestras.
It also has a long-standing sporting connection, being the musical inspiration for the UEFA Champions League anthem.
Whether for King Charles' coronation, or for Cristiano Ronaldo in the Champions League – or even a musical moment in Morrisons – this wonderful Handel tune is everywhere...