A Ukrainian pianist played Philip Glass as Russian forces advanced, and this was the composer's response
4 March 2022, 16:24 | Updated: 4 March 2022, 16:33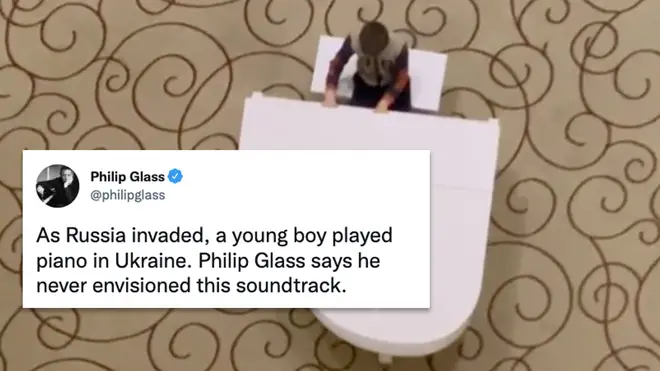 At a hotel lobby in Kharkiv, Ukraine, a sombre Philip Glass melody flows from a young pianist's fingertips.
Last week, a journalist discovered she was in the company of "some secret musicians" while taking shelter at a hotel lobby in the Ukrainian city of Kharkiv.
Whitney Leaming, a video journalist currently working in Kharkiv, posted a video on Twitter showing a young pianist playing American minimalist composer Philip Glass' music at the hotel's grand piano.
"A young boy plays the piano in a Kharkiv hotel lobby as unconfirmed reports come in that Russians troops are advancing on the city," Leaming captioned the video, which was filmed and published on 24 February.
Kharkiv, which is Ukraine's second largest city, was hit just days later with multiple rocket strikes by Russian forces. Ukraine's interior ministry said dozens have been killed and hundreds more injured in the city.
Read more: Poignant footage of Ukrainian people singing together in shelters during Russian raids
The music the young musician played was from Philip Glass and Paul Leonard-Morgan's music for the Amazon Prime science fiction series, Tales from the Loop. After seeing the video online, Glass himself responded.
In a statement on Tuesday, the composer said he could never have imagined his piece would be the soundtrack to a war. "I never thought of this music as a political piece, but it has become one."
Glass added that he lives in New York's East Village, which he said is widely known as 'Little Ukraine' due to its large Ukrainian population. "I have come to know and become friends with many of my Ukrainian neighbours," he said.
"I sympathise with them, their families, and all the innocent citizens and people of Ukraine. They are living through difficulties we all hope to never face."
The sombre, reflective melody fills the lobby in Leaming's video, evoking for many users a picture of hope, amid the humanitarian crisis in Ukraine.
Read more: 'Our culture is at stake': Ukrainians use powerful music to voice their protests
I'm hunker-down with some truly amazing people and some secret musicians. I was listening to some classical music on my phone to decompress, this live concert is much better. pic.twitter.com/YtV6dwEILU

— Whitney Leaming (@wleaming) February 27, 2022
Leaming, who is a film maker at The Washington Post, shared a second video on Sunday morning (27 February) of an older man sitting down at the instrument.
"I'm hunker-down with some truly amazing people and some secret musicians," she captioned the short clip (watch above).
"I was listening to some classical music on my phone to decompress, this live concert is much better."