Rattle urges government to 'avoid superstition' with orchestras, reduce 3-metre woodwind distancing
23 June 2020, 11:14 | Updated: 23 June 2020, 20:49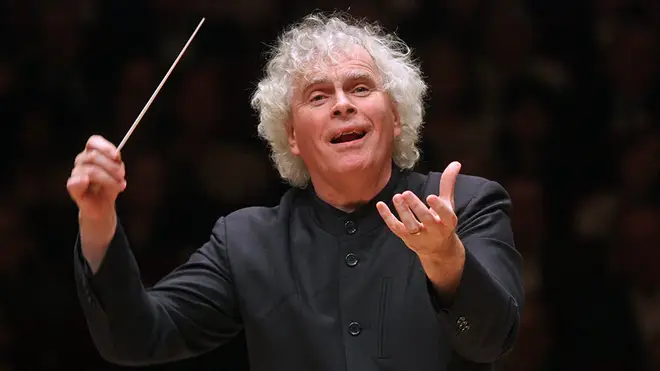 The leading British maestro pushes back on government guidelines for live music to resume, which reportedly tell brass and woodwind players to sit three metres apart.
Sir Simon Rattle, music director of the London Symphony Orchestra, has urged the UK government to avoid "superstitions" and look to European concert halls for how live concerts can begin again.
The leading maestro recently conducted his first two live concerts in over three months – the "first in Munich… very distanced… the winds were three metres distant which was like sending smoke messages between mountains" and the second in Prague "with a full orchestra, not distanced as everyone had been tested in the previous three days. There was an audience of 500, all masked but sitting together."
On orchestras resuming work in the UK, Sir Simon added: "We would ask that wind distances are a generous two metres maximum, and strings just one meter.
"The latest Danish scientific calculations suggest 0.5 metres for strings and one metre for winds as a perfectly safe arrangement."
Rattle's words follow speculation that government advice for concerts to resume will include a rule for brass and wind players to be seated three metres apart from each other on stage.
Read more: 'Orchestras may not survive' coronavirus, top conductors warn >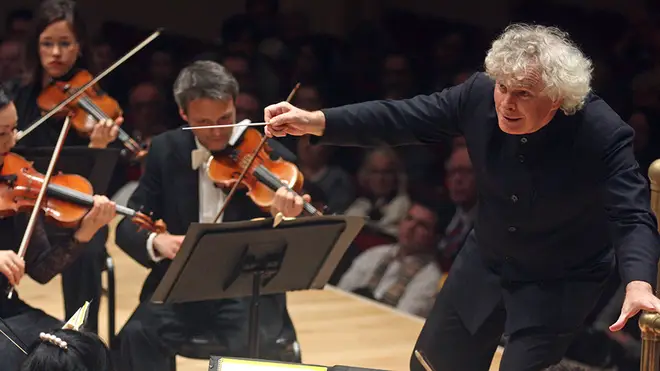 Read more: When will theatres and concerts halls reopen in the UK? >
Sir Simon labelled the rumoured guidelines "impractical" and begged the UK to "take note of the very thorough investigations from all over the world" and "deal with the necessities of orchestral distancing not just the superstitions".
The LSO's music director said from his experience of playing in Germany and the Czech Republic, he was surprised "how little aerosols or droplets are emitted while playing wind instruments, considerably less than normal conversation".
Rattle's quotes came from a meeting with Oliver Dowden, the Secretary of State for Digital, Culture, Media and Sport (DCMS), who invited the maestro – along with violinist Nicola Benedetti, trumpeter Alison Balsom and cellist Sheku Kanneh-Mason – to join a discussion on 18 June about the future of the music industry.
Benedetti posted about the meeting on her Facebook page, saying: "The resilience, work ethic and tenacity of people working in our industry is bountiful and deeply moving.
"We really, really do not want to be left behind here, and have our world class industry fall by the wayside whilst European cultural institutions are being protected."
The Scottish virtuoso continued: "We don't want money for nothing. We don't want our lights to stay dark. We want and need cash, support and guidelines in order to GIVE. To give to the public, to help people, to provide solace, comfort, uplift and art.
"Fundamentally, we want to work with you. We don't want to sit and complain and moan. We are poised and ready for collaboration, to urgently save our industry and its thousands and thousands of jobs – but to also help lift people out of this awful situation."
Two weeks ago, Culture Secretary OIiver Dowden spoke up for the first time since lockdown began, to say he is in the midst of negotiating a cash rescue package for the arts. Dowden told the Standard he will "not stand by and see our world-leading position in arts and culture destroyed".
Dowden hinted at a bailout again on 17 June, saying that given theatres and music venues will be unlikely to reopen for some time due to social distancing, "other support" was in the works. Nothing has been confirmed as of yet.