'Orchestras may not survive' coronavirus lockdown, top conductors warn
11 June 2020, 12:09 | Updated: 11 June 2020, 15:58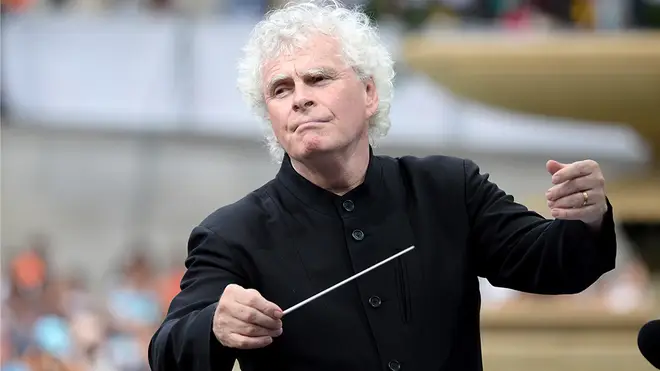 Leading conductors Sir Mark Elder and Sir Simon Rattle have penned an open letter, warning of the pandemic's devastating impact on UK orchestras.
Two of Britain's leading maestros, Sir Mark Elder and Sir Simon Rattle, have penned an open letter to the The Guardian warning of the "definite possibility" that some of the country's greatest orchestras will not survive the coronavirus crisis.
Rattle, the music director of the London Symphony Orchestra, and Elder, the music director of the Hallé Orchestra, said: "There's a real possibility of a devastated landscape on the other side of this; orchestras may not survive, and if they do, they may face insuperable obstacles to remain solvent in our new reality."
They said UK musicians feel "out in the wilderness", and urged the government to provide clarity on when music venues will reopen and live music can return, in some form, as the UK eases out of lockdown.
Since lockdown began, arts organisations have been finding creative ways to bring music to people. Concert playbacks are available via Berlin Phil's Digital Concert Hall, and this weekend the Royal Opera House is streaming its first live concert since March, on YouTube.
But orchestral music is a live experience, say Rattle and Elder, "and requires all the participants, performers and listeners alike, to be in the same room together. What we may do individually over the internet in these months is all well and good, but the living core of our work is a live communion, a sharing of space, art and emotion which is both vital and healing."
Click here for the latest coronavirus advice from the NHS >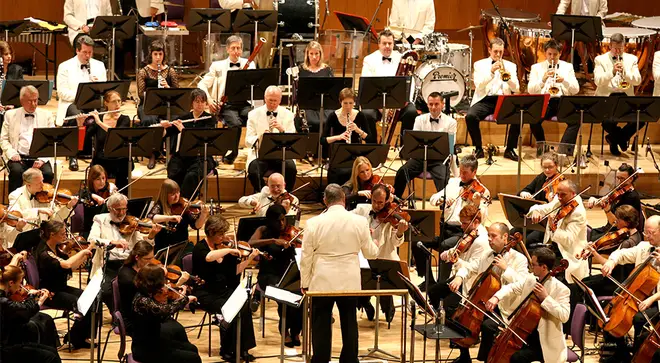 What orchestras need, Elder and Rattle said, is a helping hand to formulate how they can return to the concert hall. Whether it's with social distancing, testing at the door, or shorter but more frequent concerts, finding a way to regenerate live performance is imperative.
"We MUST find a way to play together soon, even without an audience, if we are to maintain anything like our normal standards, and we badly need clarity from government, a timeline, of when that might be and how it can be implemented. We understand that we cannot expect to revert to everything as it was before; we will be creative and tireless in making contingency plans and solving problems," they said.
But both maestros remain hopeful. "We refuse to believe that live music will die, but it will not survive merely on energy and optimism. It will need support and understanding, particularly when it ventures out in public once more. The first year of performing with fewer musicians to a much smaller public will be our toughest time, and we will need a helping hand to make it through."
Read more: The concert halls confirmed to reopen after coronavirus lockdown >
Earlier this week, Culture Secretary OIiver Dowden spoke up for the first time since lockdown began, to say he is in the midst of negotiating a cash rescue package for the arts. Dowden told the Standard he will "not stand by and see our world-leading position in arts and culture destroyed".
He also said he is pushing for a bigger bailout, and more generous long-term financial support for orchestras and theatres. "Of course, I want to get the money flowing. I am not going to let anyone down."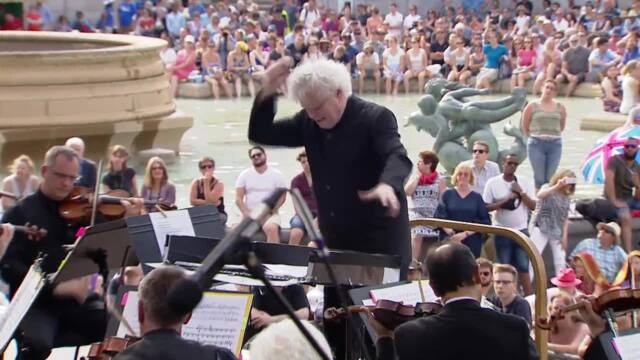 Simon Rattle conducts the LSO in London's Trafalgar Square
In the open letter, Rattle and Elder urge the government to look to Europe as an example. The Vienna State Opera reopened to the public on Monday, with audience of 100 allowed at one concert. Meanwhile on Friday, the Swedish Radio Symphony Orchestra presented its first concert since lockdown, with no audience but the filmed performances streamed live online.
"In the UK we must gain time by learning what has already been proved to work, rather than starting from the beginning yet again, with people not from the performing arts making the decisions. Until we have some practical idea of what our future might entail, musicians in our country will continue to feel out in the wilderness."
Speaking on Radio 4 on Thursday, Elder suggested we look towards the new season in September and plan accordingly, to "give people something to look forward to".
But, the maestros urge, that's only possible if orchestras can make it until then. For orchestras like the LSO, which is made up of freelance musicians, players only get paid if they play. They will surely be the worst hit.