'Conducting is hard – it doesn't get easier': Simon Rattle's top conducting tips
18 September 2017, 16:00 | Updated: 24 September 2017, 13:27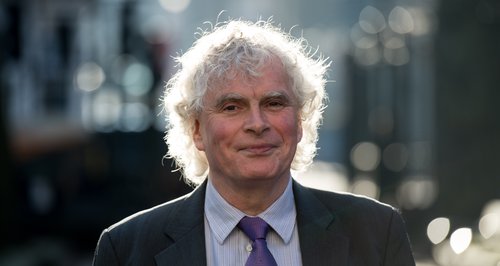 Simon Rattle starts his new role as Music Director at the London Symphony Orchestra this month. So as he packs his pencil case for his first season in charge, we spoke to him about getting over nerves, the best piece of advice he's ever been given and why the future is bright for classical music
Simon Rattle returns to the UK this month, in his new role at the London Symphony Orchestra, after 16 years in charge of the Berlin Philharmonic.
He's been welcomed back with an epic week of concerts at London's Barbican called 'This is Rattle'. And we're marking the occasion here at Classic FM with 'LSO week'.
Today, Sunday 24 September, we'll be live-streaming a concert right here, on classicfm.com. Click here to find out more and to watch the concert live
We took the opportunity to ask him to share some pearls of wisdom from his incredible career, on everything from how to deal with nerves to how to memorise music.
Here are Simon Rattle's top conducting tips
LSO kicks off this Sunday with an exclusive interview with Simon Rattle – you can watch a preview here.
And you can find out more about our Full Works Concerts celebrating the LSO, here.