The Full Works Concert: upcoming shows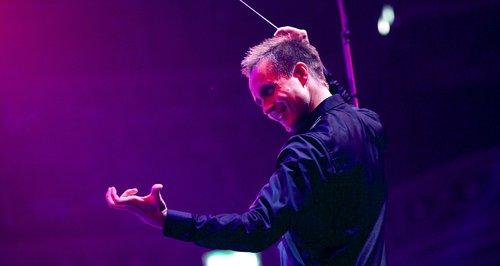 Weekdays, 8-10pm. The Full Works Concert brings the world's greatest music into your living room every weekday evening. It's presented by Jane Jones (Monday-Wednesday) and Catherine Bott (Thursday and Friday). Text 61812, tweet @ClassicFM or email using the forms below.
You can listen to the last week's Full Works Concerts on our Classic FM Radio Player, or go to the Classic FM Playlist for a list of the pieces played in each programme.
Wednesday 26th April, 8pm: Live Music Month - Classic FM in Los Angeles
Jane Jones brings us another live concert all the way from Walt Disney Hall in Hollywood, broadcast exclusively on UK radio as part of Classic FM's Live Music Month.
Few works have been written for the cello which share the same status as Elgar's Cello Concerto, and tonight we'll hear that mighty work in a fresh light, performed by accomplished soloist Truls Mørk.
There's also the chance to enjoy Berlioz's passionate yet idealistic Symphonie Fantastique, but our concert commences with Rossini's overture to William Tell. This exclusive concert sees the LA Phil conducted by Leonard Slatkin.
Gioachino Rossini
William Tell – Overture
Edward Elgar
Cello Concerto in E minor Op. 85
Soloist: Truls Mørk
Hector Berlioz
Symphonie Fantastique
Leonard Slatkin conducts the Los Angeles Symphony Orchestra
Thursday 27th April, 8pm: Live Music Month - Sinfonia VIVA
Tonight, Catherine Bott takes us to Derby Cathedral, with an exclusive live concert from virtuoso ensemble Sinfonia VIVA.
Known by Beethoven himself as 'my little symphony in F', the group perform the composer's Symphony No.8, alongside the ever popular Horn Concerto No.1 by Strauss, which has become one of the most frequently played horn concertos of the 19th century.
With these two pieces performed alongside Haydn's Symphony No. 90, you'll be sure to feel the grand atmosphere of one of Derby's most impressive and enduring spaces in this delightful concert.
Ludwig van Beethoven
Symphony No.8 in F major Op.93
Richard Strauss
Horn Concerto No.1 in E-flat major Op.11
Soloist: David Pyatt
Joseph Haydn
Symphony No. 90 in C major
Frank Zielhorst conducts Sinfonia VIVA
(non live additional piece)
Antonin Dvorak
Slavonic Dances Opus 46
Ivan Fischer conducts the Budapest Festival orchestra
Friday 28th April, 8pm: Live Music Month - The Royal Liverpool Philharmonic Orchestra
At the beginning of April, we launched Classic FM's Live Music Month with an exclusive concert from the Royal Liverpool Philharmonic Orchestra. Tonight, Catherine Bott looks once again to Classic FM's Orchestra in the North West to finish a month of extraordinary performances in style.
There'll be passion, energy, and drive in Tamsin Waley-Cohen's performance of Mendelssohn's Violin Concerto, coupled with the incomparable beauty that the Russian pianist Daniel Trifonov brings to Rachmaninov's Piano Concerto No.4. Conductor and rising star Patrycja Pieczara closes the concert – and Live Music Month on Classic FM – with Dvorak's stormy homage to the old world, his Symphony No.7.
Felix Mendelssohn
Violin Concerto in E minor Op. 64
Soloist: Tamsin Waley-Cohen
Vasily Petrenko conducts the Royal Liverpool Philharmonic Orchestra
Sergei Rachmaninov
Piano Concerto No.4 in G minor Op.40
Piano: Daniel Trifonov
Vasily Petrenko conducts the Royal Liverpool Philharmonic Orchestra
Antonin Dvorak
Symphony No.7 in D minor Op.70
Patrycja Pieczara conducts the Royal Liverpool Philharmonic Orchestra
Monday 1st May, 8pm: The Music of May Day
It's 1st May – a day filled with quirky traditions and folkloric mystery the world over, and tonight, Jane Jones plays some of the music which has been inspired by this unusual day in the calendar.
There'll be visions of maypoles and morris dancers with Vaughan Williams' English Folksongs Suite, but the maypoles aren't limited to England. Hugo Alfven gives us a musical depiction of their Swedish counterparts, with his Swedish Rhapsody No.1 ('Midsommarvaka').
Students of the University of St Andrews know plenty about odd traditions on May Day; head down to their famous beach at dawn and you'll probably find a whole group of them, wearing very little, taking part in the infamous 'May Day Dip'. A musical tribute is featured for those brave souls tonight.
The concert begins with a piece premiered this very day in 1786, Mozart's overture to The Marriage of Figaro.
Wolfgang Amadeus Mozart
The Marriage of Figaro – Overture
Christian Baldini conducts the Scottish Chamber Orchestra
Ralph Vaughan Williams
English Folksongs Suite
James Judd conducts the Royal Liverpool Philharmonic Orchestra
Vangelis
Chariots of Fire – Theme
John Williams conducts the Boston Pops Orchestra
Antonin Dvorak
Piano Concerto in G minor Opus 33
Piano: Stephen Hough
Andris Nelsons conducts the City of Birmingham Symphony Orchestra
Hugo Alfven
Swedish Rhapsody No.1 Opus 19 ('Midsummer Vigil')
Paavo Berglund conducts the Bournemouth Symphony Orchestra
Charles Gounod
Faust – Walpurgis Night
Janos Sandor conducts the Hungarian State Opera
Sun Yiqiang
Dance of Spring
Piano: Lang Lang
Amilcare Ponchielli
Dance of the Hours
Gianandrea Gavazzeni conducts the Orchestra of the Maggio Musicale
John Ireland
In a May Morning
David Curtis conducts Orchestra of the Swan
Tuesday 2nd May,8pm: Royal Commissions
On 2nd May 2015, The Duchess of Cambridge gave birth to Princess Charlotte of Cambridge at St Mary's Hospital, London. Tonight, Jane Jones celebrates the 2nd birthday of a healthy and happy Princess with an evening of music written for royalty across the centuries.
The concert opens with Handel's achingly beautiful Eternal Source of Light Divine: the first of a collection of odes written for the birthday of Queen Anne. Elgar's Nursery Suite follows, which was performed to the young Princess Elizabeth in 1931, aged just four.
Other varied works feature, such as Arvo Pärt's uncharacteristically classical Cantique des degrés – commissioned by Princess Caroline of Monaco – and a CPE Bach keyboard concerto composed for the sister of Frederick the Great, PrincessAmeila. Unlike many royal commissions, it wasn't just written for the young princess to enjoy, but to perform herself.
George Frederic Handel
Eternal Source of Light Divine ('Ode to the Birthday of Queen Anne')
Soloists: Michael George, Robin Blaze, Susan Gritton
Stephen Cleobury conducts the Academy of Ancient Music and King's College Choir
Edward Elgar
Nursery Suite
Paul Goodwin conducts the English Chamber Orchestra
Wolfgang Amadeus Mozart
String Quartet in F Major K.590
The Hagen Quartet
Paul Mealor
Ubi Caritas
Paul Mealor conducts Tenebrae
CPE Bach
Keyboard Concerto in G major Wq.34 H.444
Rien Voskuilen directs L'arpa Festante Baroque Orchestra
Arvo Pärt
Cantique des degrés for Choir and Orchestra
Kristjan Jarvi conducts Rundfunk-Sinfonieorchester Berlin and RIAS Kammerchor
Wednesday 3rd May, 8pm: Musical births
Being born in the same year is no guarantee that you'll end up being identical to someone – or even that you'll get on. Tonight, Jane Jones explores this theme by looking at composers who were born in the same year as each other, some strikingly similar, and others poles apart.
Bach and Handel, the two giants of the Baroque era, lived parallel lives – never having met – despite performing in the same countries and venues. The same can't be said for Schumann and Chopin, who developed a close bond of mutual admiration. We'll hear Schumann's apt symphony depicting spring, alongside Chopin's beautiful Andante Spianato and Grande Polonaise, performed by the pianist Jan Lisiecki. Schubert opens the concert with his Symphony No.5, before his 1797 partner Donizetti delights with his Andante for Oboe and Strings, performed by Christoph Hartmann and Ensemble Berlin.
Franz Schubert
Symphony No.5 in B-flat major D.485
Neville Marriner conducts the Academy of St Martin in the Fields
Gaetano Donizetti
Andante for Oboe & Strings
Christoph Hartmann leads Ensemble Berlin
Carl Nielsen
Bohemian-Danish Folk Tune
Gennadi Rozhdestvensky conducts the Danish National Radio Symphony Orchestra
Jean Sibelius
2 Serenades Opus 69
Santtu-Matias Rouvali conducts the Tampere Philharmonic Orchestra
Johann Sebastian Bach
Goldberg Variations - Aria
Harp: Catrin Finch
George Frideric Handel
'Ombra mai fu'
Soprano: Renee Fleming
Harry Bicket directs the Orchestra of the Age of Enlightenment
Robert Schumann
Symphony No.1 in B-flat major Opus 38 ('Spring')
Simon Rattle conducts the Berlin Philharmonic Orchestra
Frederic Chopin
Andante Spianato & Grande Polonaise Opus 22
Piano: Jan Lisiecki
Krzysztof Urbanski conducts the Elbphilharmonie Orchestra
Thursday 4th May, 8pm: Great British Outfits
One of the UK's greatest assets is the wealth of amateur and professional ensembles that perform in concert halls across the UK. Tonight, Catherine Bott shines the spotlight on such outfits, including Manchester Camerata with some sublime Mozart, and Stratford-upon-Avon's Orchestra of the Swan, who close tonight's concert with Ireland's Cavatina.
Ensemble 360 demonstrate that the music of Beethoven is alive and glorious in the city of Sheffield, and we head to Northern Ireland for a rarely-heard gem from Hamilton Harty, courtesy of the Ulster Orchestra.
Gustav Holst
St Paul's Suite
Richard Hickox conducts City of London Sinfonia
Wolfgang Amadeus Mozart
Piano Concerto No. 17 in G major, K453
Piano: Jean Ellfam-Bavouzet
Gábor Takács-Nagy conducts Manchester Camerata
Hamilton Harty
An Irish Symphony
Bryden Thomson conducts the Ulster Orchestra
Ludwig van Beethoven
Serenade in D Opus 25
Ensemble 360
John Ireland
Cavatina
Cello: Raphael Wallfisch
David Curtis conducts Orchestra of the Swan
Friday 5th May, 8pm: Wedding Season
Wedding season is around the corner, and tonight on Classic FM, Catherine Bott hopes to inspire those tying the knot later this year.
Pachelbel's Canon in D must be the most celebrated wedding piece ever to have been written, but how about Mascagni's stunning Intermezzo from Cavalleria Rusticana, or Lauridsen's O Magnum Mysterium for a haunting addition to a ceremony? Plus – the opportunity to hear Bach's famous 'Wachet Auf' as part of the glorious cantata in which it features, and something a little different for that first dance – Bryan Adams' Everything I Do, I Do it for You – performed by the Royal Liverpool Philharmonic Orchestra.
John Stanley
Trumpet Voluntary Opus 6 No.5
Trumpet: Wynton Marsalis
Anthony Newman directs the English Chamber Orchestra
Edvard Grieg
Wedding Day at Troldhaugen Opus 65 No.6
Piano: Stephen Hough
Johann Pachelbel
Canon in D major
I Musici
Franz Schubert
Ave Maria D.839
Soloists: Sissel Kyrkjebø, Bryn Terfel
Barry Wordsworth conducts the London Symphony Orchestra
Johann Sebastian Bach
Cantata No.140: wachet auf, ruf uns di stimme
John Eliot Gardiner conducts the English Baroque Soloists and Monteverdi Choir
Pietro Mascagni
Cavalleria Rusticana - Intermezzo
Giuseppe Sinopoli conducts the Philharmonia Orchestra
Karl Goldmark
Rustic Wedding Symphony Opus 26
Yondani Butt conducts the Royal Philharmonic Orchestra
Bryan Adams
Everything I Do, I Do It For You
Royal Liverpool Philharmonic Orchestra
Morten Lauridsen
O Magnum Mysterium
Stephen Layton conducts Polyphony
Monday 8th May, 8pm: Orchestras of the World - Germany
This week, Classic FM shines the spotlight on orchestral ensembles around the world, visiting a different country each night to discover a range of beautiful recordings.
Tonight, Jane Jones kicks off proceedings in the homeland of Western classical music: Germany. We'll hear the legendary Berlin Philharmonic Orchestra under Herbert von Karajan with Sibelius's Symphony No.2, and a stunning performance of Shostakovich's Piano Concerto No.2, performed by Anna Vinnitskaya with Kremerata Baltica and Staatskapelle Dresden. The concert begins with a rousing performance from the Bavarian Radio Chamber Orchestra of Germany's musical father, J.S. Bach.
Johann Sebastian Bach
Concerto in C minor for Violin & Oboe BWV.1060
Violin: Lisa Batiashvili
Oboe: Francois Leleux
Soloists lead the Bavarian Radio Chamber Orchestra
Jean Sibelius
Symphony No.2 in D major Opus 43
Herbert von Karajan conducts the Berlin Philharmonic Orchestra
Richard Strauss
Romance for Clarinet & Orchestra in E-flat major
Karl-Heinz Steffens conducts the Bamberg Symphony Orchestra
Dmitri Shostakovich
Piano Concerto No.2 in F major Opus 102
Piano: Anna Vinnitskaya
Omer Meir Wellber conductsKramerata Baltica and the Winds of Staatskapelle Dresden
Camille Saint-Saens
La muse et le poete Opus 132
Violin: Joshua Bell
Cello: Steven Isserlis
Christoph Eschenbach conducts the North German Radio Symphony Orchestra, Hamburg
Herbert Spencer
Underneath the Stars
Violin: Charlie Siem
Paul Goodwin conducts the Munich Radio Symphony Orchestra
Tuesday 9th May, 8pm: Orchestras of the World - France
After our musical exploration of Germany last night, Jane Jones hops across the border to France to discover gems recorded by some of the many brilliant ensembles that make up this great musical nation.
We'll hear Bizet's L'Arlesienne Suite No.1, performed by Les Musiciens du Louvre under Marc Minowski, and an energetic performance of Handel's Concerto Grosso in G major, performed by William Christie's Les Arts Florissants.
Also on the bill is Rachmaninov's Vocalise, after his Symphony No.3, both performed by the Orchestre de Paris under conductor Paavo Jarvi.
Georges Bizet
L'Arlesienne Suite No.1
Marc Minowski conducts Les Musiciens du Louvre
George Frideric Handel
Concerto Grosso in G major Opus 6 No.1
William Christie conducts Les Arts Florissants
Sergei Rachmaninov
Vocalise Opus 34 No.14
Paavo Jarvi conducts Orchestre de Paris
Emmanuel Chabrier
Suite Pastorale
Francois-Xavier Roth conducts Les Siecles
Sergei Rachmaninov
Symphony No.3 in A minor Opus 44
Paavo Jarvi conducts the Orchestre de Paris
Wednesday 10th May, 8pm: Orchestras of the World - Japan
Tonight, in Classic FM's celebration of great musical countries, Jane Jones heads to Japan, with some truly iconic works to have been recorded by orchestras on the other side of the planet.
The concert begins with perhaps the most famous musical opener ever to have been written: Beethoven's Symphony No.5. We'll hear those iconic notes played by the Osaka Philharmonic Orchestra under one of Japan's best-loved conductors, Takashi Asahina.
In a concert packed with favourites, there's also Bach's Orchestral Suite No.1 played by revered early music specialists Bach Collegium Japan, and Dvorak's sublime Symphony No 9, performed by the Japan Philharmonic Orchestra.
Ludwig van Beethoven
Symphony No.5 in C minor Op.67
Takashi Asahina conducts the Osaka Philharmonic Orchestra
Johann Sebastian Bach
Orchestral Suite No.1 in C major BWV.1066
Masaaki Suzuki directs Bach Collegium Japan
Takenobu Mitsuyoshi
Shenmue – Sedge Tree
Kanagawa Philharmonia Orchestra


Antonin Dvorak
Symphony No.9 in E minor Op.95 ('From the New World')
Alexander Lazarev conducts the Japan Philharmonic Orchestra
Thursday 11th May, 8pm: Orchestras of the World - America
Tonight, Catherine Bott heads Stateside to showcase some of the greatest orchestras that make up the classical scene in America. From Chicago to Los Angeles, via Atlanta and St. Louis, there are big names and even bigger pieces to enjoy.
The concert opens with Gershwin's Rhapsody in Blue, and also includes a fine recording of the Beethoven Violin Concerto from Pinchas Zuckerman and the Los Angeles Philharmonic Orchestra.
George Gershwin
Rhapsody in Blue
James Levine conducts the Chicago Symphony Orchestra
Bedrich Smetana
Vltava
Christoph von Dohnanyi conducts the Cleveland Orchestra
Ludwig van Beethoven
Violin Concerto in D major Opus 61
Violin: Pinchas Zukerman
Zubin Mehta conducts the Los Angeles Philharmonic Orchestra
Camille Saint-Saens
Carnival of the Animals
Yoel Levi conducts the Atlanta Symphony Orchestra
Hector Berlioz
Hungarian March
Leonard Slatkin conducts the St. Louis Symphony Orchestra
Friday 12th May, 8pm: Orchestras of the World - Australia
To close a week of music-making from across the globe, Catherine Bott ends up far from home, in a country that's got plenty of orchestras to get excited about – Australia.
The Sydney Symphony Orchestra starts proceedings under Vladimir Ashkenazy with Rachmaninov's Symphonic Dances, before the Australian Chamber Orchestra take over with a gorgeous recording of Mendelssohn's Concerto for Violin & Piano, with soloists Richard Tognetti and Polina Leschenko.
In the centrepiece of tonight's concert, we'll hear Schubert's Symphony No. 8 ('Unfinished'), performed by the Tasmanian Symphony Orchestra – and what celebration of all things Australian would be complete without Waltzing Matilda? The Adelaide Symphony Orchestra oblige with a delightful orchestral rendition, conducted by Timothy Sexton.
Franz Schubert
Symphony No.8 in B Minor D.759 ('Unfinished')
Sebastian Lang-Lessing conducts the Tasmanian Symphony Orchestra
Felix Mendelssohn
Concerto for Violin & Piano in D minor
Violin: Richard Tognetti
Piano: Polina Leschenko
Soloists lead the Australian Chamber Orchestra
Sergei Rachmaninov
Symphonic Dances Opus 45
Vladimir Ashkenazy conducts the Sydney Symphony Orchestra
Christina MacPherson
Waltzing Matilda
Timothy Sexton conducts the Adelaide Symphony Orchestra
How to Listen
This week on Classic FM
Email Jane Jones
Sorry, this form is no longer available.