The Full Works Concert: upcoming shows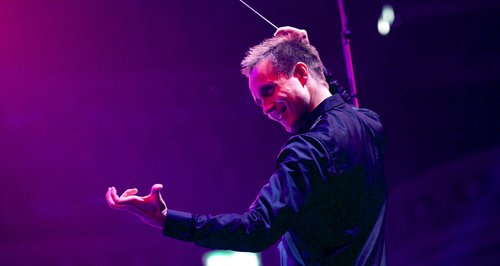 Weekdays, 8-10pm. The Full Works Concert brings the world's greatest music into your living room every weekday evening. It's presented by Jane Jones (Monday-Wednesday) and Catherine Bott (Thursday and Friday). Text 61812, tweet @ClassicFM or email using the forms below.
You can listen to the last week's Full Works Concerts on our Classic FM Radio Player, or go to the Classic FM Playlist for a list of the pieces played in each programme.
Thursday 19th April – A Musical Zodiac
On the last day of the star sign Aries, Catherine Bott looks back at the composers, conductors and musicians who have celebrated birthdays during the first sign of the Zodiac.
There will be favourites by a whole range of composers who have had birthdays over the last thirty days – from Johann Sebastian Bach, Modest Mussorgsky and Bela Bartok, to film composers Michael Kamen, Elmer Bernstein and Alan Silvestri. We'll also hear from various Arian performers, including Pierre Boulez, Arturo Toscanini and Andre Previn.
Johann Sebastian Bach
Brandenburg Concerto No.3 in G major
Ton Koopman conducts the Amsterdam Baroque Orchestra
Alan Silvestri
Back to the Future – Main Theme
Nic Raine conducts the City of Prague Philharmonic Orchestra
Wolfgang Amadeus Mozart
Piano Trio No.3 in E major K.542
Piano: Andre Previn
Violin: Anne-Sophie Mutter
Cello: Daniel Müller-Schott
Modest Mussorgsky
A Night on the Bare Mountain
Gustavo Dudamel conducts the Vienna Philharmonic Orchestra
Michael Kamen
Band of Brothers – Suite
Michael Kamen conducts the London Metropolitan Orchestra
Bela Bartok
6 Romanian Dances
Sakari Oramo conducts the Finnish Radio Symphony Orchestra
Giuseppe Verdi
Grand March
Arturo Toscanini conducts the NBC Symphony Orchestra and
Robert Shaw Chorale
Debbie Wiseman
The Musical Zodiac – Aries
Debbie Wiseman conducts the National Symphony Orchestra
Maurice Ravel
Piano Concerto in G major
Piano: Pierre-Laurent Aimard
Pierre Boulez conducts the Cleveland Orchestra
Elmer Bernstein
The Great Escape – Main Theme
Stanley Black conducts the London Festival Orchestra
Friday 20th April – Sir John Eliot Gardiner 75
Today, the English conductor Sir John Eliot Gardiner celebrates his 75th birthday. To mark this milestone, Catherine Bott his illustrious career by featuring some of his finest work – from a back-catalogue of over 250 recordings.
Gardiner's work as founder and artistic director of the Monteverdi Choir, English Baroque Soloists and Orchestre Revolutionnaire et Romantique has solidified him as a key figure in early music performances, so to kickstart tonight's celebration, we'll hear the overture to the first opera he ever recorded: Mozart's The Magic Flute.
Gardiner recorded all the Beethoven symphonies with the Orchestre Revolutionnaire et Romantique; tonight, we hear Number 7, in this special and celebratory programme – which also includes favourites by Elgar, Handel and Bach.
Wolfgang Amadeus Mozart
The Magic Flute – Overture
John Eliot Gardiner conducts the English Baroque Soloists
Edward Elgar
Introduction & Allegro for Strings Opus 47
John Eliot Gardiner conducts the Vienna Philharmonic Orchestra
George Frideric Handel
Music for the Royal Fireworks
John Eliot Gardiner conducts the English Baroque Soloists
Ludwig van Beethoven
Symphony No. 7 in A major Opus 92
John Eliot Gardiner conducts the Orchestre Revolutionnaire et Romantique
Johann Sebastian Bach
Magnificat in D major BWV.243
John Eliot Gardiner conducts the Monteverdi Choir and the English Baroque Soloists
Monday 23rd April - St. George's Day
To celebrate St. George's Day, Jane Jones presents an evening of English discoveries.

We begin with Elgar's rousing 'Pomp & Circumstance' March No.5, before going on to enjoy music by Jon Lord. He may be best known as the keyboard player in Deep Purple but, in later life, Lord composed beautiful classical music. His Evening Song features tonight.

The oboist Nicholas Daniel proves there's far more to Ralph Vaughan Williams than The Lark Ascending; we discover the music of John Marsh, known in his day as 'the English Mozart; and there's a Light Music discovery by Ronald Binge.

Our Full Works Concert concludes with a glorious but rarely-heard symphony by the man who taught many of England's most famous composers in the first half of the 20th century: Charles Villiers Stanford.

Edward Elgar
Pomp & Circumstance March No.5 in C major Opus 39
Mark Elder conducts the Halle Orchestra

Jon Lord
Evening Song
Piano: Jon Lord
Clark Rundell conducts the Royal Liverpool Philharmonic Orchestra

Ralph Vaughan Williams
Oboe Concerto
Nicholas Daniel leads the Britten Sinfonia from the oboe

John Marsh
Symphony No.6 in D major
Mattias Bakert conducts the London Mozart Players

Ronald Binge
Miss Melanie
Ronald Corp conducts the New London Orchestra

Charles Villiers Stanford
Symphony No.1 in B-flat major
Vernon Handley conducts the Ulster Orchestra

Tuesday 24th April - The Best of 2018

Over the next four nights, Classic FM celebrates the very best recordings of 2018 so far.

Tonight's concert opens with two fantastic French performers: the pianist Jean Efflam-Bavouzet and his new recording of the Grieg Piano Concerto, and some Spanish guitar music played on the harp by Xavier de Maistre.

We'll also hear a contemporary choral music discovery courtesy of the young British choral ensemble Voces8, and Mozart's final piano concerto is played in its entirety by the Polish pianist Piotr Anderszewski.

Edvard Grieg
Piano Concerto in A minor Opus 16
Piano: Jean Efflam-Bavouzet
Edward Gardner conducts the Bergen Philharmonic Orchestra

Issac Albéniz
Asturias
Harp: Xavier de Maistre

Franz Danzi
Cello Concerto in E minor
Cello: Aurelien Pascal
Howard Griffiths conducts the Munich Chamber Orchestra

Philip Stopford
Ave Maris Stella
Voces 8

Wolfgang Amadeus Mozart
Piano Concerto No.27 in B-flat major K.595
Piotr Anderszewski leads the Chamber Orchestra of Europe from the piano

Richard Wagner
Entrance of the Gods into Valhalla
JoAnn Falletta conducts the Buffalo Philharmonic Orchestra
Wednesday 25th April - The Best of 2018
Jane Jones continues Classic FM's celebration of the very best recordings of 2018 so far, starting with Beethoven's playful Piano Concerto No.2 featuring Lars Vogt and Classic FM's Orchestra in the North East of England, the Royal Northern Sinfonia.

The French cellist Gautier Capuçon treats us to a beautiful performance of Fauré's Après un rêve, followed by an acclaimed new recording of Brahms's Symphony No.2. Plus, we'll hear new music by English composer Oliver Davis, performed by the Royal Philharmonic Orchestra.

Ludwig van Beethoven
Piano Concerto No.2 in B-Flat major Opus 19
Piano: Lars Vogt
Royal Northern Sinfonia

Gabriel Fauré
Après un rêve Opus 7 No.1
Cello: Gautier Capuçon
Douglas Boyd conducts the Chamber Orchestra of Paris

Johannes Brahms
Symphony No.2 in D major Opus 73
Thomas Dausgaard conducts the Swedish Chamber Orchestra

Oliver Davis
Spiral
Violin: Kerenza Peacock
Piano: Huw Watkins
Paul Bateman conducts the Royal Philharmonic Orchestra

George Frideric Handel
Concerto in F major HWV.334
Gottfried von der Golt conducts the Freiburg Baroque Orchestra
Thursday 26th April - The Best of 2018

Catherine Bott presents another evening of the finest new recordings, starting with a very special performance from New Year's Day.

We'll also hear the latest releases from two British performers: Stephen Hough playing Debussy's Children's Corner, and Daniel Hope's take on the music of Haydn.

In the second half of tonight's concert, there's music by two exciting young performers: the pianist Adam Laloum and the cellist Sheku Kanneh-Mason.

Johann Strauss Junior
Roses from the South Waltz Opus 325
Riccardo Muti conducts the Vienna Philharmonic Orchestra

Claude Debussy
Children's Corner
Piano: Stephen Hough

Joseph Haydn
Violin Concerto in G major Hob.VII:4
Daniel Hope directs the Zurich Chamber Orchestra from the violin

Johannes Brahms
Piano Concerto No.1 in D minor Opus 15
Piano: Adam Laloum
Kazuki Yamada conducts the Rundfunk-Sinfonieorchester Berlin

Jacques Offenbach
Jacqueline's Tears
Cello: Sheku Kanneh-Mason
Mirga Grazininyte-Tyla conducts the City of Birmingham Symphony Orchestra
Friday 27th April - The Best of 2018
Catherine Bott presents a final evening celebrating the best new recordings of the year so far.

We begin with a thrillingly fresh take on an old favourite – Beethoven's mighty Symphony No.5 – before going on to enjoy a range of other new recordings.
Mozart's 'Turkish' Violin Concerto is brought to life by Nikolaj Znaider and the London Symphony Orchestra; we'll hear Alexandre Desplat's Oscar award-winning score for The Shape of Water; and there's new music by English composer Tony Banks.

Ludwig van Beethoven
Symphony No.5 in C minor Opus 67
Jaap van Zweden conducts the New York Philharmonic Orchestra

Antonio Soler
Sonata in D major R.84
(Transcribed for harp)
Harp: Xavier de Maistre
Castanet: Lucero Tena

Wolfgang Amadeus Mozart
Violin Concerto No.5 in A major K.219
('Turkish')
Nikolaj Znaider directs the London Symphony Orchestra from the violin

Alexandre Desplat
The Shape of Water – Main Theme
Alexandre Desplat conducts the London Symphony Orchestra

Claude Debussy
Préludes Book 1 – La cathédrale engloutie
Piano: Ji Liu

Gioachino Rossini
Sonata No.4 in G major
Violin: Minna Pensola
Violin: Antti Tikkanen
Cello: Tuomas Lehto
Double Bass: Niek de Groot

Tony Banks
Reveille
Trumpet: John Barclay
Nick Ingman conducts the Czech National Symphony Orchestra

Richard Wagner
Siegfried's Rhine Journey
JoAnn Falletta conducts the Buffalo Philharmonic Orchestra