Sir Simon Rattle conducts the London Symphony Orchestra LIVE - watch again
22 September 2017, 13:25 | Updated: 25 September 2017, 09:30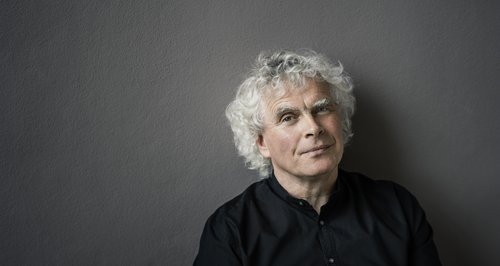 Sir Simon Rattle has arrived back in London and this week has been at the helm of the London Symphony Orchestra as Music Director for the first time. This Sunday, you can watch a live stream of an epic all-Stravinsky programme, starting with The Firebird!
Sir Simon Rattle takes up his job as Music Director of the LSO this month and this Sunday, 24 September, we're live-streaming one of his first concerts.
From 6pm this Sunday the LSO will tackle three of Stravinsky's best-known and best-loved works: Stravinsky's The Firebird, Petrushka and The Rite of Spring.
Read our exclusive interview with Simon Rattle: "Conducting is hard – and it doesn't get easier"
All three works reshaped the history of classical music – and the premiere of The Rite of Spring even caused a riot among concertgoers.
You can download the concert programme here if you'd like to find out more about each piece.
Sit back, relax and enjoy a glorious evening of music