Conductor John Eliot Gardiner 'deeply regrets' punching bass soloist in opera festival altercation
25 August 2023, 10:33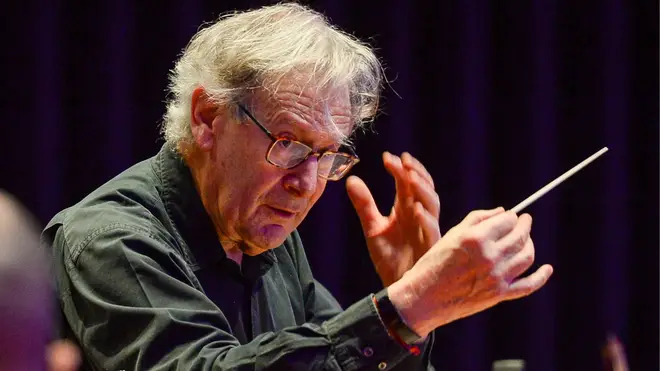 Gardiner has released a statement apologising "unreservedly" for his actions, following reports that he punched a soloist backstage at an opera performance in France.
Sir John Eliot Gardiner says he makes "no excuses for his behaviour" after it was reported that he punched a singer in an angry backstage exchange, at an opera performance at a French music festival this week.
The leading British conductor was conducting Berlioz's grand opera Les Troyens across two nights at the festival in La Côte-Saint-André, France.
On Tuesday 22 August, bass soloist William Thomas left the podium on the wrong side.
The conductor allegedly confronted Thomas after the show as the cast was celebrating in the wings. Reports in The Times say the conductor confronted the singer, slapped him in the face and then punched him in the mouth. Witnesses said there was then a "brief shouting battle" before Thomas left.
The conductor, aged 80, who played a leading role in the music for the Coronation of King Charles III in May, left France the following day to return to the UK.
The conductor said in a statement on Thursday: "I deeply regret the incident which occurred at the Festival Berlioz at La Côte-Saint-André on Tuesday evening and apologise unreservedly for losing my temper immediately after the performance.
"I make no excuses for my behaviour and have apologised personally to Will Thomas, for whom I have the greatest respect. I do so again, and to the other artists, for the distress that this has caused."
Read more: Who is Sir John Eliot Gardiner and what are his most famous recordings?
"I realise how much this has affected all the participants involved in this major project and which has been so dear to my heart," Gardiner said.
The conductor concluded his statement saying: "I know that physical violence is never acceptable and that musicians should always feel safe. I ask for your patience and understanding as I take time to reflect on my actions."
Management at the Monteverdi Choir have since met the performers to check on their welfare. Gardiner said he will be seeing his doctor upon his return to London.
A spokesperson from the Monteverdi Choir and Orchestras, which are conducted by Gardiner, said the maestro had decided not to return to conduct the remaining performances of Berlioz's Les Troyens in Salzburg, Versailles, Berlin and London. They will be directed instead by MCO's associate conductor, Dinis Sousa.
"We continue to look into the events that occurred on Tuesday evening," the organisation said.
Sir John Eliot Gardiner's apology follows a statement from bass soloist William Thomas' management, Askonas Holt, who confirmed the altercation.
"We can confirm that an incident took place," their statement began. "Bass William Thomas is looking forward to continuing the tour and will not be making a statement at this time."
Askonas Holt added: "All musicians deserve the right to practise their art in an environment free from abuse or physical harm."