Trumpeter proposes to girlfriend violinist during a Philadelphia Orchestra live concert
17 February 2020, 12:23 | Updated: 18 February 2020, 14:41
A Philadelphia Orchestra concert turns into a surprise proposal...
A trumpeter in the Philadelphia Orchestra melted hearts last Friday after proposing to his violinist girlfriend on stage.
The loved up-duo were seconds away from playing in a special Valentine's Day concert, 'Sorcerers, Spells, and Magic', at the Kimmel Center for the Performing Arts, Philadelphia.
But before first violinist Julia Li could lift her bow, second trumpeter Tony Prisk surprised her – and members of the audience – with an unexpected announcement.
Suddenly, Prisk's voice could be heard, saying: "Hello there! I'm Tony Prisk and I play trumpet with your Philadelphia Orchestra. I have a few brief instructions to go over before we begin.
"For your safety, please remain seated at the conclusion of the performance until the auditorium lights are fully illuminated."
Read more: The genius 'mistake' ballet, where everything goes wrong >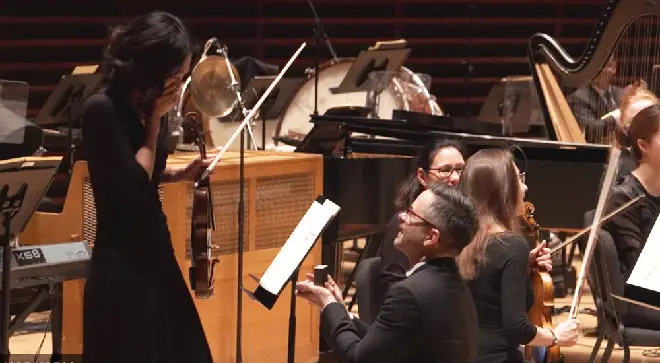 He continued: "During the concert, please turn off your devices – but right now, you might want to take them out and start recording, because this isn't something you see every day.
"Julia Li, in the first violins, will you please stand? I have an important question for you and I would like everyone to hear it."
Realising what was happening, Li stood up and began to cry happy tears (watch below) as the audience cheered on the couple with an encouraging round of applause.
Read more: Man playing violin to ducks is a pure and beautiful scene >
Making his way across the stage towards his girlfriend, Prisk proceeded to lower himself onto one knee. (You can see what's coming...)
Opening a tiny box to reveal an engagement ring, he asks Li to marry him – and without hesitation she replies with the magic word everyone in the room had been hoping to hear: "Yes!"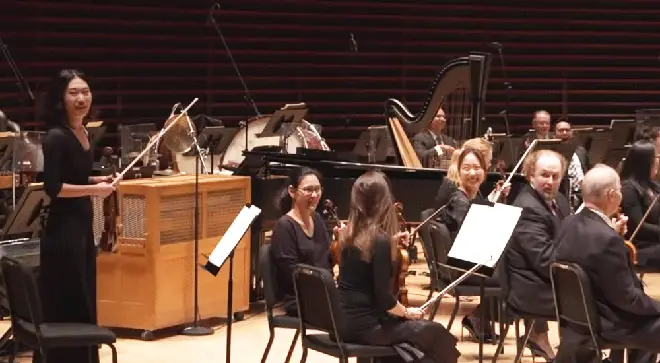 Li, 30, later told The Inquirer: "I had a sneaking suspicion it was going to happen. But I still cried."
The musical duo first met six years ago after joining the orchestra, and there was instant chemistry between them. While Li, a graduate at the Curtis Institute of Music, has lived in Philadelphia for many years, Prisk moved to the city from Houston.
The newly-engaged violinist said they bonded while touring with a "tight group of friends" in the orchestra, before moving in with each other about a year ago – and now, she's "looking forward to more of the same".
Prisk, 45, added: "It just felt right. She's beautiful, talented, and smart, and we laugh a lot together, our sense of humour lines up really well."
As for the wedding, Prisk joked: "It's all up to her now. I did my part!"