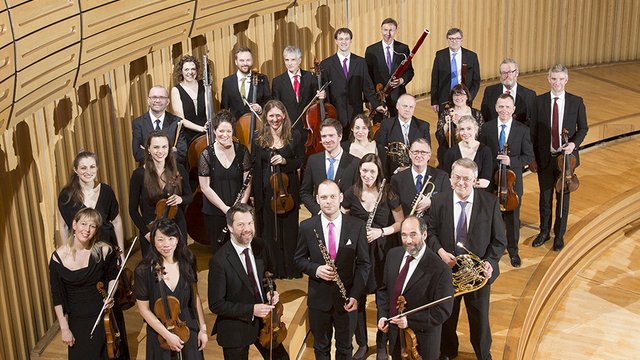 Royal Northern Sinfonia
Royal Northern Sinfonia, Orchestra of Sage Gateshead, is the UK's only full-time chamber orchestra. Founded in 1958, RNS has built a world-wide reputation for the North East through the quality of its music-making and the immediacy of the connections the musicians make with audiences. The orchestra regularly flies the flag for the region at the Edinburgh Festival and the BBC Proms, t performing Handel's Water Music at The Stage @ the Dock in Hull in 2017 - the first Prom performed outside of London since 1930. They appear frequently at venues and festivals in Europe, and last season toured in South America, China and South Korea.

RNS has worked with conductors and soloists Christian Tetzlaff, Olli Mustonen, Reinhard Goebel, Katrina Canellakis and Nicholas McGegan; a host of world class singers including Sally Matthews, Karen Cargill and Elizabeth Watts, and collaborated with leading popular voices such as Sting, Ben Folds, John Grant and Mercury Rev.

RNS has commissioned new music and has always been actively involved in local communities and in education. Musicians support young people learning musical instruments through Sage Gateshead's Centre for Advanced Training and through In Harmony, a long-term programme in Hawthorn Primary School in which every child in the school learns a musical instrument and plays in an orchestra.

Did you know?

Northern Sinfonia became 'Royal' Northern Sinfonia in June 2013, after the title was bestowed on the orchestra by the Queen.
View more
Royal Northern Sinfonia's 60th anniversary
Discover the Royal Northern Sinfonia